May 16, 2007
8:32 PM
|
Edit Post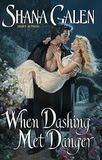 I read this book in March 2007
Alex Scarston: Earl of Selbourne. Rake. Spy. With his efforts for England in the war against the French suspended, family obligations compel him to investigate the disappearance of Viscount Brigham's son. When the viscount's daughter becomes involved as well, Alex finds himself entangled in a venture that risks both heart and soul.

It's not that Lucia Dashing, youngest daughter of Lord Brigham, wants Alex to go away. She just wishes he weren't always so close – perhaps a few rooms, or streets, or continents between them would bank the heat of her attraction. But when her brother disappears and every clue indicates his safe recovery essential to the very sovereignty of England, she's no choice but to engage the earl in a battle risking her brother, her country, and her love.

I really liked this book. It took me a while to finish it but this had nothing to do with the book itself, it was due to lack of time to read.
After reading lots of paranormal/vampires in a row I really needed a good regency and I got that with this one.
It was original and unique.

The characters were well-developed and accessible .
Lucia is a heroin who actually touched my heart. She tries so hard to gain her family's approval, especially her father's and I was glad to see that she achieves in doing that without changing who she is.
She is feisty and spontaneous, to the point she sometimes gets carried away in her enthusiasm but it's so endearing that I didn't find it annoying.
Alex is the perfect rake who doesn't know what hits him when he finds true and genuine love. I really loved reading how he was falling for Lucia but still was in so much denial. All the signs were there but he refused to acknowledge them and when he finally did, he did it well.

The plot is fast-paced and well written. The side characters are a great addition to the whole story, especially Freddy and Lucia's mother with her obsession for everything Italian.
The love and sensuality between Lucia and Alex just comes of the pages en you can almost feel it developing and growing.
Again a book that stirred many emotions inside me and that's always a good sign!

Nice to meet you!
Pearl

Netherlands
39, married to my real life romance hero, addicted to TV shows, reading romance novels and Twitter. I'm a chronic (e)book hoarder and my absolute favorite genres within romance fiction are contemporary romance and romantic suspense, but I don't shy away from historical, paranormal or erotic romance either. Even the occasional (urban) fantasy romance, futuristic and sci fi romance may make it to my Mount TBR. This is my corner of the world wide web where I let you know what books I'm hoarding, reading and reviewing.
View my complete profile

My Book-Providers
Reviews by Rating

Reviews by Genre
Reviews by Type

Reviews by Publisher

Fellow Bloggers


GR Reading Challenge
Pearl
has read 10 books toward her goal of 50 books.

On My TBR Shelf
Unforgivable - Laura Griffin
Snapped - Laura Griffin
Darkness at Dawn - Elizabeth Jennings
Sizzle and Burn - Alexis Grant
No Mercy - Lori Armstrong
Animal Magnetism - Jill Shalvis
Crazy for Love - Victoria Dahl
Kink - Saskia Walker/Sasha White
So Sensitive - Anne Rainey
Dark Taste of Rapture - Gena Showalter
The Darkest Secret - Gena Showalter
Vampire in Atlantis - Alyssa Day
Vampire Dragon - Annette Blair
Captive Spirit - Anna Windsor
Chosen by Blood - Virna DePaul
Rebel - Zoe Archer
Stranger - Zoe Archer
A Taste of Desire - Beverley Kendall
Mistress by Midnight - Maggie Robinson
To Desire a Devil - Elizabeth Hoyt
To Tame a Dangerous Lord - Nicole Jordan

Digital TBR Next
Driven - Jayne Rylon (reread)
Shifting Gears - Jayne Rylon
Beg Me - Shiloh Walker
Tempt Me - Shiloh Walker
Jazz Baby - Lorelie Brown
Playboy Prankster - Pamela Britton
Just Like That - Erin Nicholas
Sweet Inspiration - Penny Watson
Breathe - Donna Alward
My Gigolo - Molly Burkhart
Scent of Persuason - Nikki Duncan

Blog Archive