May 23, 2007
5:09 PM
|
Edit Post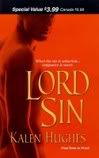 SIX NIGHTS OF PLEASURE . . .

Georgianna Exley's passionate nature has always been her undoing-and for this reason the beautiful young widow allows her lovers only a single night in her bed. But Ivo Dauntry has come home to England, and for him she'll break her most sacred rule: granting him six nights of sensual bliss, one for every year he's given up for her . . .

SIX YEARS TO WAIT . . .

As a gentleman born, Ivo risked his reputation and his life in a duel to defend Georgianna's honor. Now, returned from exile, Ivo discovers that she has proved to be less than a lady . . . and soon, his daring seduction becomes a sensual contest of wills. But the long-ago duel that bound them forever has fueled the hatred of a madman determined to make Georgianna pay for her misdeeds with her life, and once again, Ivo must risk everything to save the woman he loves . . .
Another smashing debut-author.
Ms Hughes delivers an enticing, appealing early Regency-novel (Georgian Period).
With a heroin who knows what she wants: her freedom to do whatever she want, when she wants it and the way she wants it and there's no man who can dictate otherwise.
And a hero who's the perfect man for her.
Georgianna (George) Exley is an extraordinay heroin for the time-period in which this book is set: she hunts, she smokes, has male friends and takes lovers on her own terms. She could easily be a 21st century-woman. But because Kalen Hughes describes her so well, she is never out of place in the 18th century.

Ivo Dantry is handsome, mysterious and determined not to want Georgianna, despite his ernormous attraction to her. Picture two magnets but with the wrong polars towards each other. Attraction and rejection fighting to win. It's not hard to imagine that the attractions wins...and how! Because when he finally gives in to his feelings, he's determined to have and to hold Georgianna...I melted away at the scene at the end of the book where he comes in and literally sweeps Georgianna of her feet and carries her away

The love-scenes are beautifully written and hot without getting too explicit or raunchy. For me that's one of the things why I liked this book so much. Another is her description style. I've read books where everything is described in so much details it get's boring and takes the attention away from the actual story. Same goes for the use of language. But not in this book. I felt like being swept into the 18th century from the first page without a single moment of boredom or annoyance. I know that Ms Hughes does a lot of research into the time-period and it shows in a very good way!
Every chapter starts with a made-up quote from a column that actually existed in het Morning Post at that time, called Tête-à-Tête

The only less praising thing I can say about the book is that it has an enormous amount of secondary characters: friends, enemies, children, family, members of society.
Sometimes it's hard to remember all the names and relations between them. And I guess because of the great number of characters they are not really deepened out which leaves Ivo and Georgianna the most powerful characters in the book. Of course that is not a bad thing since they are hero and heroin but I always like a few secondary characters having a bigger role in the book than just being there hanging around in the background.

Her writing reminds me of Elizabeth Hoyt, one of my favourite authors, but luckily she has her own unique style which I can only applaude.
I can't wait for Lord Scandal, her second book with Gabriel Angelstone, one of Georgianna's best friends, as the hero.

Quotes:

He knew exactly how to ride her, how to wind her up into a ball of pure need and desire.

Georgianna after being thoroughly satisfied by Ivo:
"Do you intend to remove your coat and boots or is the point to spend the afternoon taking me like a pirate?"

Nice to meet you!
Pearl

Netherlands
39, married to my real life romance hero, addicted to TV shows, reading romance novels and Twitter. I'm a chronic (e)book hoarder and my absolute favorite genres within romance fiction are contemporary romance and romantic suspense, but I don't shy away from historical, paranormal or erotic romance either. Even the occasional (urban) fantasy romance, futuristic and sci fi romance may make it to my Mount TBR. This is my corner of the world wide web where I let you know what books I'm hoarding, reading and reviewing.
View my complete profile

My Book-Providers
Reviews by Rating

Reviews by Genre
Reviews by Type

Reviews by Publisher

Fellow Bloggers


GR Reading Challenge
Pearl
has read 10 books toward her goal of 50 books.

On My TBR Shelf
Unforgivable - Laura Griffin
Snapped - Laura Griffin
Darkness at Dawn - Elizabeth Jennings
Sizzle and Burn - Alexis Grant
No Mercy - Lori Armstrong
Animal Magnetism - Jill Shalvis
Crazy for Love - Victoria Dahl
Kink - Saskia Walker/Sasha White
So Sensitive - Anne Rainey
Dark Taste of Rapture - Gena Showalter
The Darkest Secret - Gena Showalter
Vampire in Atlantis - Alyssa Day
Vampire Dragon - Annette Blair
Captive Spirit - Anna Windsor
Chosen by Blood - Virna DePaul
Rebel - Zoe Archer
Stranger - Zoe Archer
A Taste of Desire - Beverley Kendall
Mistress by Midnight - Maggie Robinson
To Desire a Devil - Elizabeth Hoyt
To Tame a Dangerous Lord - Nicole Jordan

Digital TBR Next
Driven - Jayne Rylon (reread)
Shifting Gears - Jayne Rylon
Beg Me - Shiloh Walker
Tempt Me - Shiloh Walker
Jazz Baby - Lorelie Brown
Playboy Prankster - Pamela Britton
Just Like That - Erin Nicholas
Sweet Inspiration - Penny Watson
Breathe - Donna Alward
My Gigolo - Molly Burkhart
Scent of Persuason - Nikki Duncan

Blog Archive