February 24, 2008
8:02 PM
|
Edit Post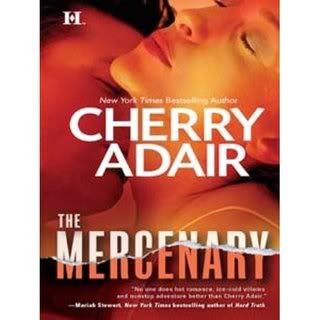 THE MERCENARY AND THE COWARD...
Prim and proper Victoria Jones knew she was a coward- heck, she'd quit her job at the accounting firm because she found tax time too stressful! Only, her nice little job at the auto-parts store, eating bland food and dating nice, predictable men never prepared her for...

MARC SAVIN
Tough, sexy, everything she feared in a man. But he was the one man who could rescue her brother. Besides, Marc owed her – he'd sent Alex on that dangerous mission. For once in her life Victoria would do whatever it took to get Marc to help her. No matter what Marc wanted from her...
When Tory asks Marc to help her rescue her twin brother and his former T-FLAC partner she doesn't know what she's getting herself into. Terrorists and bullets are the least of her problems compared to dealing with this tough ex-mercenary.
Marc is very reluctant to help Tory, partly because of his past and partly because of the feelings she stirs in him. Feelings he tries to ignore but fails miserably at.

Cherry Adair kicks of the T-FLAC series with a short and sweet explosion of feelings. This book was worth waiting for and I'm glad it got re-released because obtaining the original out-of-print release proved to be impossible and now I understand why.
Marc is the hero who makes you weak in the knees with his charisma and masculinity.
Tory is the heroine who tugs on your heartstrings with her loyalty and innocence.
And together they provide a sensual and explosive chemistry that sets the pages aflame. They are drawn to each other like bees to honey and they try to fight it but fortunately for the romantic readers they don't succeed.

This book proves that Cherry Adair is the undeniable queen of romantic suspense! She has the talent to combine nail biting suspense, exquisite fight scenes, heartbreaking emotions and extremely hot and sensual love scenes into a book that keeps you enthralled.
It's a perfectly mixed combination topped of by a brooding hero to die for and a heroine who is brave and strong despite the fact that she thinks she's everything but that.
The plot is not complicated but that doesn't mean it's not intriguing. It had me at the edge of my seat with a pounding heart. I finished the book in a heartbeat, wondering at the end where the time had gone.

Within the span of 250 pages Cherry Adair served a real treat to lovers of romantic suspense. A treat that was exciting, moving and sensual. The only thing wrong with the book was that it was too short. I wanted it to go on forever.

This was the kind of book that makes you want to be a damsel in distress and have a T-FLAC operative of your own come to the rescue.
Quote:
His mouth, fixed on hers, was greedy, devouring. He seemed to want to absorb her. He kissed her hotly, insistently, and she gave back to him, tasting, savoring the dark flavor of him.

Nice to meet you!
Pearl

Netherlands
39, married to my real life romance hero, addicted to TV shows, reading romance novels and Twitter. I'm a chronic (e)book hoarder and my absolute favorite genres within romance fiction are contemporary romance and romantic suspense, but I don't shy away from historical, paranormal or erotic romance either. Even the occasional (urban) fantasy romance, futuristic and sci fi romance may make it to my Mount TBR. This is my corner of the world wide web where I let you know what books I'm hoarding, reading and reviewing.
View my complete profile

My Book-Providers
Reviews by Rating

Reviews by Genre
Reviews by Type

Reviews by Publisher

Fellow Bloggers


GR Reading Challenge
Pearl
has read 10 books toward her goal of 50 books.

On My TBR Shelf
Unforgivable - Laura Griffin
Snapped - Laura Griffin
Darkness at Dawn - Elizabeth Jennings
Sizzle and Burn - Alexis Grant
No Mercy - Lori Armstrong
Animal Magnetism - Jill Shalvis
Crazy for Love - Victoria Dahl
Kink - Saskia Walker/Sasha White
So Sensitive - Anne Rainey
Dark Taste of Rapture - Gena Showalter
The Darkest Secret - Gena Showalter
Vampire in Atlantis - Alyssa Day
Vampire Dragon - Annette Blair
Captive Spirit - Anna Windsor
Chosen by Blood - Virna DePaul
Rebel - Zoe Archer
Stranger - Zoe Archer
A Taste of Desire - Beverley Kendall
Mistress by Midnight - Maggie Robinson
To Desire a Devil - Elizabeth Hoyt
To Tame a Dangerous Lord - Nicole Jordan

Digital TBR Next
Driven - Jayne Rylon (reread)
Shifting Gears - Jayne Rylon
Beg Me - Shiloh Walker
Tempt Me - Shiloh Walker
Jazz Baby - Lorelie Brown
Playboy Prankster - Pamela Britton
Just Like That - Erin Nicholas
Sweet Inspiration - Penny Watson
Breathe - Donna Alward
My Gigolo - Molly Burkhart
Scent of Persuason - Nikki Duncan

Blog Archive