June 30, 2007
5:35 PM
|
Edit Post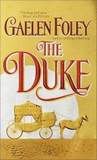 Driven to uncover the truth about the mysterious death of his ladylove, the Duke of Hawkscliffe will go to any lengths to unmask a murderer. Even if it means jeopardizing his reputation by engaging in a scandalous affair with London's most provocative courtesan-the desirable but aloof Belinda Hamilton.

Bel has used her intelligence and wit to charm the city's titled gentlemen, while struggling to put the pieces of her life back together. She needs a protector, so she accepts Hawk's invitation to become his mistress in name only. He asks nothing of her body, but seeks her help in snaring the same man who shattered her virtue. Together they tempt the unforgiving wrath of society-until their risky charade turns into a dangerous attraction, and Bel must make a devastating decision that could ruin her last chance at love. . . .
Sometimes you stumble upon a treasure when you're least expecting it. And I really believe that's the case for me with the Knight Miscellany series by Gaelen Foley.
After reading the blurb I was expecting a dime-a-dozen Regency and that's why it sat on my bookshelf for quite a while before I picked it up to read. Well, colour me pleasantly surprised!

What a wonderful and very original plot, what a lovely and strong heroin, what a delicious and tormented hero, what great secondary characters! In short, what a great storyteller Ms Foley turns out to be.
The story building is superb. She really knows how to keep a reader pulled deep into a story you don't want to put aside but you also don't want it to end.

We have Bel(inda) Hamilton, a worldly courtesan, forced by appalling circumstances into the demimonde. Feminine, proud, bold and strong. Not compromising however painful it may turn out to be for herself.
And we have Robert Knigt, protector extraordinaire, the paragon duke on a vengance and ever so honorable, manly and kind.

They join forces to bring down the man responsible for both their sorrow and misery. But their joint-venture becomes a permanent love that eventually surpasses all difficulties.
Everything between Bel and Robert sizzles: their attraction, their interactions, their dialogues. The playful bantering between them was the thing I liked the most in the book. Both of them captured my heart!

Going on all the feelings going through me while reading it, from laughter to tears, from anger to excitement, this first installment of the Knight Miscellany is certainly a keeper. And I'm eagerly looking forward to the books of the other Knight-siblings. And needless to say that with this book Gaelen Foley has launched herself directly into my auto-buy list.
Quotes:

Robert: "I've been alone for so long but when I'm with you, oh, when I'm with you Bel, the earth sings and the stars dance and I don't loathe myself so much for a bore."

That night after Papa had left and the girls had gone to bed, he led her to the top of the keep and seduced her under the stars, coaxing tears of surrender from the deepest reaches of her heart with his whispers of eternal devotion.

Nice to meet you!
Pearl

Netherlands
39, married to my real life romance hero, addicted to TV shows, reading romance novels and Twitter. I'm a chronic (e)book hoarder and my absolute favorite genres within romance fiction are contemporary romance and romantic suspense, but I don't shy away from historical, paranormal or erotic romance either. Even the occasional (urban) fantasy romance, futuristic and sci fi romance may make it to my Mount TBR. This is my corner of the world wide web where I let you know what books I'm hoarding, reading and reviewing.
View my complete profile

My Book-Providers
Reviews by Rating

Reviews by Genre
Reviews by Type

Reviews by Publisher

Fellow Bloggers


GR Reading Challenge
Pearl
has read 10 books toward her goal of 50 books.

On My TBR Shelf
Unforgivable - Laura Griffin
Snapped - Laura Griffin
Darkness at Dawn - Elizabeth Jennings
Sizzle and Burn - Alexis Grant
No Mercy - Lori Armstrong
Animal Magnetism - Jill Shalvis
Crazy for Love - Victoria Dahl
Kink - Saskia Walker/Sasha White
So Sensitive - Anne Rainey
Dark Taste of Rapture - Gena Showalter
The Darkest Secret - Gena Showalter
Vampire in Atlantis - Alyssa Day
Vampire Dragon - Annette Blair
Captive Spirit - Anna Windsor
Chosen by Blood - Virna DePaul
Rebel - Zoe Archer
Stranger - Zoe Archer
A Taste of Desire - Beverley Kendall
Mistress by Midnight - Maggie Robinson
To Desire a Devil - Elizabeth Hoyt
To Tame a Dangerous Lord - Nicole Jordan

Digital TBR Next
Driven - Jayne Rylon (reread)
Shifting Gears - Jayne Rylon
Beg Me - Shiloh Walker
Tempt Me - Shiloh Walker
Jazz Baby - Lorelie Brown
Playboy Prankster - Pamela Britton
Just Like That - Erin Nicholas
Sweet Inspiration - Penny Watson
Breathe - Donna Alward
My Gigolo - Molly Burkhart
Scent of Persuason - Nikki Duncan

Blog Archive