October 31, 2007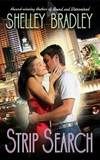 A sexy CPA goes undercover as a male stripper in the mobster's Vegas club to nail a Mafia kingpin. The perk? The club's owner. Sure she's got some unsavory connections, but how can anyone with those legs be all bad?

She's got a head for business, but is out of practice in the pleasure department. If anyone can strip her of her inhibitions it's the new guy who's stirring her wildest g-string fantasies. But besides the sizzling sexual chemistry they have in common, they both have secrets. They learn quickly that, with the mob closing in, what gets exposed is as irresistible as it is dangerous.
What a ride!
Shelley Bradley knows how to write intense sensual and emotional love-stories like no other. She takes you on a journey of emotions and feelings that leaves you wondering afterwards what the h.ll just hit you.
And for this book I'm not even talking about the smoldering love scenes, the fast-paced and suspenseful plot or that yummy alpha male Mark who goes undercover as a stripper and the feisty and smartass owner of the strip joint. Together they just make the dialogues combust in flames, not to mention what they make the love scenes do. Don't get me started on that because then this review would never get finished and it certainly wouldn't pass any PG-13 rating...

I had an amazing time reading this book and to think I picked it because I wanted something contemporary so it would be an easy, uncomplicated read. Uncomplicated it sure wasn't, it was intense, fast-paced, emotional and hot.
With a plot that was well written, be it a little bit predictable as to who the bad-guy is, and a love-story that brought tears to my eyes at the end.

The characters were wonderful and you just feel there's a story coming for some of the secondary characters.
I really fell hard for Mark; he is a true alpha with a capital A, both inside and out of the bedroom. Who could have thought an accountant could be so hot and yummy! Because of his past he's determined never to trust a woman ever again and loving a woman is definitely out of the question. Until Nickie storms into his life, setting his whole world upside down. His determinations starts crumbling bit by bit despite his efforts not to give in.
Nickie is feisty, hard to the bone and a real smartass. Giving as good as she gets she manages her strip joint with an iron fist. She really doesn't know what to do with her feelings for Mark and tries to resist him but fails miserably at it.
They are so good together! Talk about a perfect match. Their interactions both in and out the bedroom are sizzling and filled with intensity.

Shelley Bradley wrote an erotic romance including mafia, embezzlement, strippers and strip joints and managed to keep it intensely emotional and sizzling hot at the same time without getting raunchy, just for that she deserves to be at the top of my auto buy-list.

Miss Bradley did it again. She enticed me with her first Shayla Black novel and has continued the thrilling ride with this one!

Nice to meet you!
Pearl

Netherlands
39, married to my real life romance hero, addicted to TV shows, reading romance novels and Twitter. I'm a chronic (e)book hoarder and my absolute favorite genres within romance fiction are contemporary romance and romantic suspense, but I don't shy away from historical, paranormal or erotic romance either. Even the occasional (urban) fantasy romance, futuristic and sci fi romance may make it to my Mount TBR. This is my corner of the world wide web where I let you know what books I'm hoarding, reading and reviewing.
View my complete profile

My Book-Providers
Reviews by Rating

Reviews by Genre
Reviews by Type

Reviews by Publisher

Fellow Bloggers


GR Reading Challenge
Pearl
has read 10 books toward her goal of 50 books.

On My TBR Shelf
Unforgivable - Laura Griffin
Snapped - Laura Griffin
Darkness at Dawn - Elizabeth Jennings
Sizzle and Burn - Alexis Grant
No Mercy - Lori Armstrong
Animal Magnetism - Jill Shalvis
Crazy for Love - Victoria Dahl
Kink - Saskia Walker/Sasha White
So Sensitive - Anne Rainey
Dark Taste of Rapture - Gena Showalter
The Darkest Secret - Gena Showalter
Vampire in Atlantis - Alyssa Day
Vampire Dragon - Annette Blair
Captive Spirit - Anna Windsor
Chosen by Blood - Virna DePaul
Rebel - Zoe Archer
Stranger - Zoe Archer
A Taste of Desire - Beverley Kendall
Mistress by Midnight - Maggie Robinson
To Desire a Devil - Elizabeth Hoyt
To Tame a Dangerous Lord - Nicole Jordan

Digital TBR Next
Driven - Jayne Rylon (reread)
Shifting Gears - Jayne Rylon
Beg Me - Shiloh Walker
Tempt Me - Shiloh Walker
Jazz Baby - Lorelie Brown
Playboy Prankster - Pamela Britton
Just Like That - Erin Nicholas
Sweet Inspiration - Penny Watson
Breathe - Donna Alward
My Gigolo - Molly Burkhart
Scent of Persuason - Nikki Duncan

Blog Archive