August 14, 2011

Ivy may be the odd woman out in the field of construction, but that doesn't mean she can't do a man's job. And in heels, no less. When a subcontractor runs behind on the project she's heading, Ivy's prepared to give him a proper dressing down. But when she sees the man in question, undressing him becomes far more interesting a prospect.

Jake Shaw is proud of the business he's built and isn't about to be bossed around by a sassy vixen who clips into his life in cherry red pumps. Their clash is instant, their attraction undeniable, their use of his big desk…delicious.

Before Ivy can catch her breath she's breaking all the rules with Jake. The more time she spends with him, the harder she finds it to convince herself he's all wrong for her.


Title: WICKED DIRTY
Author: Scarlett Scott
Series: standalone
Genre: Contemporary Romance, Erotic Romance
Publisher: Jasmine Jade/Ellora's Cave Publishing
Year of release: 2010, October 7
Format: eBook
Source: Bought via Jasmine Jade eBook-store

First line:
On Monday morning, a merciless headache began to thump in Ivy Denton's right temple, partially because she hadn't yet had her first cup of coffee and partially from impending stress.

Memorable Scene:
- the start of the book (first few pages), which was very promising and hot

QuickScore-Verdict:
The pace of this book was lightning quick and I realize it's an EC Quickie but things went really fast from not knowing each other to hot and heavy in the trailer on the construction site. It felt rushed...even if there was the desk smexing I love so much in my erotic romance reads. I missed Jake's POV...it all just felt too rushed, I never really got to know the characters and I was left with an unsatisfied feeling of the story not being finished.
However, I really liked the flow and ease of Scarlett Scott's writing and the innuendo-filled banter between Jake and Ivy. This means I will definitely give Scarlett Scott another go and as a matter of fact I'm already eyeing her latest contemporary Ellora's Cave release (She Likes Him Bad, released August 5th).
Favorite Quote:
If she wanted to be considered a professional, a part of this mostly man's world, she had to stop gawking. And since there was no way she could keep herself from ogling that mouthwatering slab of potent masculinity sauntering by, she busied herself with the pretense of scrolling through her BlackBerry before depositing it safely in her purse.


August 11, 2010
8:49 PM
|
Edit Post
In this riveting new installment of New York Times bestselling author Gena Showalter's Lords of the Underworld series, Gideon, keeper of the Demon of Lies, fights to uncover the truth….

Forced to his knees in agony whenever he speaks the truth, Gideon can recognize any lie—until he captures Scarlet, a demon-possessed immortal who claims to be his long-lost wife. He doesn't remember the beautiful female, much less wedding — or bedding — her. But he wants to . . . almost as much as he wants her.

But Scarlet is keeper of Nightmares, too dangerous to roam free, and a future with her means risking everything. Especially as Gideon's enemies draw closer . . . and the truth threatens to destroy all he's come to love . . .





Title: The Darkest Lie
Author: Gena Showalter
Series: Lords of the Underworld, book 6
Genre: Paranormal Romance
Publisher: HQN, Harlequin Publishing
Year of release: 2010, July 1
Format: eBook - ADEpdf, 448 pages
Source: Received digital copy from publisher via NetGalley
First line: Gideon stared down at the woman sleeping in the massive bed of cerulean cotton.
Memorable Scenes:
- Scarlet and Gideon's marriage vows > so endearing and beautiful
- Amun, William and Aeron in Hell > action-packed, heart-in-throat exciting
- The scene where Scarlet discovers what really happened in the past > heartbreaking
I want to start this review by saying it was the hardest review I've ever written because I did not love this book by one of my all-time favorite authors and I so wanted to. I really wanted to LOVE this book as much as I did all the other installments in this series but I just couldn't, there were too many things that just didn't work for me and writing this review broke my fan-girl heart a little bit.
Gideon is the keeper of the Demon of Lies. I always thought Gideon kind of sweet and inconspicuous until THE DARKEST WHISPER, where he certainly made an appearance that stayed with me and in THE DARKEST PASSION he definitely made an impression on me with his great sense of humor and had me thinking I was going to have to change my mind about him. Unfortunately in his own book it was hard to get a firm grip on his character because of some very contradictory traits. He's sweet and tough, brave and meek, ruthless and compassionate and tender.
Scarlet is the keeper of the Demon of Nightmares. She's ruthless, saucy, sharp, fearless and intelligent. Scarlet is the first heroine in the Lords of the Underworld series I did not like very much. And despite me not liking her she still outshone Gideon for me. She did things I didn't like but she was fierce and passionate and underneath that fierceness was a sort of vulnerability in her yearning for someone to love and accept her. Both Gideon and Scarlet are stubborn but Scarlet won hands down in that department too. She just refused to compromise or to see things in another light, holding on to what she thought of Gideon and to her version of what had happened in the past.
The contradictions in Gideon and some other things I'll talk about later on in this review made it hard for me to fall for him as the hero of this book. Add to that that Scarlet either worked on my nerves or did things that made me want to smack her around for most of the book and you may deduct that the main characters didn't quite work for me in THE DARKEST LIE.
The first things that bothered me were the prologue and chapter 1. To me it would have worked so much better if chapter 1 had been the prologue and the prologue chapter 1. I didn't understand why and see the logic of the way it was done now. Also, I was sad to see some mid-scene breaks to completely different storylines at some very inconvenient points in the scenes. Remember my rant about that in my LOVER MINE review? Needless to say I was very disillusioned to see this in a book by one of my favorite authors.
While I liked the premise of Scarlet in THE DARKEST PASSION, where the foundation for Gideon and Scarlet's story is laid, for the greater part of this book I didn't like Scarlet. I really didn't like how she physically hurt Gideon and I liked the emotional hurt she caused him even less. I really resented her hitting, kicking and punching Gideon repeatedly and Gideon just "lying there and taking it," passively, without protest or retaliation. I truly disliked how Gideon let Scarlet physically abuse him. I am not an advocate for men hitting women, definitely not, but come on! She punched, hit, kicked, stabbed him and he did…nothing!!
There was a point in the story where I seriously wondered if Gena was going to be able to redeem Scarlet and make me like her more, further along in the book. To me Scarlet was a tad whimsical. Sometimes she would show a glimpse of compassion, of caring, of feeling Gideon's torment and pain and wanting to assuage that pain. However, these moments were far too rare in my opinion and that contributed to me not caring much about her as the heroine for most part of the book. There was a storyline in the book that broke my heart and made me sympathize with Scarlet a bit more and in the end Gena Showalter did redeem her characters enough for my resentment of Scarlet to diminish but it did reek of too little too late.
And then there was the "Gideon-speak". I admire Gena Showalter for taking up the complicated task of writing this book because the Gideon-speak was utterly confusing throughout the whole book. It slowed the pace down for me as figuring out what he meant sometimes, or the translations offered by the other characters or by Gideon's inner voice, would take me out of the story and the reading rhythm. In the other books of the Lords of the Underworld series I found the Gideon-speak funny and quirky but it came in small doses then. Reading and mentally translating it in the first half of this book made me feel like my head was going to explode and this was another reason, next to the slow pace, the low amount of action and the disconnection with the main couple, why it took me so long (it took me a month(!) to read this book) to finish this book.
The pace was another thing that bothered me. For at least the first half of the story the pace is slow, there's not much happening action wise, making it the "meh" book in the Lords of the Underworld series. I have a "meh" book in every ongoing series and unfortunately THE DARKEST LIE turned out to be it in this series. I was and still am disappointed in the lack of action and new information in the first part of the book. After I'd read about 100 pages I was still at the point in the story arc where I'd left it at the end of THE DARKEST PASSION. So that was about 100 pages of no new information, no new developments, only back-story and revelations that were already known to loyal followers of this series. As I said in my review of THE DARKEST PASSION: I understand the need to write these books as stand-alones but in my opinion as someone who reads series like these in order, it is a disservice to readers who have been with the series since book 1 when you have to read about 100 pages first before you get something new in the continuing story arc.
Next to all of the above things that didn't work for me there were also things that did work for me, fortunately! The trademark Gena Showalter humor is definitely present again in THE DARKEST LIE. I loved that she never fails me in that department and it definitely gave me the reading pleasure I missed with other aspects of the book.
The story of Gideon and Scarlet and the romance between them is heartbreaking. Even without knowing Gideon's side of the story in the beginning, the tale Scarlet's character reveals bit by bit through her thoughts and memories shows a Scarlet who was rejected by everyone who meant something to her, everyone who was supposed to love and cherish her. I was intrigued by how Gideon doesn't remember Scarlet or being married to her. The why and how kept me speculating during a big portion of the book and when the answers came I was surprised by what had been going on and what had been done to Scarlet and Gideon.
Still, it is not a good sign when the side stories capture my attention more than the main couple does. In this case it there was nothing wrong with the romance or their back-story but the characters themselves just rubbed me the wrong way. The side stories however were extremely interesting and made me want more, more, and more. I want to know about Aeron and Legion (can I say cliff hanger?), William (sexy immortal extraordinaire), Amun (fairly early in the story there's a hinting towards Amun's HEA and if that one is carried through it's one I really didn't see coming but I'm very curious to see how this is going to be played out), someone I can't name for fear of spoilers of almost all the previous books in the series, especially THE DARKEST PASSION (but wow, I can't wait for when stuff surrounding her starts coming out of the woodworks), Strider (disaster and mayhem about to happen there).
As usual Gena Showalter had the ability to surprise me with plot twists like no other and she kept doing it in THE DARKEST LIE too. I think I've mentioned the 100-page mark a few times and apologize for doing it again but it wasn't until after about those first 100 pages that at last I was pulled into the story. The new developments and plot twists I had been craving were finally delivered and the pace picked up along with a lot more action and in the end I got what I am used to in the LOTU series. In terms of overall arc and side plots the series keeps getting better and better with every new installment and THE DARKEST LIE is no exception, because despite my misgivings with Gideon and Scarlet the plot, once it got going, was intriguing and original as always.
I so wanted to be awed by another installment of the LOTU, a series I love so much, but I honestly can't say that I was. Disappointed and heartbroken is a more accurate description of how I felt until about 2/3 into the book and when I turned the last page of it I was very sad to say that this was the first ever Gena Showalter book I had problems with. Admittedly, the last third of the book did make up for some of the disappointment I felt, but sadly it wasn't enough to boost my rating up to more than I've given it now. But I have faith in Gena! As someone on Twitter said: "everyone has the right to an off day, or in this case an off book…I am convinced and confident Gena Showalter and the LOTU series will deliver for me in the next installment.
Favorite Quotes:
He was a beautiful man, his face was like an angel's –only sprinkled with all kinds of wicked.

She'd always been interested in him? Suddenly he wanted to puff out his chest and bang on it like a damned monkey.

"Don't reach into my pocket," he said.
There was a suspended silence. Then a dry, "I don't think so."
"I don't have a present for you."
Interest lit her dark eyes, but she remained still. Even suspicious. "The present wouldn't happen to be a hard c#ck, would it? Because if it is, I would have to return it. Minus a few inches."

The moment his tongue made contact, his entire body felt like it went up in flames from the inside out. His blood turned his organs to ash. His ashed organs liquefied his bones and those liquid bones scorched his skin, leaving blisters.
August 6, 2010
8:00 AM
|
Edit Post


Sara Montgomery's comfortable suburban life is turned upside down when handsome Hollywood actor, Enrique Alvarez, enters her life. Restlessness with her life drove her into his arms, but passion kept her there — a passion for him and for the love of writing he ignited once again. This burning need brings Sara a Hollywood success exceeding her wildest dreams. Everything that she thought was true in her life has changed, but at what cost?




Title: A Hollywood Affair
Author: Sally Royer-Derr
Series: Hollywood Series, book 1
Genre: Contemporary Romance
Publisher: Red Rose Publishing
Year of release: 2010, April 29
Format: eBook - pdf, 222 pages
Source: Received for review from author
First line: He's inside, waiting for me.
Memorable Scenes:A particular scene at the end that's very emotional, but I can't say much about it as it would spoil the story and the ending

When I started this book and read about how the heroine/main character Sara was planning to meet the man, an actor from her favorite TV show, she was going to cheat on her husband of 16 years with, I felt some trepidation. This book definitely pushed my buttons throughout most of it, as Enrique is also in a relationship and is willing/planning to sleep with Sara. I was seriously wondering if this was a book I was going to enjoy reading? I wasn't sure...but soon my insecurity was taken away and it wasn't in a positive way because I really didn't enjoy a big part of this book, namely the whole part where Sara and Enrique are having an affair.
My main problem was Sara. I just didn't like her actions and motivation. The way she justified things for herself just totally rubbed me the wrong way. After she's slept with Enrique at the first occasion they meet in person she rationalized it for herself as not cheating because it was just a fling and she still loved Bryan and would never leave him, I was seriously doubting if I could continue reading this book.
And it gets so much the worse when after she spends a night and day with Enrique in his hotel room she just rolls from his bed into her husbands and makes love to him telling him she loves him and is thinking that's where she belongs. Later her husband finds out about the affair from pictures in a magazine and instead of being upset that her husband and kids are giving her the cold shoulder after that, she's excited that she's going to be with Enrique.
Next to the problems I had with the characters, I also had a bit of trouble with the narrative, timeline and the flashbacks. In the narrative there were the occasional first person narratives and I really think this is an editing problem as the book is completely in third person, though it may have been first drafted in first person and later been revised and these occasional mix-ups were overlooked. If not, I can't explain them.
The flashbacks were something that at first I didn't even recognize as flashbacks as they started with an unannounced scene about Sara's parents' funeral that didn't make sense at that point in the story. I thought at first the flashbacks were parts of the novel Sara was writing but as Sara is mentioned and not the names of her characters I soon deducted that they must have been flashbacks. For me the flashbacks didn't add anything substantially important for the romance or the plot.
I don't like (you could say hate) cheaters and I did not enjoy the path the book was taking early on. I realize life and love aren't always a bed of roses and affairs/cheating and people falling out of love is part of reality and applaud Sally Royer-Derr for having written a realistic book but at the same time it's not what I look for in my reading. I'm a believer in the "1 soul mate HEA kind of love" and would have been more accepting of the course this book took if Sara had been more honest and upfront with Bryan from the beginning.
On the other hand I must give kudos to Sally Royer-Derr for evoking strong feelings in me while reading this book. Okay, they were negative feelings but I prefer getting angry about what I'm reading in a book to reading books that are unable to evoke any feelings whatsoever. And I honestly cannot say that this was a bad book, the subject just wasn't for me. I liked reading about Enrique and Sara's separate lives, I didn't like the affair stuff and how Sara justified that to herself but I did like the ending of the book and thought the issues that bothered me were all resolved in an acceptable manner.
A HOLLYWOOD AFFAIR definitely has potential and the fact that I do want to read the sequel that is mentioned at the end of the book, is proof that I definitely want to read more by Sally Royer-Derr. I even went searching on the Internet for who the main character(s) of the second book could be as I was wondering if it could be (one of) the characters I met in this book.
So even though I can't give this book a glowing review, I do recommend it to readers who are more accepting of the fact that people don't stay with the love of their life forever and that people do fall out and in love during the course of their lives because the story around the affair is a pleasant one to read and intriguing enough to tempt me to read more by this author.
July 31, 2009
4:39 PM
|
Edit Post
Jacket Copy:

WELCOME TO A WORLD WHERE NOTHING IS WHAT IT SEEMS AND EVERY TOUCH IS ECSTASY
When Alexandria's car goes off the road in a terrible blizzard, she has no idea night will bring a powerful rescuer and the start of an ecstatic sexual awakening. The moment Xandi wakes in Stefan's muscular arms, feels the heat of his body pressing against hers, she feels no fear. Instead, she allows herself to be taken by one who is more than a man, whose primal nature is never far from him. As their connection grows, and as Xandi gradually loses her sensual inhibitions, experiencing pleasures she never dreamed possible, she is drawn deeper into Stefan's mysterious world, meeting the alluring beauty, Keisha, as well as the dominant and sometimes ruthlessly commanding Anton, who can have any man or woman he wants…in any way he wishes…
WOLF TALES comprises 5 parts. The first 4 parts focus on the introduction of the main characters: Xandi Olanet, Stefan Aragat, Anton Cheval and Keisha Rialto. Part 5 is called THE GIFT and, as I suspect, is the closing part of this introduction of a group of characters that will play important roles in future books of the series.

The Chanku are a poly-amorous, female oriented (it's the alpha female who leads the pack), ancient race of Wolf shifters. They were thought to be almost extinct with the few Chanku left scattered all over. Powerful wizard and Chanku Master Anton, who learns of his heritage by accident, is locating the ones left in order to bring them back together and rebuild the once powerful race. In this first installment of the series we get acquainted with Stefan, Xandi and Keisha. They are the first members Anton discovers and brings into the Pack.

I am starting this review by expressing my utter disappointment in this first book of the series of which I had high expectations and now have been forced to dial that down a bit. This book did not bring me the things I look for in the books I read, not emotionally, not in the plot and not even in the eroticism. I think what bothered me most was the way things were set up in this book. First impressions are important and the first look I got was hot, heavy and very explicit sex with an absolute stranger, without exchanging a single word within the first 10 pages of the book. This set up bothered me and made a rocky start to say the least.

Throughout the entire book I had the feeling something was missing and I am very frustrated because I can't exactly put into words what it was. But I will give it a try. As I have mentioned often in other reviews I like my erotic romances to be more than just a string of erotic scenes held together by a meager or non-existent plot and I was very afraid it was going to be just that with WOLF TALES after the first few chapters. But about 20-30 pages into it started to get better and a story began to unfold in between the sex scenes. And just when I thought all wasn't lost after all there was the scene that was the absolute deal breaker for me. Stefan being forced into sexual submission, practically raped by Anton was what went beyond my comfort zone and I can honestly say I can take a lot when it comes to erotica but rape is not one of those things.

The fact that I kept on reading and finished this book after that scene was solely because I hate not finishing books and because this was a book I chose for my reading challenge. If this hadn't been the case this would have been a DNF for sure because at page 10 I was ready to give up and at page 60 I was completely done with it. This was not a book for me.
I kept putting the book aside, only able to read small portions at a time. This rarely happens to me when I read. I missed characterization, background, connection and emotional development. It was all over snowed under by eroticism to an extent that is not what I look for in erotica. But I kept on reading and despite my misgivings it got a bit better after Anton's explanation of the Chanku culture and Stefan and Xandi's roles in it. At least this offered me some background and motivations for some to the events that were taking place. Preferably I would have liked this explanation earlier and a bit more elaborate though.

For the first time ever I actually skimmed through some of the sex scenes. I did not skip them but did not read them as intensely as I normally do either. Why? They just didn't do it for me and there were just too many of them. As I have stated before in reviews I prefer quality over quantity when it comes to sex scenes and these felt too forced and too detached to me. This is not the type of erotic romance that I crave. It was too sexually aggressive and I couldn't emotionally connect with the characters. Sincerity obliges me to admit that I missed intensity that is able to captivate me.

Another thing that bothered me was the easy acceptance by the characters of the events, the mental connections and sexual acts. I understand that it might work that way in a pack of wolves with the alpha male/alpha female stuff but a little reluctance or hesitation or doubt would have made it a better and more acceptable book for me. I was definitely not in sync with the kindred-spirit stuff because I just didn't "feel" it all. It was all mentioned but it didn't resonate with me. From the first this book and I started off on the wrong foot and with the lack of background and foundation for the characters and events in the beginning it just never got back on track completely.

I enjoy ménages, I enjoy M/F/M stories and even F/F doesn't really bother me but still the poly-amorous ways of the Chanku kept bothering me. Why? Maybe because of the disconnection and detachment I felt from the beginning. Things happen and are accepted so fast that for me they lost their credibility. Everything was too easily accepted and kept too much on the surface making it unable for me to feel emotionally connected to the characters or the writing.

The things that bothered me kept getting in the way of letting me enjoy the rest of the story, which definitely had potential. The world of the Chanku is fascinating and I think with a bit more emotion and character development it can be a background for great stories. I will definitely give the following installments a try since I have heard that it gets better along the series and I have read a novella (in an anthology) of the series which I really liked, so I am not giving up on Kate Douglas's WOLF TALES series and will consider this a small bump in the road to more satisfying reads.
Quotes:
She should have been terrified. Should have felt some sense of fear, well aware she was essentially acting as an agent in her own abduction. Instead she was pure anticipation and untempered lust. Her body ached with the need for him.

"Open your eyes, Stefan. Look at me the way you want me to see you. Please? Open your eyes."
Slowly his breathing eased, and he settled himself between her legs, then he looked at her. There was a wild gleam in his amber eyes, a look that told her he was close, so close, to the edge of whatever kept him human, whatever remnant of his soul controlled the beast.
January 4, 2009
5:14 PM
|
Edit Post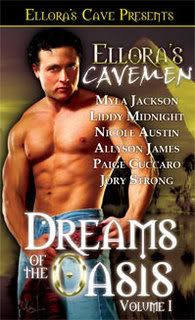 Back Cover:
It's hell to be a dragon enslaved. Arys, a powerful silver dragon in human form, is bound to a witch who uses his magic and his body to pleasure her in every way imaginable. When Arys spies Naida, a young woman just coming into her powers, watching Arys performing erotic acts with the witch, he knows that Naida is the key to his freedom.
First he must convince Naida she's his true mate and that the power of their sexual play, and her love, will release him.
There isn't much to tell about the content of this story. Silver dragon Arys enslaved by a witch who holds his true name and therefore can compel him to do her bidding, the witch Clymenestra. This time when he's summoned from Dragonspace to provide her his blood for a spell, he encounters a maiden whose blood is also needed for the spell, Naida. Soon Arys knows that Naida is his life mate, the only one who can free him from his enslavement.

This extremely short novella is definitely set in the same world as Allyson James' books in the Here Be Dragons series and it loosely follows the same concept but that is where the comparison ends.
Significant differences in language use, eroticism and time period set this novella apart from the full-length books. The writing to me was less fluent and the use of language was understandably less modern because it took place in an undisclosed time period in the past and not in our modern day world. There is no real plot except for Clymenestra trying to steal Arys' power and Arys wanting to get out of his enslavement.

This story was much more erotic and that's not surprising considering the publisher is Ellora's Cave. The love scenes are very explicit and because of the lack of room for world building or character development and the fact that the love scenes take up most of the 32 pages the story counts, the eroticism is the focal point of the story.

I would not recommend this novella as a first encounter with Allyson James' work. Since I've read more of her work I have other books to compare it to, and it doesn't come close to the high quality, perfectly set up world of Dragons or the wonderful intriguing world of the Shareem. I read the story because it's set in the world of the Here Be Dragons series and would only tell people to read it in order to do the same but not to have a first taste of Allyson James' writing and definitely not if you're not open to erotica.


August 5, 2008
8:00 AM
|
Edit Post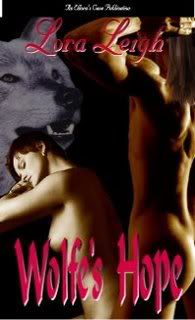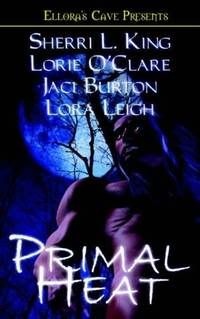 This story can be found in print in the anthology PRIMAL HEAT
Back cover:
Hope believed Wolfe was dead, but he was only waiting for the right time to claim her. The scientist who created him, Hope's mother, has forced his hand. She wants her creation back, and she wants any children he may breed on her daughter.

He is a man whose DNA was altered, infused with the genetic code of the wolf. His unique genetic makeup has created a male unlike any other and will make itself known in the most surprising ways. Now Hope must convince her mate she hasn't betrayed him, and they must defeat the plans of a scientist gone mad.
In short Wolfe is a Breed in Hope's mother's Labs. They are mates and her mother discovers this and tries to use it to her advantage by breeding a new generation of Wolf Breeds. But Wolfe refuses and escapes the labs, leaving Hope behind. Hope thinks he's been dead for 6 years when he shows up and kidnaps her.
Her mother, the proverbial mad scientist, has tricked him into believing Hope has been with other men and is working with her to trap him.
But Wolfe has his own plans for Hope's mother.

This very, very short novella. With only 40 pages and being an erotic novella it leaves little room for a real plot, character development or intense emotions. Therefore this will be one of the shortest reviews I've ever written. There's just not much to say about it. I started it, I blinked and I was at the end!

For me the Wolf Breed stories I've read aren't as good as the Feline Breeds and this novella is no exception. It's written in the same style as the Ellora Cave Feline Breed stories but it lacks the intensity and emotional build up those stories have. Not even the erotic scenes could do it for me.

Certainly after reading a few full-length stories in the Feline Breeds this one really doesn't compare even though I shouldn't compare a full-length with a short story. But still I've also read two Feline Breed anthology-stories in this series, who admittedly were a bit longer but the build up and characterization were absolutely there, where as in this story I really couldn't find it. But let's say I'm one installment closer to getting up to date with the series and it's another book I can take of my TBR-pile.

Maybe the next Wolf Breeds will convince me because consistent with all the books in this series there is a hint at the end about the next couple in the series: Jacob and Faith. It's just one paragraph, but one with potential. So I'm still not giving up on the Wolf Breeds but for now I would have to say this is the least appealing installment in the Breeds Series up till now.

January 26, 2008
10:19 PM
|
Edit Post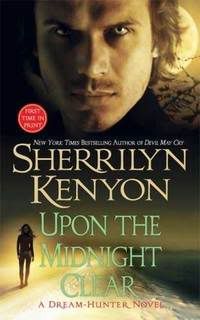 EVER THINK SCROOGE HAD IT RIGHT BEFORE THE GHOSTS RUINED HIS LIFE? MEET AIDAN CONNOR
At one time he was a world-renowned celebrity who gave freely of himself and his money without wanting anything in return...until those around him took without asking. Now Aidan wants nothing to do with the world -or anyone who's part of it.

WHEN A STRANGER APPEARS ON HIS DOORSTEP, AIDAN KNOWS HE'S SEEN HER BEFORE...IN HIS DREAMS
Born on Olympus as a goddess, Leta knows nothing of the human world. But a ruthless enemy has driven her from the world of dreams and into the home of the only man who can help her: Aidan. Her immortal powers are derived from human emotions -and his anger is just the fuel she needs to defend herself...

ONE COLD WINTER'S NIGHT WILL CHANGE THEIR LIVES FOREVER...
Trapped together in a brutal winter storm, Aidan and Leta must turn to the only power capable of saving them -or destroying them both: trust.
Well, I'm still reeling after reading the last page of this book and I'm sorry to say not reeling in a positive way but more with disappointment and indignation.
This novella -I seriously can't call it a book being 240 pages in a very large font- does not deserve the Kenyon name to it.
The ingredients were all there:
Aidan: the famous movie star and disappointed by his family's jealousy and resentment, Leta: a goddess bent saving Aidan's life from Dolor: the bad-ass god of Pain summoned by Aidan's revengeful brother and who still has a bone to pick with Leta. But unfortunately it never made good on the promise by mixing these ingredients into a story able to blow me away.

It read like it was written in a rush, trying to stuff as much information as possible into as little pages as possible.
Aidan and Leta were promising characters but I think they deserved more than this anthology-like story. I would have liked a bit more of backgrounds for them instead of a full-blown romance in the time span of 24 hours. Why the Christmas theme was brought into the mix? I really don't know. It could easily have done without it in my opinion so that there would be more room for character development. I certainly had ambivalent feelings towards their characters, especially Aidan's, one moment I could relate to his feelings but the next I felt he was whining like a small child and I really wanted him to move on. I was getting tired of the "oh I'm so good and the whole world is mean and bad"-crap and it really started to annoy me only a few chapters into the story.
It's really not a good sign when a secondary character with very little appearances is much more appealing to you than both hero and heroine. But this has happened to me twice in a row with Kenyon (Devil May Cry and this novella). In this one it was Deimos who intrigued me to a point I was hoping he would come back every next scene.
Even the love scene didn't have that Kenyon-vibe. It felt rushed and dispassionate and certainly not what I'm used to in Kenyon's books.
What I did like of Aidan and Leta was their interaction, their sarcastic banter. This Kenyon trademark is what saved the novella from really being burned to the ground in my eyes

Still something was off, it didn't give me the emotional rush I had reading Dream Hunter. It lacked intensity and excitement I did experience reading the early Dark-Hunter novels. I only caught a glimpse of these feelings in the last few chapters where Aidan. Leta and Deimos engage Dolor and Donnie in battle and where Aidan finally realizes he has to stop whining. But by then it was too late to really save the book for me. The negative feelings couldn't be completely redeemed by the last few positive chapters.

Kenyon has been on my auto-buy list ever since I read Fantasy Lover for the first time but if Dream Chaser (Xypher's story) doesn't reach the level the early Dark-Hunter books had or that of The Dream-Hunter this is something definitely worth reconsidering.

Upon The Midnight Clear was marketed as a gift from Kenyon to her readers and I know you aren't supposed to look a gift horse in the mouth but honestly this is a gift we could have done without. Especially when the gift is certainly not for free but costs about the same as regular paperbacks that aren't gifts.

Nice to meet you!
Pearl

Netherlands
39, married to my real life romance hero, addicted to TV shows, reading romance novels and Twitter. I'm a chronic (e)book hoarder and my absolute favorite genres within romance fiction are contemporary romance and romantic suspense, but I don't shy away from historical, paranormal or erotic romance either. Even the occasional (urban) fantasy romance, futuristic and sci fi romance may make it to my Mount TBR. This is my corner of the world wide web where I let you know what books I'm hoarding, reading and reviewing.
View my complete profile

My Book-Providers
Reviews by Rating

Reviews by Genre
Reviews by Type

Reviews by Publisher

Fellow Bloggers


GR Reading Challenge
Pearl
has read 10 books toward her goal of 50 books.

On My TBR Shelf
Unforgivable - Laura Griffin
Snapped - Laura Griffin
Darkness at Dawn - Elizabeth Jennings
Sizzle and Burn - Alexis Grant
No Mercy - Lori Armstrong
Animal Magnetism - Jill Shalvis
Crazy for Love - Victoria Dahl
Kink - Saskia Walker/Sasha White
So Sensitive - Anne Rainey
Dark Taste of Rapture - Gena Showalter
The Darkest Secret - Gena Showalter
Vampire in Atlantis - Alyssa Day
Vampire Dragon - Annette Blair
Captive Spirit - Anna Windsor
Chosen by Blood - Virna DePaul
Rebel - Zoe Archer
Stranger - Zoe Archer
A Taste of Desire - Beverley Kendall
Mistress by Midnight - Maggie Robinson
To Desire a Devil - Elizabeth Hoyt
To Tame a Dangerous Lord - Nicole Jordan

Digital TBR Next
Driven - Jayne Rylon (reread)
Shifting Gears - Jayne Rylon
Beg Me - Shiloh Walker
Tempt Me - Shiloh Walker
Jazz Baby - Lorelie Brown
Playboy Prankster - Pamela Britton
Just Like That - Erin Nicholas
Sweet Inspiration - Penny Watson
Breathe - Donna Alward
My Gigolo - Molly Burkhart
Scent of Persuason - Nikki Duncan

Blog Archive