November 23, 2007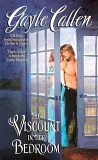 Louisa Shelby's carefree life of elegant balls and beautiful frocks ended when her father died, leaving her penniless. With no hope of securing a proper marriage, the vivacious young miss accepts a position as a companion to an elderly viscountess. But temptation in a most unexpected guise awaits Louisa in the dowager's home...

Once, Simon Wade was London's most eligible bachelor and most able seducer. But a tragic accident forced him into seclusion, away from prying eyes and questions. He thought he'd never again experience the tender touch of a beautiful woman. But while he yearns to hold the enchanting Louisa and taste the intoxicating nectar of her kiss, he will accept no woman's pity.

Louisa never desired a man the way she burns for Simon. And now her chance at happiness may rest in her ability to convince the stubborn viscount that her passion is real...and her love is true
This is the third and final book in the Sisters of Willow Pond-trilogy and tells the story of Louisa Shelby and Simon Wade.
Louisa is the youngest Shelby-sister and Simon is the friend of David Thurlow who is the hero of book 1 and now married to Louisa's eldest sister Victoria.
This book contrary to book 2 gave me the same vibe as book 1 did.

I can't say I didn't like the book, because I did like it and that was because of the characters, both hero, heroine and secondary characters.
They were well written, having depth and their development throughout the story was very nice to read.
I liked Simon because of the way he tried to deal with his blindness. His independence and his way of trying to protect the people he loves.
I liked Louisa's compassion and her desire to help people she cares for with their problems and difficulties.
They are both genuine and very loveable characters you can easily relate to and have sympathy for. They learn to trust each other with their fears and doubts caused by actions of their parents and peers
The tentative flirtations between Simon and Louisa lead to deeper feelings and they slowly fall in love. This is written in a very believable way and as a reader you grow into the relationship with them
Of the secondary characters I loved Manvil, Simon's valet. He was witty and impertinent, not afraid to tell his employer what he thinks. His sense of humor matches Simon's and was very refreshing. I also loved Georgiana, Simon's sister. She grew as a character throughout the book.

The story did lack a plot, which was something I really appreciated in book 2. It gave that book that little bit extra. Unfortunately in this book there was too much focus on secrets, lack of trust, misguided assumptions, hiding true feelings and lack of courage to be open and honest. It all lingers too long in the story and causes unnecessary misunderstandings.
This bothered me in book 1 and now again in this book, but the characters and character-development did make up for this.
The recurring element was the effect parents and their actions have on their children and how their outlook on other people turns out to be.
This is a wonderful theme and I can't but think that it could have been brought out even better with less focus on the misunderstandings and assumptions.

In conclusion I thought this an average but enjoyable trilogy with an average start, a better and lovely second installment and an endearing last book.
For me book 2 was the best one if you look at the plot and book 3 was the best one if you look at the characters and their development.
The theme throughout the trilogy is trust: trust in yourself and others, especially the ones you want to love and the ones you think you can always trust, in this case: parents.
Even though the books weren't very exciting or thrilling they each suited the different sister's personalities, as did the heroes. The combination of the characters was done in a great way.
This made it an acceptable trilogy. Uncomplicated and simple, with no intricate plots but genuine people overcoming their insecurities and issues by finding true love and the ability to trust their feelings in the hand of others.

Nice to meet you!
Pearl

Netherlands
39, married to my real life romance hero, addicted to TV shows, reading romance novels and Twitter. I'm a chronic (e)book hoarder and my absolute favorite genres within romance fiction are contemporary romance and romantic suspense, but I don't shy away from historical, paranormal or erotic romance either. Even the occasional (urban) fantasy romance, futuristic and sci fi romance may make it to my Mount TBR. This is my corner of the world wide web where I let you know what books I'm hoarding, reading and reviewing.
View my complete profile

My Book-Providers
Reviews by Rating

Reviews by Genre
Reviews by Type

Reviews by Publisher

Fellow Bloggers


GR Reading Challenge
Pearl
has read 10 books toward her goal of 50 books.

On My TBR Shelf
Unforgivable - Laura Griffin
Snapped - Laura Griffin
Darkness at Dawn - Elizabeth Jennings
Sizzle and Burn - Alexis Grant
No Mercy - Lori Armstrong
Animal Magnetism - Jill Shalvis
Crazy for Love - Victoria Dahl
Kink - Saskia Walker/Sasha White
So Sensitive - Anne Rainey
Dark Taste of Rapture - Gena Showalter
The Darkest Secret - Gena Showalter
Vampire in Atlantis - Alyssa Day
Vampire Dragon - Annette Blair
Captive Spirit - Anna Windsor
Chosen by Blood - Virna DePaul
Rebel - Zoe Archer
Stranger - Zoe Archer
A Taste of Desire - Beverley Kendall
Mistress by Midnight - Maggie Robinson
To Desire a Devil - Elizabeth Hoyt
To Tame a Dangerous Lord - Nicole Jordan

Digital TBR Next
Driven - Jayne Rylon (reread)
Shifting Gears - Jayne Rylon
Beg Me - Shiloh Walker
Tempt Me - Shiloh Walker
Jazz Baby - Lorelie Brown
Playboy Prankster - Pamela Britton
Just Like That - Erin Nicholas
Sweet Inspiration - Penny Watson
Breathe - Donna Alward
My Gigolo - Molly Burkhart
Scent of Persuason - Nikki Duncan

Blog Archive