November 7, 2007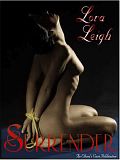 Cole has wanted Tess for years. And he's warned her of this several times. He's also warned her HOW he wants her. Tied down in his bed, under his domination, surrendering to his desires...
Tess Delacourte is the daughter of Jason Delacourte and Ella James.
Jason and Ella are divorced and the bitterness of her mother and guilt trips by her father have Tess stuck in the middle.
Her father has remarried and her stepmother's brother, Cole Andrews, is the man who stole a kiss the last time she was at her father's house.
Now Tess has to go back there for a party and she knows she will see the man again who rocked her world with just one kiss and ruined her for other men.

Cole is determined to show Tess that she is the woman for him and he the man for her. He is very sure of himself and dominating both inside and outside the bedroom.
Tess is feisty and outspoken. She wants what Cole wants but is afraid to give into it. Eventually she can't resist Cole and her love for him.

In the span of a short novella containing only 62 pages Lora Leigh manages to write a story with strong characters and super hot erotic scenes.
It lacks a plot but that's to be expected and understandable because it's too short to be able to mix a real plot into it.
The story mainly covers the way Tess and Cole give into their feelings, the emotions between them and their sexual desires.
The content and language are very in your face erotic, not for the faint of heart. Use of toys, ménage a trois and light BDSM are involved and there is quite some use of explicit language. But it served the intensity of the story, making it vivid and lively. Because despite of the story being very short it really did have potential.
Prior to this novella I hadn't read anything by Lora Leigh but if this is an indication, she is definitely on my list in the erotica department.
Nothing too complicated but just hot and raw eroticism nicely combined with a powerful emotional journey.
I know the next stories in this series are a bit more elaborate and recently Leigh also released a full-length novel in this series, so I'll be looking out for that one to see if she can fulfill the lingering expectations created in this first story when she has more pages to do it in.
Quotes:
She was burning, inside and out, a wave of fiery lust tormenting her loins as she fought the depraved pleasures of the spanking.

Tess was everything to him. His heart, his soul, the happiness he had always believed he would never find.

Nice to meet you!
Pearl

Netherlands
39, married to my real life romance hero, addicted to TV shows, reading romance novels and Twitter. I'm a chronic (e)book hoarder and my absolute favorite genres within romance fiction are contemporary romance and romantic suspense, but I don't shy away from historical, paranormal or erotic romance either. Even the occasional (urban) fantasy romance, futuristic and sci fi romance may make it to my Mount TBR. This is my corner of the world wide web where I let you know what books I'm hoarding, reading and reviewing.
View my complete profile

My Book-Providers
Reviews by Rating

Reviews by Genre
Reviews by Type

Reviews by Publisher

Fellow Bloggers


GR Reading Challenge
Pearl
has read 10 books toward her goal of 50 books.

On My TBR Shelf
Unforgivable - Laura Griffin
Snapped - Laura Griffin
Darkness at Dawn - Elizabeth Jennings
Sizzle and Burn - Alexis Grant
No Mercy - Lori Armstrong
Animal Magnetism - Jill Shalvis
Crazy for Love - Victoria Dahl
Kink - Saskia Walker/Sasha White
So Sensitive - Anne Rainey
Dark Taste of Rapture - Gena Showalter
The Darkest Secret - Gena Showalter
Vampire in Atlantis - Alyssa Day
Vampire Dragon - Annette Blair
Captive Spirit - Anna Windsor
Chosen by Blood - Virna DePaul
Rebel - Zoe Archer
Stranger - Zoe Archer
A Taste of Desire - Beverley Kendall
Mistress by Midnight - Maggie Robinson
To Desire a Devil - Elizabeth Hoyt
To Tame a Dangerous Lord - Nicole Jordan

Digital TBR Next
Driven - Jayne Rylon (reread)
Shifting Gears - Jayne Rylon
Beg Me - Shiloh Walker
Tempt Me - Shiloh Walker
Jazz Baby - Lorelie Brown
Playboy Prankster - Pamela Britton
Just Like That - Erin Nicholas
Sweet Inspiration - Penny Watson
Breathe - Donna Alward
My Gigolo - Molly Burkhart
Scent of Persuason - Nikki Duncan

Blog Archive