November 15, 2007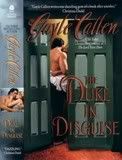 The Duke of Thanet may have hired her as a governess to his six-year-old son, but there is something…different about the devilish rogue standing before her today. He seems to study her with intensity she never noticed before, and he is certainly more charming than the last time they encountered each other. Was there always an alluring glint in his dark eyes? But the duke has a notoriously scandalous reputation, and Meriel will not let herself succumb.

Masquerading as the duke was not the simple solution Richard O'Neill had envisioned. When his ailing half-brother, the real duke, asked him to protect his young heir from a greedy enemy, Richard agreed. But he never thought he'd be attracted to the inquisitive governess, or that each moment in her intoxicating presence would tempt him beyond all reason. And letting down his guard could prove dangerous…especially to Richard's own heart.
This was the second installment in the Sisters of Willow Pond-trilogy.
I found it a lovely story of finding love when least expecting it. I certainly enjoyed it more than book 1 in the series.
Maybe because there was a real plot involved where it lacked in book 1 but I also think the characters of the hero and heroine were more appealing to me.
Meriel is practical and logical, forcing herself to lead her life by her intellect and not her emotions after her parents' betrayal and lies.
Then she meets Richard and nothing she's caught changing her views on love and trust.
Richard is not happy impersonating his half-brother since his personality and behavior are so different from his own but he does it regardless for his nephew's safety and future.
The chemistry between Meriel and Richard is apparent from the beginning and the development of their feelings is very nicely written.
The nephew Stephen is an adorable boy and a very loveable character in the book, providing endearing parts in the book with his regular six year-old mischievous behavior and the plain honesty and simple look on life all children have.

Even though the plot seemed a bit far-fetched in the beginning Gayle Callen pulled it of by focusing on the feelings and emotions between Meriel, Richard and Stephen.
The betrayal of Meriel's parents linger in the back of her head and makes it hard for her to completely trust Richard and his motives. And Richard is so concerned for the well being of his nephew it takes a while for him to confide in Meriel.
But it's all worked out in a nice way. Especially after Meriel discovers Richard's true identity and confronts him. They start working together after that to accomplish his task.
But that is also when the difficulty in resisting each other starts. And this is where the book really grabbed my attention.
I liked the regular change of perspective so you have both Meriel's and Richard's point of view on the evolving love-story and the plot. This made it easy to relate to both their characters.

Gayle Callen has provided an easy and enjoyable read with a well-written plot and genuine emotions and feelings. It was not very intense, fast-paced or action-filled but still it strung a cord with me being wonderful in it's simplicity.
Quote:
Again he said, "Resist me, Meriel, because God help me, I don't want to resist what you make me feel."

Nice to meet you!
Pearl

Netherlands
39, married to my real life romance hero, addicted to TV shows, reading romance novels and Twitter. I'm a chronic (e)book hoarder and my absolute favorite genres within romance fiction are contemporary romance and romantic suspense, but I don't shy away from historical, paranormal or erotic romance either. Even the occasional (urban) fantasy romance, futuristic and sci fi romance may make it to my Mount TBR. This is my corner of the world wide web where I let you know what books I'm hoarding, reading and reviewing.
View my complete profile

My Book-Providers
Reviews by Rating

Reviews by Genre
Reviews by Type

Reviews by Publisher

Fellow Bloggers


GR Reading Challenge
Pearl
has read 10 books toward her goal of 50 books.

On My TBR Shelf
Unforgivable - Laura Griffin
Snapped - Laura Griffin
Darkness at Dawn - Elizabeth Jennings
Sizzle and Burn - Alexis Grant
No Mercy - Lori Armstrong
Animal Magnetism - Jill Shalvis
Crazy for Love - Victoria Dahl
Kink - Saskia Walker/Sasha White
So Sensitive - Anne Rainey
Dark Taste of Rapture - Gena Showalter
The Darkest Secret - Gena Showalter
Vampire in Atlantis - Alyssa Day
Vampire Dragon - Annette Blair
Captive Spirit - Anna Windsor
Chosen by Blood - Virna DePaul
Rebel - Zoe Archer
Stranger - Zoe Archer
A Taste of Desire - Beverley Kendall
Mistress by Midnight - Maggie Robinson
To Desire a Devil - Elizabeth Hoyt
To Tame a Dangerous Lord - Nicole Jordan

Digital TBR Next
Driven - Jayne Rylon (reread)
Shifting Gears - Jayne Rylon
Beg Me - Shiloh Walker
Tempt Me - Shiloh Walker
Jazz Baby - Lorelie Brown
Playboy Prankster - Pamela Britton
Just Like That - Erin Nicholas
Sweet Inspiration - Penny Watson
Breathe - Donna Alward
My Gigolo - Molly Burkhart
Scent of Persuason - Nikki Duncan

Blog Archive