April 30, 2008
10:51 PM
|
Edit Post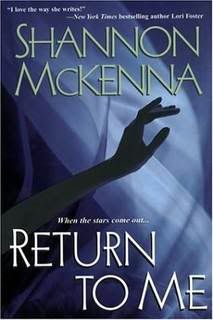 The Midnight Man
It's been seventeen years since bad boy Simon Riley hopped a freight train out of town and Ellen Kent's given up wondering what happened to him. Running a successful bed and breakfast in Oregon's LaRue River Valley hasn't left her a lot of time for fantasizing about the one who got away. She's put aside her dreams of midnight kisses and secret passion . . . until an unexpected visitor knocks on her door. Simon is back. She had no idea that he was a famous photojournalist, working in war zones around the world. But the man is everything she wants in a lover--and more . . .

The Midnight Hour
Dogged by trouble, Simon swore he'd never return to this backwater town, even to see El Kent. But he had to come back to investigate his uncle's sudden death--and he must face the demons of his past. El's lush beauty still tempts him beyond belief. He knows he can satisfy her most hidden desire, to the point of complete abandonment and total ecstasy. And he's hungry for the sensual tenderness that only she can give--hungry for her.
The last thing Simon would ever do is hurt El, but someone is forcing his hand. Someone who will stop at nothing to keep the past dead and buried--even if it means silencing the woman Simon loves . . .
Simon and Ellen have known each other since they were kids and they were each other's first loves. Circumstances lead to Simon leaving his hometown and Ellen behind but his uncle's death brings him back. In the meantime Ellen is engaged to be married into the town's most influential family but she is not happy and Simon's return leads to not only a reunion of childhood friends but also to the rekindling of a love that was never forgotten. Little do they know that they have a lot to overcome before they can be together.

Simon is a loner, he had a terrible childhood and the only person who cared for him was Ellen and left he her. He is seductive and manly. But he is also endearing in this grieve for his uncle and his feelings for Ellen. His youth was awful and his only link to goodness or comfort was Ellen. Now he's back and he's guilt ridden for leaving Ellen behind all those years ago and for dragging her into his troubles now that he's back.

Ellen is persistent and a bit insecure, which she masks with her compassionate nature, she's caring and determined when she believes in something or someone. She has always had a weakness for Simon and after losing her virginity to him when she was a teenager she knew she would never love anyone as she did him. After Simon left town and her she picks up her life and moves on. When he returns she can't believe he's back to turn her world upside down and she's not ready to forgive him just like that for leaving her.

I love the development of McKenna's heroines. They start rather insecure and sometimes a bit timid but during the book they develop into strong-minded and determined women who don't take any crap from no one, not even the hero. This was definitely the case with Ellen. Her persistence is unstoppable and she manages to show Simon what it's like to be loved and cherished and she convinces him to accept these feelings.

McKenna's heroes are something else! Each one of them (at least of the three books I've read) has had terrible things to deal with and still they have the will to go on and find and accept love from the women in their lives. They are alpha to the bone with just the right amount of dominance to make them into drool-worthy men. This goes for Simon too. Underneath his alpha behavior is a man who's been hurt and rejected so many times he doesn't dare to recognize Ellen's feelings of love as they are meant to be. He thinks she pities him and feels sorry for him and he certainly doesn't think he's worthy of her love.

The secondary characters are equally well written as the main couple. Again their actions are perfectly motivated and meaningful, even those of the less likeable secondary characters. Most of them are not there just to fill the pages but have a genuine and important part in the plot and therefore you get a deeper glimpse of their reasoning and behavior. I love it that McKenna manages to give characters that seem very bad (in the sense of evil) in the beginning means to redeem themselves and they turn out to be more likeable than you think at first. She did this in the first book and again in this book.

The third McKenna book I read again was able to stir my emotions in a big way. Again it was typical McKenna in the sense of characterization, character-development and intensity. The attraction between hero and heroine is amazingly intense and sensual. The love scenes are highly erotic and tastefully written.

Again the plot is known to the reader but for me that didn't make it less exciting. How everything unfolds at the end was still surprising enough to keep me turning the pages. The suspense plot it a bit less intense and thrilling than in the McCloud books and the focus is less on the suspense in this book but McKenna more than makes up for that with the characters and their intensity. Simon, Ellen and several secondary characters are great, well-rounded characters with lots of depth to them. Their story is carefully told in a fast pace and it's easy to relate to them and their pasts.

So even though this book was less focused on the plot, it was still an amazing read that kept me enthralled. McKenna's writing style is very appealing to me. The way she combines plot, strong well-rounded characters and eroticism is unique in my eyes. The backgrounds and motivations of her characters have a similar theme in all the books but still each book has it's own unique feel because in each one the focus is on a different aspect of the characters or the plot.

Another great story delivered by Shannon McKenna that left me aching for more of her wonderful heroines, her delicious and tormented heroes, her intense love stories and her love scenes that set the pages on fire!
Quotes:
He wore a thin, crumpled, white linen shirt buttoned halfway up his golden chest. His face was shadowed with bad-boy beard stubble. That indecent, give-me-sex-now smile on his face would be more appropriate if he were lounging stark naked in bed.

"You're doing it again El. Your angel act. Sweet and selfless. Sacrificing yourself on the altar of my lust."
"I love the altar of your lust, Simon Riley. I want to drape a nice quilt over it, toss on some pillows and make it into my permanent bed."

Nice to meet you!
Pearl

Netherlands
39, married to my real life romance hero, addicted to TV shows, reading romance novels and Twitter. I'm a chronic (e)book hoarder and my absolute favorite genres within romance fiction are contemporary romance and romantic suspense, but I don't shy away from historical, paranormal or erotic romance either. Even the occasional (urban) fantasy romance, futuristic and sci fi romance may make it to my Mount TBR. This is my corner of the world wide web where I let you know what books I'm hoarding, reading and reviewing.
View my complete profile

My Book-Providers
Reviews by Rating

Reviews by Genre
Reviews by Type

Reviews by Publisher

Fellow Bloggers


GR Reading Challenge
Pearl
has read 10 books toward her goal of 50 books.

On My TBR Shelf
Unforgivable - Laura Griffin
Snapped - Laura Griffin
Darkness at Dawn - Elizabeth Jennings
Sizzle and Burn - Alexis Grant
No Mercy - Lori Armstrong
Animal Magnetism - Jill Shalvis
Crazy for Love - Victoria Dahl
Kink - Saskia Walker/Sasha White
So Sensitive - Anne Rainey
Dark Taste of Rapture - Gena Showalter
The Darkest Secret - Gena Showalter
Vampire in Atlantis - Alyssa Day
Vampire Dragon - Annette Blair
Captive Spirit - Anna Windsor
Chosen by Blood - Virna DePaul
Rebel - Zoe Archer
Stranger - Zoe Archer
A Taste of Desire - Beverley Kendall
Mistress by Midnight - Maggie Robinson
To Desire a Devil - Elizabeth Hoyt
To Tame a Dangerous Lord - Nicole Jordan

Digital TBR Next
Driven - Jayne Rylon (reread)
Shifting Gears - Jayne Rylon
Beg Me - Shiloh Walker
Tempt Me - Shiloh Walker
Jazz Baby - Lorelie Brown
Playboy Prankster - Pamela Britton
Just Like That - Erin Nicholas
Sweet Inspiration - Penny Watson
Breathe - Donna Alward
My Gigolo - Molly Burkhart
Scent of Persuason - Nikki Duncan

Blog Archive