April 13, 2008
1:25 PM
|
Edit Post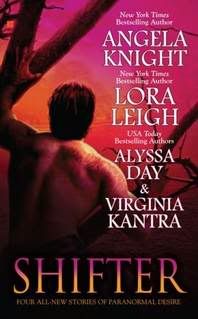 Something happens when the beast within is teased and tempted. Something dangerous. Something inescapable. Something so irresistible no woman would want to run from it.
Whether transforming beneath a cool blue moon, prowling the streets with feline grace and bloodred talons, or panting with pleasure, the shifters come alive to fulfill your wildest fantasies...
Angela Knight - Mad Dog Love
Interstellar empress Zarifa Lorezo desperately needs protection against the royal assassins who are out for her blood. She decides to buy a bodyguard -- a powerful werewolf slave named Rance "Mad Dog" Conlan.
She soon realizes that despite his slave collar, Rance is a very dangerous man -- and not just because he can turn into a seven-foot wolf.
This is the story of Rance Conlan, a genetically engineered werewolf from the Freeworld and Zarifa Lorezo, the empress of Throneworld. The story is in a futuristic setting (year 2450). Slavers have captured Rance and Zarifa, in need of protection, buys him to escort her on a mission for her freedom.

According to Angela Knight this is a werewolf story, but in an entirely different universe from the Mageverse series. Since I have not read anything in that series yet and Angela Knight is a new author for me I was able to make my review without comparing both worlds.
As said this was my first encounter with Angela Knight's writing and I must say that although at times it was a bit too Star Trek/Star Wars for my taste, I still enjoyed this lovely tale of passion and betrayal.
The main characters were good together, having more to them than met the eye and even if it was short I did get a good picture of their personalities. There were some intriguing secondary characters, adding to the futuristic feel of the story and the plot was surprising.

I think I'm going to have to make time for the Mageverse series soon because this little taste of Angela Knight's writing certainly does ask for more.
Quote
She might own him, but just now, he owned her. Her body danced to his tune, her breathless voice begged for the pleasure only he could give.

Lora Leigh - A Jaguar's Kiss (part of the Breeds Series)
I could not find a back cover/synopsis for this story but in the book itself was a little explanation about the origin of the Breeds. A small summary:
They were created, not born. Trained, not raised. Humans genetically altered with the DNA of the predators of the earth: wolf, lion, tiger, cougar, jaguar.
Now they are banding together, creating their own society fighting to hide the only secret that can destroy them. The secret of mating heat, the chemical, biological and emotional reaction of one Breed to the man or woman meant to be his or hers forever. It's their Achilles' heel, their strength but also their weakness.
This is the story of Natalie Ricci, a non-Breed teacher and Saban Broussard, a Jaguar Breed; he's Cajun and a Breed Enforcer.
When Natalie is given a position as the first non-Breed teaching Breed children in a public school, Saban is assigned as her bodyguard to escort her to her new job just outside Breed headquarters. When Saban lays his eyes on Natalie he knows she is his mate. Saban binds her to him in a way that takes away her freedom of choice.
Natalie, who is not familiar with the ways of the Breeds and is just coming from an ugly divorce from a controlling husband, doesn't give in with out a fight.
The outcome is inevitable, even when her ex-husband, instigated by the Breeds enemies, comes to cause trouble.
Natalie and Saban are great together and perfect for each other. Saban is alpha, protective, possessive and determined. Natalie is fierce, intelligent and independent. She has a dry sense of humor and despite the strong, initially physical, attraction between them she gives Saban a hard time in convincing her she is his mate.

Lora Leigh describes Natalie's struggle and Saban's determination in a very emotional and captivating way. She gives this short story an unexpected and fascinating depth. Same goes for the love scenes; they are spine tingling.

In the anthology this story had the biggest page count and though the story was masterfully set up and worked out at the end I was really craving more.
The concept of the Breeds, their abilities and everything that surrounds them is truly appealing to me in this novella.
This story is part 15 in the Breeds series and although I have read other Lora Leigh books, it is my first encounter with this series. It made me want to go for the full-length books immediately to get acquainted some more with this -to say the least- fascinating world.
Quote
Natalie, after Saban has bound her to him against her will: " I don't care if Coyote's are swarming Sanctuary with grenade launchers. Get some of those badass Breeds you prize so highly out here to collect him, or I'm going to kill him. And after I kill him, I'll hang his mangy, worthless hide in my front yard to show everyone else exactly how it's done.

Alyssa Day - Shifter's Lady (part 4 of the Warriors of Poseidon)
Alpha were panther Ethan is finally starting to make an edgy peace with the first Atlantean to encroach upon his territory. But will he need to make room in an even rockier terrain -- his heart -- when the Atlantean's beautiful sister Marie arrives and disrupts every facet of Ethan's well-ordered existence?
Marie has decided to visit her brother (Bastien from part 2) on the surface and meet his new life mate, Kat. She travels to the preserve where they live but when she arrives Bastien is summoned to join the search for Justice (if you want to know what happened to Justice you have to read Atlantis Awakening or this novella). So Marie is left alone with Kat and a very intriguing were panther, Ethan, a shape shifter who ignites something inside her she never has experienced before.

Marie is the First Maiden of the Temple of Nereids of Atlantis. That's a mouthful but it comes down to being the head midwife of Atlantis. She has always led a bit of a passive life. Devoting her life to the Temple. Even though it's a dangerous time on the surface, outside Atlantis she decides to visit her brother and not even Alaric can persuade her not to go.
Ethan is the Alpha Male of the Big Cypress panther pride. Once he had his eyes set on Kat Fiero and thought she would be his mate but that was before Bastien came along. He is searching for the person or creature that is attacking and killing panthers in his pride. The discovery of who and why is surprising and the issue is solved in a thrilling climax. Marie makes his world turn on its axis the moment he first sees her.

The chemistry between Ethan and Marie is instant, explosive and very sensual. I was afraid at first that Marie wouldn't be the fierce, brave heroine that Riley, Kat and Erin were but I was wrong. She really stood her ground with Ethan, giving him a run for his money. Still as much as I loved Marie it was Ethan who stole the show for me in this novella. All male, all panther, all alpha and of course he possesses the signature quirky, dry sense of humor all Alyssa Day's heroes have.

It was great to see Bastien and Kat again, their story was also a short one in an anthology so to see how they were doing after their story was very welcome.

I have but one complaint about this novella. It was TOO darn short!
In the mere 67 pages there were smile-inducing moments, inner thoughts and dialogues. Sensual love scenes, a breathtaking fight scene and the humor were once again trademark Alyssa Day: exquisite. I can't but praise Alyssa Day's witty writing style.
Both the wit and the chemistry provided some many quotes I wanted to share but if I used them all it would be half of the story. I found it very difficult to chose just two when normally in novella-reviews I have trouble even finding one. For me this says a lot for Alyssa's writing.
I absolutely adored this newest installment in the Warriors of Poseidon series. I love the world, I love the characters, and I love the action. I'm not favorable to short stories but I loved this one. Alyssa Day is one of the very few authors who manages to pull that of.
And even if this story had a different feel to it because it was more about the shape shifters than the Atlanteans, it still fits right in the series. The ongoing plot from the full-length books doesn't return in this story but to be honest I didn't really miss it.
Quotes:
Marie smiled up at him, and the bottom dropped out of his world.

Marie: "Must I have the same talk with you that I have had with my brothers so many times over the centuries? The one about individual responsibility? Where I explain in very simple words that I am no fragile Atlantean flower to be cared for and coddled in a hothouse?"
Ethan: "Simple words might be a really good idea, beautiful, because I'm having a hell of a fight with my inner cat right now, who wants to carry you off, strip you bare and lick all of that deliciously creamy skin of yours."

Virginia Kantra - Sea Crossing (first part of the Children of the Sea series)
Emma March, seduced and left with her reputation ruined by the Governor of the girls' school where she is a teacher, decides to leave England, go to Canada and try to build a new life there. But then the ship wrecks in a storm and she falls overboard.
A seal saves her and from then on her life takes a whole other direction than she had in mind.
Griff(ith) is a Selkie (seal shape shifter) and the warden of "the Sanctuary", where the adolescent selkies are taken for their "change". He is sent off by the prince of the sea to find a teacher for these unruly young seals. He finds Emma and brings her to the Sanctuary.
Both Emma and Griff feel the powerful attraction between them, but Emma is reluctant to act on it because of her previous experience with men.
She decides to stay on the island and teach the children but she keeps Griff at a distance.

For me this was the least appealing story in the anthology. My connection with the characters wasn't really there although Virginia Kantra has a lovely writing style and this novella really holds potential for the full-length novels that will follow in this series. But I really don't know what to make of the whole of it. The story didn't have a real plot. It's mostly about the feelings between Griff and Emma and normally I don't have anything against that because I love a character-drive story as much as action-driven stories but the chemistry just wasn't there for me. This can be because the concept of a seal shape shifter being new to me. I'm used to wolves, dragons and felines. These are a very different kind of shape shifters. I couldn't conceal the alpha behavior with a seal, but that can be just me.
This being said I must say that the story was nicely paced, the chemistry between Emma and Griff and the love scenes were great. The characters could have been fleshed out a bit more but since it's a novella that is to be expected.

Still I am curious as to how the full-length books in this series will turn out. Maybe I will give the first one a go just to make sure that the feeling I had with this story is because it's a story in anthology.

In conclusion I have to say that with the exception of the last novella this was an anthology that surpassed my expectations and one of exceptional quality compared to other anthologies I have read. The novellas had potential and focused my attention on authors I didn't know yet and a series I'm dying to get into. And the novella in the series I did already know didn't disappoint either.
It is most definitely an anthology worth having on your bookshelves if you have a thing for shifters!
Labels:
Alyssa Day
,
Angela Knight
,
Anthologies
,
Berkley Publishing
,
Breeds Series
,
Children of the Sea Series
,
good reads
,
Lora Leigh
,
Paranormal Romance
,
reviews
,
Virginia Kantra
,
Warriors of Poseidon Series
Nice to meet you!
Pearl

Netherlands
39, married to my real life romance hero, addicted to TV shows, reading romance novels and Twitter. I'm a chronic (e)book hoarder and my absolute favorite genres within romance fiction are contemporary romance and romantic suspense, but I don't shy away from historical, paranormal or erotic romance either. Even the occasional (urban) fantasy romance, futuristic and sci fi romance may make it to my Mount TBR. This is my corner of the world wide web where I let you know what books I'm hoarding, reading and reviewing.
View my complete profile

My Book-Providers
Reviews by Rating

Reviews by Genre
Reviews by Type

Reviews by Publisher

Fellow Bloggers


GR Reading Challenge
Pearl
has read 10 books toward her goal of 50 books.

On My TBR Shelf
Unforgivable - Laura Griffin
Snapped - Laura Griffin
Darkness at Dawn - Elizabeth Jennings
Sizzle and Burn - Alexis Grant
No Mercy - Lori Armstrong
Animal Magnetism - Jill Shalvis
Crazy for Love - Victoria Dahl
Kink - Saskia Walker/Sasha White
So Sensitive - Anne Rainey
Dark Taste of Rapture - Gena Showalter
The Darkest Secret - Gena Showalter
Vampire in Atlantis - Alyssa Day
Vampire Dragon - Annette Blair
Captive Spirit - Anna Windsor
Chosen by Blood - Virna DePaul
Rebel - Zoe Archer
Stranger - Zoe Archer
A Taste of Desire - Beverley Kendall
Mistress by Midnight - Maggie Robinson
To Desire a Devil - Elizabeth Hoyt
To Tame a Dangerous Lord - Nicole Jordan

Digital TBR Next
Driven - Jayne Rylon (reread)
Shifting Gears - Jayne Rylon
Beg Me - Shiloh Walker
Tempt Me - Shiloh Walker
Jazz Baby - Lorelie Brown
Playboy Prankster - Pamela Britton
Just Like That - Erin Nicholas
Sweet Inspiration - Penny Watson
Breathe - Donna Alward
My Gigolo - Molly Burkhart
Scent of Persuason - Nikki Duncan

Blog Archive