April 4, 2008
1:20 AM
|
Edit Post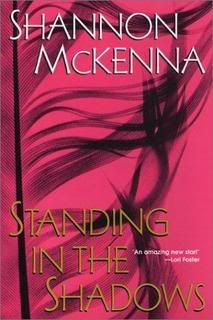 Ex-FBI agent Connor McCloud can never forget the day he was set up to die at the hands of trusted friend and fellow agent Ed Riggs. Hard justice and loyalty to his badge have cost Connor what he wants most--Ed's shy, studious daughter, Erin. He can never have her now, but her beauty still haunts and torments his every waking hour and his most fevered erotic dreams. But now that his old enemy, Kurt Novak has returned, Connor is prepared to do anything to protect the vulnerable young woman from a killer who has vowed a brutal payback . . . a killer with a predator's lethal patience.

Erin has been harboring secret fantasies about Connor McCloud since she first laid eyes on him--but that was before his testimony sent her father to jail. Her world is falling apart and it's all she can do to hold her family together. But now Connor is knocking on her door, telling her she needs his protection, whether she wants it or not. He won't give up and he won't stay away. He's sworn to guard her life with his own and his fierce protectiveness awakens long-buried feelings--and a fiery sexuality deep within her soul . . .
The devastation Erin has to deal with after her father's imprisonment would bring anyone to her knees, but not Erin Riggs. After her father is arrested for murder and betrayal she assumes the responsibility for her mother and sister while trying to make something of her life. She has never forgotten Connor McCLoud, the man she fell in love with when she was a young girl, and now he shows up offering his protection against the man who ruined her family.
Since the death of his partner and his own severe injuries Connor McCLoud has been going through the motions of life without consciously living it. The only thing that brings him back to life is the threat on Erin Riggs's life. She is the woman he's loved since she was a teenager and the only woman he's ever cared about and now the man who is responsible for his injuries and his partner's death threatens her. While trying to protect Erin they can no longer deny the feelings between them and so two star-crossed lovers who find out that even the impossible dreams can come true, although to get to that point they must avoid being trapped by the man plotting the downfall of his enemies, starting with Erin and Connor.

Connor is a true contradiction. He is rude, harsh and bossy one moment and tender protective and gentle the next. But he's a character I enclosed in my heart immediately. He is honorable and tries to do the good thing. Erin is a perfect match for him. Not taking any of his crap when he goes all macho on her.
Erin is very orderly and disciplined and extremely dutiful to her family. She puts their needs above her own. But she is not meek or shy. When necessary she knows when and how to stand her ground. Her feelings for Connor make her lose the tight grip on the life she's created for herself since her father's imprisonment. He triggers the anger and fears she desperately tries to suppress with control and discipline.

The lead couple and their problems are realistic and lifelike. It's very easy to relate to them, to understand where they're coming from, what motivates their actions and this is something I really like in books.
McKenna portrays her characters with all their flaws and insecurities as well as their strong qualities. It's not all fun and loving; they also have arguments and discussions and have to work through them in a very confrontational way. For me this is what makes her characters so great.
And the way she pens down the bad guy in this book...The man is pure evil and seriously disturbed. His methodical, calculating and psychotic behavior scared me in some parts.

Not all the characters are what they seem, or what you're inclined to believe they are at first. There is so much more than meets the eye and this goes for both the lead couple, Connor and Erin, as for a few secondary characters.
And then there are the McCLoud brothers. Three extraordinary men. In the first book I was introduced to them. In this book I got to know them better. Sean is the proverbial pain-in-the-butt younger brother. Always pestering his older siblings. Davy is the proverbial sensible and grounded oldest brother: self-contained, stern and responsible. Both are very intriguing in their own way.
I loved the brotherly banter between the McCLouds. They work together like a well-oiled machine in crisis situations, complementing each other, sticking together and being there for one another when the dirt hits the fan.

This was another breathtaking book. The suspense was killing, the passion was steaming and the characters were compelling! After my first Shannon McKenna book I was pleasantly surprised at her masterful writing. After this one I'm utterly convinced. She knows how to build the suspense by creating such a malevolent and evil character it gave me goose bumps but still she manages to keep it on the good side of repulsion. You just keep on reading and reading. She alternates the suspense with scorching love scenes that are explicit yet not graphic and she tops it of with strong and appealing characters, a well-rounded romance and just the right amount of action.

McKenna's writing entrances and captivates me. Her characters, both main and secondary have a magnetic pull by the way she pens them down. Her strong characterization combined with highly erotic love scenes and thrilling suspense kept my heartbeat at high-speed level.
Quotes
Lip gloss was diabolical stuff, calculated to make a guy think about sex. Moist, lush lips, ready for kissing, for licking, for---

She slid out from under the quilt, slapping his hands away. "I have to take another shower," she said. "You stop that right now, Connor. Be good."
"I'm always good, baby. Want to see?"

Nice to meet you!
Pearl

Netherlands
39, married to my real life romance hero, addicted to TV shows, reading romance novels and Twitter. I'm a chronic (e)book hoarder and my absolute favorite genres within romance fiction are contemporary romance and romantic suspense, but I don't shy away from historical, paranormal or erotic romance either. Even the occasional (urban) fantasy romance, futuristic and sci fi romance may make it to my Mount TBR. This is my corner of the world wide web where I let you know what books I'm hoarding, reading and reviewing.
View my complete profile

My Book-Providers
Reviews by Rating

Reviews by Genre
Reviews by Type

Reviews by Publisher

Fellow Bloggers


GR Reading Challenge
Pearl
has read 10 books toward her goal of 50 books.

On My TBR Shelf
Unforgivable - Laura Griffin
Snapped - Laura Griffin
Darkness at Dawn - Elizabeth Jennings
Sizzle and Burn - Alexis Grant
No Mercy - Lori Armstrong
Animal Magnetism - Jill Shalvis
Crazy for Love - Victoria Dahl
Kink - Saskia Walker/Sasha White
So Sensitive - Anne Rainey
Dark Taste of Rapture - Gena Showalter
The Darkest Secret - Gena Showalter
Vampire in Atlantis - Alyssa Day
Vampire Dragon - Annette Blair
Captive Spirit - Anna Windsor
Chosen by Blood - Virna DePaul
Rebel - Zoe Archer
Stranger - Zoe Archer
A Taste of Desire - Beverley Kendall
Mistress by Midnight - Maggie Robinson
To Desire a Devil - Elizabeth Hoyt
To Tame a Dangerous Lord - Nicole Jordan

Digital TBR Next
Driven - Jayne Rylon (reread)
Shifting Gears - Jayne Rylon
Beg Me - Shiloh Walker
Tempt Me - Shiloh Walker
Jazz Baby - Lorelie Brown
Playboy Prankster - Pamela Britton
Just Like That - Erin Nicholas
Sweet Inspiration - Penny Watson
Breathe - Donna Alward
My Gigolo - Molly Burkhart
Scent of Persuason - Nikki Duncan

Blog Archive