April 22, 2008
11:01 PM
|
Edit Post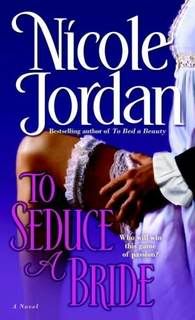 Spirited beauty Lilian Loring believes that love is too risky a venture and marriage is best avoided entirely — even if her unwanted suitor comes as deliciously packaged as Heath Griffin, the Marquess of Claybourne. The charismatic rogue has never had a woman discourage his advances. But after a show of resolve, Lily melts under Heath's sensuous kisses. Indeed, perhaps that is why she decides to hide out in the last place a gentleman would look for a lady: a house of scandalous repute.

In bold pursuit, Heath discovers his enchanting spitfire cheerfully instructing the demimonde in the art of deportment and manners. Now the thrill of the chase is exceeded only by his powerful need to possess Lily as his bride. For Heath, victory in their game of passion means nothing less than winning Lily's elusive heart…
When she meets the Marquess of Claybourne, Heath Griffin, Lilian (Lily) Loring is immediately intrigued by him and the attraction is undeniable no matter how much she would like to ignore it. Heath slowly but surely chips away at her defenses and makes her realize that not all noblemen are what the general opinion says of them. Lily finds it more and more difficult to resist his charm, passion and allure.
What starts as a pursuit of pleasure, turns into a game of cat and mouse that eventually leads to a deep and heartfelt love match.

Lily is the "misfit" of the Loring sisters, not only different in coloring with her dark complexion, eyes and hair next to her fair sisters, but also in her personality and demeanor. She is the one considered the spitfire, hellion and hoyden. She refuses to be subdued into the conformity of the "ton." She chooses her own path in life. She is vivid and vibrant, unconventional and compassionate. She is very outspoken and says exactly what's on her mind. She has a profound view of marriage and why she would never want to be trapped in one. In her eyes marriage leads automatically to unhappiness. This is something she grew up with, something she saw in her parents' marriage.

Heath has the reputation of being a heartbreaker. He is adventurous and daring. But he also has a big heart and tries to do good by the people he cares for. He is so enthralled and fascinated by Lily, he is determined to show her marriage and love doesn't automatically lead to hurt and being controlled. It can also be passion and pleasure. At first for Heath it's the thrill of the chase that makes him pursue Lily. She is the first woman who doesn't fawn over him for his status or his appearance. But when he gets to know more of the person Lily is behind her defiant and spitfire façade, his feelings for her grow deeper and more sincere.

Heath's persistence and Lily's stubbornness are truly endearing. I understood Lily's aversion to marriage and why she kept resisting Heath's courtship of her because she was the sister most affected by their parents' disastrous marriage. Being dominated, being at the mercy of a man is her biggest fear and she'll do anything not to end up in such a situation. Even if it means denying herself happiness with a man who truly cares for her and has no intentions of dominating her.

Lily and Heath carried the story in the best way possible, being amazing primary characters. But I must say I also loved the secondary characters. They were well fitted into the plot and added to the compelling character of this book. There were some characters that in my opinion were screaming for their own book and I hope Nicole Jordan will hear their pleas and write their books too.

Though the basic structure is the same for all three books, each book has its own character and feel. Of course this is due to the different personalities of the heroes and the heroines and their backgrounds. Each book also has a different plot alongside the love story. The recurring theme of the poor example set by their parents' marriages is also present in this most recent book of the series.

The story besides Heath and Lily's romance is one that holds attention but doesn't take over the complete book. It's there to give the romance the body it needs to become more than just a mere tale of passion and love and turns it into a full, rich and colorful love story. In fact I can honestly say this is one of the best-written and plotted regency romance I've read in a while with love scenes and sensual attraction that are truly tantalizing! It was the most heart-stirring book of the three. The balance between intense emotions and the sensuality was exquisitely done.

Where the previous books in the trilogy didn't reach the level of Jordan's Paradise or Notorious Series, this one absolutely did and surpassed them by a landslide!
This was Nicole Jordan at her best. Intense, passionate and sensual!

The final battle of the Courtship Wars has been fought and there are only victors to reap the passionate spoils!
This book was the one I anticipated the most in the trilogy and that anticipation was thoroughly and utterly satisfied.
Quote
He kept his body pressed against hers while his lips found her ear. "I could make you scream with pleasure, Lily. But in the end, all that would be engaged are our bodies. It is your heart and mind I want. Your very soul."

Nice to meet you!
Pearl

Netherlands
39, married to my real life romance hero, addicted to TV shows, reading romance novels and Twitter. I'm a chronic (e)book hoarder and my absolute favorite genres within romance fiction are contemporary romance and romantic suspense, but I don't shy away from historical, paranormal or erotic romance either. Even the occasional (urban) fantasy romance, futuristic and sci fi romance may make it to my Mount TBR. This is my corner of the world wide web where I let you know what books I'm hoarding, reading and reviewing.
View my complete profile

My Book-Providers
Reviews by Rating

Reviews by Genre
Reviews by Type

Reviews by Publisher

Fellow Bloggers


GR Reading Challenge
Pearl
has read 10 books toward her goal of 50 books.

On My TBR Shelf
Unforgivable - Laura Griffin
Snapped - Laura Griffin
Darkness at Dawn - Elizabeth Jennings
Sizzle and Burn - Alexis Grant
No Mercy - Lori Armstrong
Animal Magnetism - Jill Shalvis
Crazy for Love - Victoria Dahl
Kink - Saskia Walker/Sasha White
So Sensitive - Anne Rainey
Dark Taste of Rapture - Gena Showalter
The Darkest Secret - Gena Showalter
Vampire in Atlantis - Alyssa Day
Vampire Dragon - Annette Blair
Captive Spirit - Anna Windsor
Chosen by Blood - Virna DePaul
Rebel - Zoe Archer
Stranger - Zoe Archer
A Taste of Desire - Beverley Kendall
Mistress by Midnight - Maggie Robinson
To Desire a Devil - Elizabeth Hoyt
To Tame a Dangerous Lord - Nicole Jordan

Digital TBR Next
Driven - Jayne Rylon (reread)
Shifting Gears - Jayne Rylon
Beg Me - Shiloh Walker
Tempt Me - Shiloh Walker
Jazz Baby - Lorelie Brown
Playboy Prankster - Pamela Britton
Just Like That - Erin Nicholas
Sweet Inspiration - Penny Watson
Breathe - Donna Alward
My Gigolo - Molly Burkhart
Scent of Persuason - Nikki Duncan

Blog Archive