May 27, 2007
5:14 PM
|
Edit Post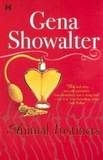 Unleashing your inner tigress isn't easy when you're a doormat by nature! Still, after escaping a wretched marriage to a cheating SOB, Dallas party planner Naomi Delacroix isn't about to let another man sweet-talk her into sheathing her protective claws. Not even hunky millionaire Royce Powell, who's hired her to arrange his mother's surprise party. Even if he does make her purr like a kitten with one heated glance . . .

Royce claims he's been in love with her ever since she threw a party for one of his friends a year ago. But if that's true, why is this incredibly eligible CEO currently taking applications for a wife? Despite herself, Naomi is tempted to fill one out. But can her inner tigress believe a man might change his stripes?
After having read her Imperia-series I was really impressed by Gena Showalter and with Animal Instincts she still has me impressed.
It's a contemporary romance taking a small detour from the otherworldly this time with both hero and heroin being from 21st century earth.
It's written from Naomi's perspective, and though first person narrative really isn't my favorite, Showalter really makes me forget that. Her writing is so good and filled with witty banter and thoughts that she really did a good job of getting me to appreciate stories written in first person perspective.

Naomi Delacroix is determined not to be a doormat any longer. Her failed marriage to cheating Richard has left so distrusting of men she thinks all men are cheating liars. Royce is madly in love with her and relentlessly pursues Naomi, he even uses his mother to get to her.

Naomi refuses to acknowledge her feelings for Royce and fights the attraction constantly. She is witty and endearingly stubborn but I must say it takes just a bit to long for Naomi to let her guard down and trust Royce's sincerity, his commitment and his love for her. In my opinion it wouldn't have been bad if this happened earlier in the book. It was almost starting to get annoying when she finally gave in.

Royce was simply to die for, he is a determined man and used to getting what he wants. For me he is one of the best male characters I've read in a long time. His patience with Naomi was extraordinary and he remained calm and understanding of her insecurities. But never turning into a wimp, Royce is every girl's fantasy dream man….and extremely hot!

It was hilarious how the stereotype roles between men and women were switched between the two: Royce holding out for marriage while Naomi just wants to have a good time in the sack and tries to get Royce in her bed at every opportunity.

The chemistry between Naomi and Royce is sizzling!
The depth of the characters makes them seem real and they were absolutely great together!
Even the secondary characters have depth and personality and really are a nice addition to the whole story. I think this is extraordinary in a first person narrative.
But for me the book's strongest point is that it's laugh-out-loud funny. From the first page to the very last.

I have yet to read the books in Showalters other series and I know the Alien Huntress-series is also written in first person. But I really don't have any doubts about them. I'm sure I'll love anything Showalter writes.
After the Imperia books and this one she has definitely launched herself straight into my autobuy-list. She can keep them coming at me and I'll devour them one by one.
Quotes:
Like I ever wanted to get married again. Like I wouldn't rather sign up to be a contestant on Fear Factor and eat rotten bugs wrapped in pig uterus and smothered in a nice cow-blood sauce.

"One day soon, Naomi, I'm going to show you just how much pleasure I can give you. And neither one of us will be able to walk for a week."

Nice to meet you!
Pearl

Netherlands
39, married to my real life romance hero, addicted to TV shows, reading romance novels and Twitter. I'm a chronic (e)book hoarder and my absolute favorite genres within romance fiction are contemporary romance and romantic suspense, but I don't shy away from historical, paranormal or erotic romance either. Even the occasional (urban) fantasy romance, futuristic and sci fi romance may make it to my Mount TBR. This is my corner of the world wide web where I let you know what books I'm hoarding, reading and reviewing.
View my complete profile

My Book-Providers
Reviews by Rating

Reviews by Genre
Reviews by Type

Reviews by Publisher

Fellow Bloggers


GR Reading Challenge
Pearl
has read 10 books toward her goal of 50 books.

On My TBR Shelf
Unforgivable - Laura Griffin
Snapped - Laura Griffin
Darkness at Dawn - Elizabeth Jennings
Sizzle and Burn - Alexis Grant
No Mercy - Lori Armstrong
Animal Magnetism - Jill Shalvis
Crazy for Love - Victoria Dahl
Kink - Saskia Walker/Sasha White
So Sensitive - Anne Rainey
Dark Taste of Rapture - Gena Showalter
The Darkest Secret - Gena Showalter
Vampire in Atlantis - Alyssa Day
Vampire Dragon - Annette Blair
Captive Spirit - Anna Windsor
Chosen by Blood - Virna DePaul
Rebel - Zoe Archer
Stranger - Zoe Archer
A Taste of Desire - Beverley Kendall
Mistress by Midnight - Maggie Robinson
To Desire a Devil - Elizabeth Hoyt
To Tame a Dangerous Lord - Nicole Jordan

Digital TBR Next
Driven - Jayne Rylon (reread)
Shifting Gears - Jayne Rylon
Beg Me - Shiloh Walker
Tempt Me - Shiloh Walker
Jazz Baby - Lorelie Brown
Playboy Prankster - Pamela Britton
Just Like That - Erin Nicholas
Sweet Inspiration - Penny Watson
Breathe - Donna Alward
My Gigolo - Molly Burkhart
Scent of Persuason - Nikki Duncan

Blog Archive