May 25, 2007
5:10 PM
|
Edit Post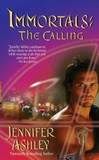 Amber is rescued from a demon attack by Adrian, a leather-coated, sword-toting warrior.
He reveals that he is one of the Immortals, created at the dawn of civilization to protect humanity from Death Magic.

Together they discover that the demon is an Old One, determined to drain life from the world, and he's convinced Tain, the youngest Immortal, to turn on his brothers and help him.

The only way to stop them is to gather the remaining Immortals in one place--but the spell to do it has been lost, and the Immortals no longer want to play nice...
What can I say?
I'm almost speechless, Jennifer Ashley has written a breathtaking start of this series. The teasers thrown at us were promising and those promises were certainly met and then some…
This first book took me on a journey of love, sacrifice, lust, hate , fun and magic. From a warehouse in Seattle to a beachhouse in L.A to the icy-cold North Pole.
And along the way I was treated to everything that makes a book a keeper for me!
Strong and witty characters, both main and secondary:
Adrian, a strong alpha-male Immortal demi-god who's knocked of his feet by Amber, a beautiful, stubborn and strongwilled Earth-witch.
Taine, Adrian's youngest brother, an Immortal gone rogue with a death wish.
An Old One (ancient demon) who give you the shivers.
Shape-shifters Sabine (wolf) and Valerian (dragon).
Septimus, a Vampire Lord who turns out to be not as bad as you would think…
Sizzling sensuality, suspense and magic both literally and figuratively!
And amidst all this a love, beautiful and strong develops between Adrian and Amber. A love that proves to be able to overcome everything…
It was fast-paced and almost impossible to put down.
I qualify it as a romantic suspense, drenched in a magical and paranormal sauce. A story of the fight between life magic (good) and death magic (evil).
Ashley penned down a magical and vivid story that was a little Kenyon-ish in the beginning, using similar phrases (the "reject-in-a-bad-movie"-line used in I think it was Kyrian's story) but fortunately this feeling disappeared very quickly.

On the first page I drowned in a pool of magic and on the last page I wanted to stay submerged and didn't want to come up ever again.

I'm on a rollercoaster and the ride will only end when I turn the last page of the last book in the series. I really hope the other authors can deliver on the next installments. Ashley proves a challenge to live up to but I'm sure the others will give her a run for her money…
Quotes

Her smile did things to him, from warming his icy, lonely heart to warming other parts of his anatomy.

When Adrian qualifies Valerian as transportation, Valerian answers:
"Oh no. Don't tell me you need me to fly you somewhere." He pointed to his backside. "Do you see an airline logo on my tail?"

Nice to meet you!
Pearl

Netherlands
39, married to my real life romance hero, addicted to TV shows, reading romance novels and Twitter. I'm a chronic (e)book hoarder and my absolute favorite genres within romance fiction are contemporary romance and romantic suspense, but I don't shy away from historical, paranormal or erotic romance either. Even the occasional (urban) fantasy romance, futuristic and sci fi romance may make it to my Mount TBR. This is my corner of the world wide web where I let you know what books I'm hoarding, reading and reviewing.
View my complete profile

My Book-Providers
Reviews by Rating

Reviews by Genre
Reviews by Type

Reviews by Publisher

Fellow Bloggers


GR Reading Challenge
Pearl
has read 10 books toward her goal of 50 books.

On My TBR Shelf
Unforgivable - Laura Griffin
Snapped - Laura Griffin
Darkness at Dawn - Elizabeth Jennings
Sizzle and Burn - Alexis Grant
No Mercy - Lori Armstrong
Animal Magnetism - Jill Shalvis
Crazy for Love - Victoria Dahl
Kink - Saskia Walker/Sasha White
So Sensitive - Anne Rainey
Dark Taste of Rapture - Gena Showalter
The Darkest Secret - Gena Showalter
Vampire in Atlantis - Alyssa Day
Vampire Dragon - Annette Blair
Captive Spirit - Anna Windsor
Chosen by Blood - Virna DePaul
Rebel - Zoe Archer
Stranger - Zoe Archer
A Taste of Desire - Beverley Kendall
Mistress by Midnight - Maggie Robinson
To Desire a Devil - Elizabeth Hoyt
To Tame a Dangerous Lord - Nicole Jordan

Digital TBR Next
Driven - Jayne Rylon (reread)
Shifting Gears - Jayne Rylon
Beg Me - Shiloh Walker
Tempt Me - Shiloh Walker
Jazz Baby - Lorelie Brown
Playboy Prankster - Pamela Britton
Just Like That - Erin Nicholas
Sweet Inspiration - Penny Watson
Breathe - Donna Alward
My Gigolo - Molly Burkhart
Scent of Persuason - Nikki Duncan

Blog Archive