May 8, 2007
8:18 PM
|
Edit Post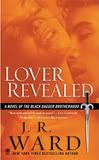 I read this book in March 2007
Butch O'Neal is a fighter by nature. A hard-living ex-homicide cop, he's the only human ever to be allowed in the inner circle of the Black Dagger Brotherhood. And he wants to go even deeper into the vampire world-to engage in the turf war with the lessers. His heart belongs to a female vampire, Marissa, an aristocratic beauty who's way out of his league. And if he can't have her, then at least he can fight side by side with the Brothers.

But fate curses him with the very thing he wants. When Butch sacrifices himself to save a civilian vampire from the slayers, he falls prey to the darkest force in the war. Left for dead, he's found by a miracle, and the Brotherhood calls on Marissa to bring him back, though even her love may not be enough to save him.
Holy. Crap.
I didn't just read this book. I absorbed it, took it into my veins. This was one helluva book!
I'm speechless, or to steal a phrase from Rhage: I'm barren for words....
I hope I'll be able to find the words to do justice to this book. But I'll give it a shot.

For me there were 3 major characters in this book: Butch, Marissa and V. They carried the story and did it beautifully.

Both Butch and Marissa came through major style...They are so good...together, for each other. Their love overcomes both their insecurities and makes them both worthy of each other.
Butch turned out to be everything I speculated and then some. His past, his present and his future. I was under his spell from the first time I read about him in DL but now in his own book he just completely blew me away and left me wondering what just happened to me.
He was and most definitely always will be my favourite Brother. The changes he went through from DL to LE to LA and now in this book make him a hero who just takes my breath away.
And how about Marissa, she turned out to have the backbone I suspected must be somewhere inside her. I knew she had it in her to be a magnificent woman and it really surfaced in LR.
She stood up for herself and her love for Butch.

And then there is V.... Now there's a male who's definitely more than meets the eye (no pun intended!).
He just ambushed me, caught me totally by surprise. I know others have been fascinated with him from the first but I never really got him in the past books. There was something about him I couldn't grasp.
In LR I got him. Got his feelings for Butch, his fears, his desires. Got him big time and I guess we haven't even scratched the surface with this guy.
My heart broke for him and I know he has a lot coming at him but he'll take it and survive.
This promises a whole lot for his own book. It's going to be off the scale and I can't wait!

Ms Ward outdid herself on this one. This series just keeps getting better and better with each book.
Some parts of the book were a confirmation of my speculations but of course Ward also threw some surprises at me.
I don't know how she does it and frankly I don't care as long as she keeps doing it. She had me laughing, crying, horrified, excited, moved, repulsed, angry, all in the span of those 462 pages.
She knows how to give you a complete story with the focus around the love between Butch and Marissa, but the sidestories are just as important and significant without being overbearing: The Lessers, the glymera, John, Rehv, the Brotherhood....
Every tidbit reveals a part of this intrigueing world and leaves you wanting more.

Nice to meet you!
Pearl

Netherlands
39, married to my real life romance hero, addicted to TV shows, reading romance novels and Twitter. I'm a chronic (e)book hoarder and my absolute favorite genres within romance fiction are contemporary romance and romantic suspense, but I don't shy away from historical, paranormal or erotic romance either. Even the occasional (urban) fantasy romance, futuristic and sci fi romance may make it to my Mount TBR. This is my corner of the world wide web where I let you know what books I'm hoarding, reading and reviewing.
View my complete profile

My Book-Providers
Reviews by Rating

Reviews by Genre
Reviews by Type

Reviews by Publisher

Fellow Bloggers


GR Reading Challenge
Pearl
has read 10 books toward her goal of 50 books.

On My TBR Shelf
Unforgivable - Laura Griffin
Snapped - Laura Griffin
Darkness at Dawn - Elizabeth Jennings
Sizzle and Burn - Alexis Grant
No Mercy - Lori Armstrong
Animal Magnetism - Jill Shalvis
Crazy for Love - Victoria Dahl
Kink - Saskia Walker/Sasha White
So Sensitive - Anne Rainey
Dark Taste of Rapture - Gena Showalter
The Darkest Secret - Gena Showalter
Vampire in Atlantis - Alyssa Day
Vampire Dragon - Annette Blair
Captive Spirit - Anna Windsor
Chosen by Blood - Virna DePaul
Rebel - Zoe Archer
Stranger - Zoe Archer
A Taste of Desire - Beverley Kendall
Mistress by Midnight - Maggie Robinson
To Desire a Devil - Elizabeth Hoyt
To Tame a Dangerous Lord - Nicole Jordan

Digital TBR Next
Driven - Jayne Rylon (reread)
Shifting Gears - Jayne Rylon
Beg Me - Shiloh Walker
Tempt Me - Shiloh Walker
Jazz Baby - Lorelie Brown
Playboy Prankster - Pamela Britton
Just Like That - Erin Nicholas
Sweet Inspiration - Penny Watson
Breathe - Donna Alward
My Gigolo - Molly Burkhart
Scent of Persuason - Nikki Duncan

Blog Archive