May 19, 2007
4:54 PM
|
Edit Post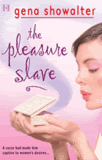 I read this book in April 2007
When Santa Fe antique dealer Julia Anderson was curiously drawn to purchase a battered jewelry box, she didn't expect it to contain her own personal love slave. Especially not tall, dark and sinfully handsome Tristan -- a man hard to resist and determined to fulfill her every desire.

Though Tristan was a rogue of the battlefield and boudoir, making love with Julia was like nothing he'd ever known. Yet revealing his true heart would break the centuries-old spell and separate them forever. And Tristan would do anything to go on loving Julia. . . even remain a slave through all eternity. . .
Tristan is a proud Imperian warrior. He is determined never to beg for anything ever again because in his youth his father made him beg for every small thing. He is cursed into jewelry box to serve as a pleasure slave by a vindictive Druinn Priestess and sent whirling through dimensions and parallel worlds by the Druinn High Priest he ends up in Julia Anderson's home in the 21st century.

Julia is calm and reserved and a bit insecure.
Underneath her calm and reserved exterior, a fiery and passionate woman is lingering, waiting to be discovered. And who better to discover this woman than the pleasure slave who appears from a strange jewelry box she bought.
But in spite of the way Tristan makes Julia feel she doesn't want Tristan to be her pleasure slave but she does have a request, she wants him to help her entice her neighbour whom she considers plain and reserved like herself and therefore safe for her to get involved with.
Tristan agrees and during the lessons the lingering passion between them just drips of the pages and not it's not long before this passion turns into a deep self-sacrificing love.

Again the secondary characters are well written and a real contribution to the story of Tristan and Julia.
Zirra is a mean selfish Druin Priestess who uses everything and everyone to get her way. Romulis is the son of Percen and Heather (characters froum The Stone Prince) who is madly in love with Zirra and he'll do anything for her, including help her trace Tristan.
Peter is the boring and plain nextdoor neighbour whom Julia thinks is her ideal partner and she asks Tristan to help her making Peter fall in love with her.
Tristan calls him "Puny Peter" and I must admit that is a fitting description.

This is the second book in the Imperia-series by Gena Showalter and the last one written so far.
And again I loved it and I hope Showalter will continue this series in spite of the other series she's got going on.
She has created a nice mix between the mystical and mysterious world of Imperia, with it's alpha male warriors and the modern day 21st century earth with it's independent women. This mix leads to a fun read, which spikes your senses and leaves you wanting more of these stories.
Although this book and The Stone Prince are from the same series you can easily read them stand alone.

I must say this one was a little bit less hilarious than The Stone Prince, it has a more serious underlying atmosphere but that doesn't make it less good.
In the contrary…I enjoyed it till the very last letter and went through a caleidoscope of emotions and feelings while reading it. And don't get me wrong there were really funny scenes in the book that made me laugh out loud like the scene where Tristan and Julia talk men's underwear or the scene with the gay sales man in the mall who hits on Tristan. So no worries for the ones who love humor in their stories.
Quotes:

He was a exquisite specimen of manhood. So exquisite, in fact, she wouldn't be surprised if he had "Grade A one-hundred-percent pure beef" stamped on his butt.

Tristan: "My tongue burns for the taste of you. My hands itch for the feel of you. And my shaft screams for the core of you. Let me have you."

Nice to meet you!
Pearl

Netherlands
39, married to my real life romance hero, addicted to TV shows, reading romance novels and Twitter. I'm a chronic (e)book hoarder and my absolute favorite genres within romance fiction are contemporary romance and romantic suspense, but I don't shy away from historical, paranormal or erotic romance either. Even the occasional (urban) fantasy romance, futuristic and sci fi romance may make it to my Mount TBR. This is my corner of the world wide web where I let you know what books I'm hoarding, reading and reviewing.
View my complete profile

My Book-Providers
Reviews by Rating

Reviews by Genre
Reviews by Type

Reviews by Publisher

Fellow Bloggers


GR Reading Challenge
Pearl
has read 10 books toward her goal of 50 books.

On My TBR Shelf
Unforgivable - Laura Griffin
Snapped - Laura Griffin
Darkness at Dawn - Elizabeth Jennings
Sizzle and Burn - Alexis Grant
No Mercy - Lori Armstrong
Animal Magnetism - Jill Shalvis
Crazy for Love - Victoria Dahl
Kink - Saskia Walker/Sasha White
So Sensitive - Anne Rainey
Dark Taste of Rapture - Gena Showalter
The Darkest Secret - Gena Showalter
Vampire in Atlantis - Alyssa Day
Vampire Dragon - Annette Blair
Captive Spirit - Anna Windsor
Chosen by Blood - Virna DePaul
Rebel - Zoe Archer
Stranger - Zoe Archer
A Taste of Desire - Beverley Kendall
Mistress by Midnight - Maggie Robinson
To Desire a Devil - Elizabeth Hoyt
To Tame a Dangerous Lord - Nicole Jordan

Digital TBR Next
Driven - Jayne Rylon (reread)
Shifting Gears - Jayne Rylon
Beg Me - Shiloh Walker
Tempt Me - Shiloh Walker
Jazz Baby - Lorelie Brown
Playboy Prankster - Pamela Britton
Just Like That - Erin Nicholas
Sweet Inspiration - Penny Watson
Breathe - Donna Alward
My Gigolo - Molly Burkhart
Scent of Persuason - Nikki Duncan

Blog Archive