May 7, 2007
8:16 PM
|
Edit Post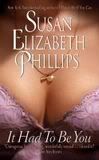 I read this book in March 2007
The windy city isn't quite ready for Phoebe Somerville-the trendy, outrageous and curvaceous New York knockout who has just inherited the Chicago Stars football team. And Phoebe is definitely not prepared for the Stars' head coach Dan Celbow - an Alabama-born former gridiron legend and blond barbarian.

Calebow is everything Phoebe abhors - a sexist, jock tacskmaster with a one-track mind. The beautiful new boss is everything Dan despises - a meddling bimbo whos doesn't know pigskin from a pitcher's mound, So why is he drawn to the shameless sexpot like a heat-seeking missile? And why does Dan's good ol'boy charm leave cosmpolitan Pheobe feeling awkward, tongue-tied and frightened to death?
This is one of the few contempary romance I've read ever since starting reading in English and I must say I liked it as much as an old school Regency or a good paranormal/vampire.

It's sassy, its funny and Dan and Phoebe cause so much sensual tension, the book is really on fire!
Both of them have a similar past that prevents them from trusting each other but the attraction is so palpable you know from the beginning there's no escaping it.

Phoebe had a bully for a father and was assaulted when she was young by her cousin. She runs away and returns for her fathers funeral after a more than a decade. It turns out he has left her his footballteam just to prove that she can't do anything right. She takes the challenge.
Dan deep down is just a nice guy with a bit of a temper who just wants to settle down with a good woman and have some kids. Everything he didn't have in his childhood with his alcoholic mother and abusive father. He didn't find it with his ex-wife either who just wanted to play wicked sexgames.
And now he has to deal with a new owner of the team whom he thinks is just a brainless bimbo who's only going to screw everything back.
Phoebe is just as unhappy cause to her Dan's a brainless selfish, cranky jock.
But they're both very wrong and immediately attracted to each other.

After some misunderstandings and difficulties they discover they love each other and of course everything turns out all fine and dandy. Just like a nice romance should end.

Ms Phillips has a great writing style. The story, even with all the background tidbits and football-terminology, is fast-paced and a delicious read. I laughed out loud several times, but also needed some airconditioning with some of the love-scenes! I just love men who know what they want and aren't afraid to take it!
Every interaction between Dan and Phoebe not only has a nice sensual undertone but is also a battle of wits. You feel the attraction but also their insecurities and fears. And you just know they belong together.
But not only Dan and Phoebe are fun to read. The secondary characters like Ron (managing-director of the team), Bobby Tom (player) and Phoebe's poodle Pooh just steals the show from the first scene…laugh-out-loud funny!

I never was a fan for football but this first book in the Chicago Stars-series was certainly a touch-down and has left me wanting to read the rest of the series!

Nice to meet you!
Pearl

Netherlands
39, married to my real life romance hero, addicted to TV shows, reading romance novels and Twitter. I'm a chronic (e)book hoarder and my absolute favorite genres within romance fiction are contemporary romance and romantic suspense, but I don't shy away from historical, paranormal or erotic romance either. Even the occasional (urban) fantasy romance, futuristic and sci fi romance may make it to my Mount TBR. This is my corner of the world wide web where I let you know what books I'm hoarding, reading and reviewing.
View my complete profile

My Book-Providers
Reviews by Rating

Reviews by Genre
Reviews by Type

Reviews by Publisher

Fellow Bloggers


GR Reading Challenge
Pearl
has read 10 books toward her goal of 50 books.

On My TBR Shelf
Unforgivable - Laura Griffin
Snapped - Laura Griffin
Darkness at Dawn - Elizabeth Jennings
Sizzle and Burn - Alexis Grant
No Mercy - Lori Armstrong
Animal Magnetism - Jill Shalvis
Crazy for Love - Victoria Dahl
Kink - Saskia Walker/Sasha White
So Sensitive - Anne Rainey
Dark Taste of Rapture - Gena Showalter
The Darkest Secret - Gena Showalter
Vampire in Atlantis - Alyssa Day
Vampire Dragon - Annette Blair
Captive Spirit - Anna Windsor
Chosen by Blood - Virna DePaul
Rebel - Zoe Archer
Stranger - Zoe Archer
A Taste of Desire - Beverley Kendall
Mistress by Midnight - Maggie Robinson
To Desire a Devil - Elizabeth Hoyt
To Tame a Dangerous Lord - Nicole Jordan

Digital TBR Next
Driven - Jayne Rylon (reread)
Shifting Gears - Jayne Rylon
Beg Me - Shiloh Walker
Tempt Me - Shiloh Walker
Jazz Baby - Lorelie Brown
Playboy Prankster - Pamela Britton
Just Like That - Erin Nicholas
Sweet Inspiration - Penny Watson
Breathe - Donna Alward
My Gigolo - Molly Burkhart
Scent of Persuason - Nikki Duncan

Blog Archive