May 10, 2007
8:22 PM
|
Edit Post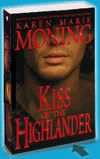 I read this book in March 2007
A laird trapped between centuries...

Enchanted by a powerful spell, Highland laird Drustan MacKeltar slumbered for nearly five centuries hidden deep in a cave, until an unlikely savior awakened him. The enticing lass who dressed and spoke like no woman he'd ever known was from his distant future, where crumbled ruins were all that remained of his vanished world. Drustan knew he had to return to his own century if he was to save his people from a terrible fate. And he needed the bewitching woman by his side....

A woman changed forever in his arms...

Gwen Cassidy had come to Scotland to shake up her humdrum life and, just maybe, meet a man. How could she have known that a tumble down a Highland ravine would send her plunging into an underground cavern — to land atop the most devastatingly seductive man she'd ever seen? Or that once he'd kissed her, he wouldn't let her go?

Bound to Drustan by a passion stronger than time, Gwen is swept back to sixteenth-century Scotland, where a treacherous enemy plots against them ... and where a warrior with the power to change history will defy time itself for the woman he loves...
Once again I loved this story.
Though the time travel-theme returns in almost the entire Highlander-series Moning knows how to give each book it's own twist and that way you don't get the sense of repetition and each book holds something unique to it.
And I really like the twist she gives Kiss of the Highlander.
Though another time travel it's so different from the previous one. The angle is different and refreshing. Intentionally and with a purpose in stead of by accident or part of revenge.

Drustan and Gwen are a hero and heroin you just want to end up happy together and they do through time and space.
I truly love Moning's heroins. Gwen is fiery, stubborn, smart and she doesn't let Drustan push her around. She gives as good as she gets! And that's just what Drustan needs.
And Drustan, well he's something else! If you don't just love this hero, there must be something wrong with you. I really tried to describe why but I just can't. There's just something about him that makes you want to take him in your arms and never let go. And that's exactly what Gwen did.

I didn't think this a very fast-paced story, but in my eyes this is not a bad thing. It felt like it was supposed to just seep in bit by bit into your system and stay anchored there. In stead of fiery explosions, more like smoldering ashes, slow but definitely just as scorching.
The secondary characters as Silvan, Dageus and Nell add something extra to the story and the whole plot is just original, ingenious and fascinating!

And can someone tell me what it is with the word "tupping" that makes my heart go pitty-patter more than any other word used to describe that activity???

This series is really a keeper and I'm really glad I finally got to read it.

Nice to meet you!
Pearl

Netherlands
39, married to my real life romance hero, addicted to TV shows, reading romance novels and Twitter. I'm a chronic (e)book hoarder and my absolute favorite genres within romance fiction are contemporary romance and romantic suspense, but I don't shy away from historical, paranormal or erotic romance either. Even the occasional (urban) fantasy romance, futuristic and sci fi romance may make it to my Mount TBR. This is my corner of the world wide web where I let you know what books I'm hoarding, reading and reviewing.
View my complete profile

My Book-Providers
Reviews by Rating

Reviews by Genre
Reviews by Type

Reviews by Publisher

Fellow Bloggers


GR Reading Challenge
Pearl
has read 10 books toward her goal of 50 books.

On My TBR Shelf
Unforgivable - Laura Griffin
Snapped - Laura Griffin
Darkness at Dawn - Elizabeth Jennings
Sizzle and Burn - Alexis Grant
No Mercy - Lori Armstrong
Animal Magnetism - Jill Shalvis
Crazy for Love - Victoria Dahl
Kink - Saskia Walker/Sasha White
So Sensitive - Anne Rainey
Dark Taste of Rapture - Gena Showalter
The Darkest Secret - Gena Showalter
Vampire in Atlantis - Alyssa Day
Vampire Dragon - Annette Blair
Captive Spirit - Anna Windsor
Chosen by Blood - Virna DePaul
Rebel - Zoe Archer
Stranger - Zoe Archer
A Taste of Desire - Beverley Kendall
Mistress by Midnight - Maggie Robinson
To Desire a Devil - Elizabeth Hoyt
To Tame a Dangerous Lord - Nicole Jordan

Digital TBR Next
Driven - Jayne Rylon (reread)
Shifting Gears - Jayne Rylon
Beg Me - Shiloh Walker
Tempt Me - Shiloh Walker
Jazz Baby - Lorelie Brown
Playboy Prankster - Pamela Britton
Just Like That - Erin Nicholas
Sweet Inspiration - Penny Watson
Breathe - Donna Alward
My Gigolo - Molly Burkhart
Scent of Persuason - Nikki Duncan

Blog Archive