May 6, 2007
8:12 PM
|
Edit Post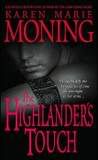 I read this book in February 2007
A Warrior Of Immortal Powers

He was a mighty Scottish warrior who lived in a world bound by ancient laws and timeless magic. But no immortal powers could prepare the laird of Castle Brodie for the lovely accursed lass who stood before him. A terrible trick of fate had sent her 700 years back in time and into his private chamber to tempt him with her beauty-and seduce him with a desire he could never fulfill. For this woman he burned to possess was also
the woman he had foresworn to destroy.

A Woman Caught In The Mists Of Time

When Lisa felt the earth move under her feet, the fiercely independent 21st-century woman never dreamed she was falling...into another century. But the powerful, naked warrior who stood glaring down at her was only too real...and too dangerously arousing. Irresistibly handsome he might be, but Lisa had no intention of remaining in this savage land torn by treachery and war. How could she know that her seductive captor had other plans for her...plans that would save her from a tragic fate? Or that this man who had long ago forsaken love would defy time itself to claim her for his own....
After a side-step to the legend of the Beserkers, we're back to time-travel again. We get reacquainted with Adam Black and meet an mighty fine Highlander: Circenn Brodie.

Once more a feisty heroin, in Moning tradition. For I think it's pretty gutsy to take on a man who is so big the top of your head barely reaches his chest. The scene in which they're lying on the floor after she tried to ambush him in his own room is great and immediately sets the tone.

Their interactions are so sparkly en the emotions between them are so strong. I really felt for Lisa when it finally hits her that the object that brought her back in time cannot return her to her own time. And I loved the way Circenn reacted to that, so loving and caring. A definite Kleenex-moment.

Adam's part in this book did astonish me a bit. In BTHM I thought him fine piece of maleness but with a not so fine character sometimes annoying even. But I really have to take that back now having read this book because contrary to his actions in BTHM his actions now weren't coaxed by wounded pride or arrogance but by affection toward someone else in stead of himself.
He really started to grow on me in this book and I think this will only be more in his own book. Can't wait to read that one!
Quote:
"Lass, I'm going to love you until you cannot walk from my bed," He whispered, before kissing her.

Nice to meet you!
Pearl

Netherlands
39, married to my real life romance hero, addicted to TV shows, reading romance novels and Twitter. I'm a chronic (e)book hoarder and my absolute favorite genres within romance fiction are contemporary romance and romantic suspense, but I don't shy away from historical, paranormal or erotic romance either. Even the occasional (urban) fantasy romance, futuristic and sci fi romance may make it to my Mount TBR. This is my corner of the world wide web where I let you know what books I'm hoarding, reading and reviewing.
View my complete profile

My Book-Providers
Reviews by Rating

Reviews by Genre
Reviews by Type

Reviews by Publisher

Fellow Bloggers


GR Reading Challenge
Pearl
has read 10 books toward her goal of 50 books.

On My TBR Shelf
Unforgivable - Laura Griffin
Snapped - Laura Griffin
Darkness at Dawn - Elizabeth Jennings
Sizzle and Burn - Alexis Grant
No Mercy - Lori Armstrong
Animal Magnetism - Jill Shalvis
Crazy for Love - Victoria Dahl
Kink - Saskia Walker/Sasha White
So Sensitive - Anne Rainey
Dark Taste of Rapture - Gena Showalter
The Darkest Secret - Gena Showalter
Vampire in Atlantis - Alyssa Day
Vampire Dragon - Annette Blair
Captive Spirit - Anna Windsor
Chosen by Blood - Virna DePaul
Rebel - Zoe Archer
Stranger - Zoe Archer
A Taste of Desire - Beverley Kendall
Mistress by Midnight - Maggie Robinson
To Desire a Devil - Elizabeth Hoyt
To Tame a Dangerous Lord - Nicole Jordan

Digital TBR Next
Driven - Jayne Rylon (reread)
Shifting Gears - Jayne Rylon
Beg Me - Shiloh Walker
Tempt Me - Shiloh Walker
Jazz Baby - Lorelie Brown
Playboy Prankster - Pamela Britton
Just Like That - Erin Nicholas
Sweet Inspiration - Penny Watson
Breathe - Donna Alward
My Gigolo - Molly Burkhart
Scent of Persuason - Nikki Duncan

Blog Archive