May 20, 2007
4:55 PM
|
Edit Post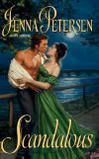 I read this book in April 2007
There is only one word for a passion this sizzling…Scandalous!

Katherine Fleming has lived her life without even a hint of indiscretion. So she is devastated to discover the nobleman she's engaged to has a secret he's kept from her: a wife! Suddenly Katherine's enmeshed in a scandal that has the ton buzzing--and forced to accept a most unconventional proposal from the notorious seducer Dominic Mallory, her faithless fiancé's brother…and precisely the sort of rake she has sworn to avoid!

Charming and dangerously sensual, Dominic has desired the stunning beauty from the first moment he spied her. Now, with Katherine's reputation in tatters, it's the ideal opportunity to bed her--though it will take wedding vows to do so. But can a rogue be reformed by the unleashed passion of a normally reserved lady? And can a marriage made for all the wrong reasons flame into the love match of the season?
I really loved this one.
The interactions between hero and heroin were sizzling and intens.
The sensual tension between the two is almost palpable.
This was my first Jenna Petersen book and I liked it very much.

Dominic is the hero who's tormented by his past. He is the result of an affair his mother had and he doesn't know who his father is. His only goal in life is to find out his parentage. His mother's husband and his halfbrother never accepted him and their actions and those of his mother lead to him not believing in love.
Until he meets Katherine (Kat).
Because of the problematic relationship her parents had, Kat also doesn't believe in love. Love is humiliating and painful in her eyes.
Until she meets Dominic and must marry him to prevent scandal to come over her and his family.

Once they are married they start developing deeper feelings for each other. But because of their pasts they won't admit to it and settle for just the physical side of marriage.
Of course lies and secrets puts a wedge between them and drive them apart but fortunately everything works out just fine.

Jenna Petersen has a delightful writing style, easy to read and accessible. This book was't fast paced but that wouldn't do the story justice. This story is meant to be taken in slow and easy so you can savor every word, every feeling, every emotion.
She knows how to pen down a beautiful story of love that conquers all.
While reading I went through a whole bunch of emotions but what touched me most was their hurt caused by their pasts and in the end of the book I just had to cry.

The secondary characters were also brilliantly pictured and true additions to the storyline. They also made me feel emotional but in the angry sense of the word. Man....At some point I really wanted to strangle the halfbrother Cole and his wife Sarah. They were so evil and selfish.
Halfsister Julia was a nice and lovable character though.

I'm really looking forward to reading more by Jenna Petersen because this one has sparked a flame that hopefully won't extinguish very soon!

Nice to meet you!
Pearl

Netherlands
39, married to my real life romance hero, addicted to TV shows, reading romance novels and Twitter. I'm a chronic (e)book hoarder and my absolute favorite genres within romance fiction are contemporary romance and romantic suspense, but I don't shy away from historical, paranormal or erotic romance either. Even the occasional (urban) fantasy romance, futuristic and sci fi romance may make it to my Mount TBR. This is my corner of the world wide web where I let you know what books I'm hoarding, reading and reviewing.
View my complete profile

My Book-Providers
Reviews by Rating

Reviews by Genre
Reviews by Type

Reviews by Publisher

Fellow Bloggers


GR Reading Challenge
Pearl
has read 10 books toward her goal of 50 books.

On My TBR Shelf
Unforgivable - Laura Griffin
Snapped - Laura Griffin
Darkness at Dawn - Elizabeth Jennings
Sizzle and Burn - Alexis Grant
No Mercy - Lori Armstrong
Animal Magnetism - Jill Shalvis
Crazy for Love - Victoria Dahl
Kink - Saskia Walker/Sasha White
So Sensitive - Anne Rainey
Dark Taste of Rapture - Gena Showalter
The Darkest Secret - Gena Showalter
Vampire in Atlantis - Alyssa Day
Vampire Dragon - Annette Blair
Captive Spirit - Anna Windsor
Chosen by Blood - Virna DePaul
Rebel - Zoe Archer
Stranger - Zoe Archer
A Taste of Desire - Beverley Kendall
Mistress by Midnight - Maggie Robinson
To Desire a Devil - Elizabeth Hoyt
To Tame a Dangerous Lord - Nicole Jordan

Digital TBR Next
Driven - Jayne Rylon (reread)
Shifting Gears - Jayne Rylon
Beg Me - Shiloh Walker
Tempt Me - Shiloh Walker
Jazz Baby - Lorelie Brown
Playboy Prankster - Pamela Britton
Just Like That - Erin Nicholas
Sweet Inspiration - Penny Watson
Breathe - Donna Alward
My Gigolo - Molly Burkhart
Scent of Persuason - Nikki Duncan

Blog Archive