May 11, 2007
8:24 PM
|
Edit Post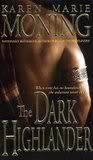 I read this book in March 2007
Journey to a world of ancient magic, breathtaking sensuality, thrilling time-travel.... Journey to the world of The Dark Highlander. Crisscrossing the continents and the centuries, here is a novel as gripping as it is sensual--an electrifying adventure that will leave you breathless....

I am Dageus MacKeltar, a man with one good conscience and thirteen bad ones, driven to sate my darkest desires…

From his penthouse lair high above Manhattan, Dageus looks out over a glittering city that calls to the darkness within him. A sixteenth-century Scot trapped between worlds, he is fighting a losing battle with the thirteen Druids who possess his soul, dooming him to an eternity of sexual pursuit. When Chloe Zanders, student of antiquities, is drawn into his world, she finds the insatiable alpha male an irresistible lure.Before long, she is caught up in an ancient prophecy that will sweep her back into time to medieval Scotland. Plunged into a world of timeless magic and dark seduction, she will soon face the challenge of a lifetime: fighting thirteen evil spirits for the heart of one irresistible man....
What is the only thing that can save a Highland Druid fighting not to lose himself to the darkness of evil?
The love of his true mate...

For me this is the best in the series so far.
The explosive emotions are back, the book excited me as well as made me tear up. The previous two didn't quite succeed in doing this.
Dageus was the perfect hero, handsome and fierce, romantic and dark and don't forget: sinfully sensual!
I would have liked Chloe a bit more fiery than she was, but this still didn't make the book any less good.
Again Moning delivers a wonderful plot, again we briefly meet Adam, he's such an enigma...and I really can't wait to read his story.
Again the secondary characters complete the story.

I was enthralled by the world of the Tuatha Dé and the Prophecy. Moning pens down such a vivid world you just get sucked in, and it's hard to come down to earth again.
Then she entwines this all with a lovestory so beautiful and powerfull and you find yourself utterly lost in the world of a dark highlander fighting to find his light and in doing so he finds true love.

This story was so fast-paced I finished it in a day, I just kept turning and turning the pages wanting to know where it was leading to and how it was going to end.
There is nothing I appreciate more than unpredictability in a book and this series really deserves my appreciation because not a single book has been predictable.

Move over on the keeper's shelf cause there's going to be another treasured addition.

Nice to meet you!
Pearl

Netherlands
39, married to my real life romance hero, addicted to TV shows, reading romance novels and Twitter. I'm a chronic (e)book hoarder and my absolute favorite genres within romance fiction are contemporary romance and romantic suspense, but I don't shy away from historical, paranormal or erotic romance either. Even the occasional (urban) fantasy romance, futuristic and sci fi romance may make it to my Mount TBR. This is my corner of the world wide web where I let you know what books I'm hoarding, reading and reviewing.
View my complete profile

My Book-Providers
Reviews by Rating

Reviews by Genre
Reviews by Type

Reviews by Publisher

Fellow Bloggers


GR Reading Challenge
Pearl
has read 10 books toward her goal of 50 books.

On My TBR Shelf
Unforgivable - Laura Griffin
Snapped - Laura Griffin
Darkness at Dawn - Elizabeth Jennings
Sizzle and Burn - Alexis Grant
No Mercy - Lori Armstrong
Animal Magnetism - Jill Shalvis
Crazy for Love - Victoria Dahl
Kink - Saskia Walker/Sasha White
So Sensitive - Anne Rainey
Dark Taste of Rapture - Gena Showalter
The Darkest Secret - Gena Showalter
Vampire in Atlantis - Alyssa Day
Vampire Dragon - Annette Blair
Captive Spirit - Anna Windsor
Chosen by Blood - Virna DePaul
Rebel - Zoe Archer
Stranger - Zoe Archer
A Taste of Desire - Beverley Kendall
Mistress by Midnight - Maggie Robinson
To Desire a Devil - Elizabeth Hoyt
To Tame a Dangerous Lord - Nicole Jordan

Digital TBR Next
Driven - Jayne Rylon (reread)
Shifting Gears - Jayne Rylon
Beg Me - Shiloh Walker
Tempt Me - Shiloh Walker
Jazz Baby - Lorelie Brown
Playboy Prankster - Pamela Britton
Just Like That - Erin Nicholas
Sweet Inspiration - Penny Watson
Breathe - Donna Alward
My Gigolo - Molly Burkhart
Scent of Persuason - Nikki Duncan

Blog Archive