September 27, 2007
6:36 PM
|
Edit Post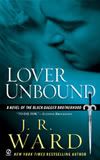 Ruthless and brilliant, Vishous son of the Bloodletter possesses a destructive curse and a frightening ability to see the future. As a pretrans growing up in his father's war camp, he was tormented and abused. As a member of the Brotherhood, he has no interest in love or emotion, only the battle with the Lessening Society. But when a mortal injury puts him in the care of a human surgeon, Dr. Jane Whitcomb compels him to reveal his inner pain and taste true pleasure for the first time- until a destiny he didn't choose takes him into a future that cannot include her.
Where to start? How to start?
The words are tumbling through my head and I don't know what to write first!
There was a lot going on in this fifth installment of the Black Dagger Brotherhood and I'm still trying to get it together in my head.
I liked the book even though the intensity was less than I had expected and V was not the V I expected him to be from the previous books but still, I laughed, I sympathized, I cried (not as many as with the other books though), I was outraged, I was touched, I was humbled, I was curious...I went through it all while devouring every chapter, page and letter.
Where in Lover Revealed there weren't many things that surprised me and I had a pretty good idea where the story was headed, in this one every chapter had me gasping at the turn of events hitting me with info I really didn't see coming. And there were some fascinating teasers concerning John Mattew, Blay and Qhuinn. On Phury it wasn't so much as teasers as more big chunks of info in preparation of his coming book.

Jane and V were endearing and lovely together and there is were some of the less intense part comes in concerning V. Things just were too endearing and too lovely, going very smoothly and quickly, no big heavy turns and twists, just immediate mutual falling in love and bonding with little to no heavy complications.
In my opinion V shouldn't be lovely but fierce and I missed that fierceness in him from the moment he realized Jane was his and he loved her. There were moments I would really think: "Come on V, snap out of it and stop being this sappy, that doesn't fit you!"
The overall vibe I got from reading the parts on V and Jane was distance and detachment. In the other books it was like I was seeing the events and actions through the Brother and his shellan themselves, in this one it was as if the both V and Jane were standing on the outside watching things happen to them.
The HEA Ward made up for them was unconventional and totally different from her previous books but it worked for me. The connection between V and Jane throughout the book is more on an emotional level than a physical one, they were attracted to each others mind and spirit and not so much the physical aspects of each other even in the sexually oriented scenes. This made his HEA acceptable for me because in the end they are together.

V and Butch are to each other what everyone would wish for in a best friend and they were back to their familiar bantering after things put out in the open between them. Things that have been lingering since Lover Revealed and were now spoken out loud, letting them get back to the way they were with each other in the beginning of the series. I knew V and Butch were and are close and there is a real connection between the two but the intensity of V's feelings blew me away. That was the kind of intensity I expected him to have for Jane.
John Matthew had me tied in knots with every scene he was in.
And his transition hit me like a ton of bricks! Another something I wasn't expecting in this book...I knew it was coming but thought it would be in Phury's book.
The Scribe Virgin amazed me both positively and negatively and brought out some ambivalent feelings because on the one hand I sympathized with her but on the other I wanted to curse her at some point. And she really wasn't the Scribe Virgin I had come to know in the other books, even coming across as a bit more human and therefore showing a vulnerability that bordered on weakness in my opinion.
And then one thing I never thought I would say but I somewhat missed the whole Lesser-part in the book. Where in the other books up to Lover Revealed, it distracted me from the love-story and I wasn't really into the whole Lesser-thing, here because the love-story was less intense I really found myself realizing that I would have liked a Lesser scene as there have been in the passed...

The world Ward has created is intriguing and she is definitely taking another path down the road of the Black Dagger Brotherhood. In this book changing the focus from the love-story between a Brother and his shellan to showing us more of the world that was created for the Brotherhood. The only disappointment is that Ward had to sacrifice V's fierceness and intensity to do this.

Even though many things weren't as I expected them and I'm left again with a lot of questions wandering through my mind, I still closed the book with a satisfied feeling but not on a high like I did Lover Revealed...because the feeling I had after that book being really about Butch and Marissa wasn't here, I see this mainly as a transitional Black Dagger Brotherhood novel with a little V and Jane on the side.
But still I have to give credit were credit is due. It takes serious guts to take a series that was heading a certain direction and making it a totally different ballgame. For some it will be unacceptable, for me I find it gutsy and I'm curious as to where this all will lead...starting with Phury's book next April.
I was going to give this book 4 stars inspite of some disappointing elements but then I started reading another book by a total different writer but also in the paranormal genre and thought: "This is what a 4 star book should be like."

Nice to meet you!
Pearl

Netherlands
39, married to my real life romance hero, addicted to TV shows, reading romance novels and Twitter. I'm a chronic (e)book hoarder and my absolute favorite genres within romance fiction are contemporary romance and romantic suspense, but I don't shy away from historical, paranormal or erotic romance either. Even the occasional (urban) fantasy romance, futuristic and sci fi romance may make it to my Mount TBR. This is my corner of the world wide web where I let you know what books I'm hoarding, reading and reviewing.
View my complete profile

My Book-Providers
Reviews by Rating

Reviews by Genre
Reviews by Type

Reviews by Publisher

Fellow Bloggers


GR Reading Challenge
Pearl
has read 10 books toward her goal of 50 books.

On My TBR Shelf
Unforgivable - Laura Griffin
Snapped - Laura Griffin
Darkness at Dawn - Elizabeth Jennings
Sizzle and Burn - Alexis Grant
No Mercy - Lori Armstrong
Animal Magnetism - Jill Shalvis
Crazy for Love - Victoria Dahl
Kink - Saskia Walker/Sasha White
So Sensitive - Anne Rainey
Dark Taste of Rapture - Gena Showalter
The Darkest Secret - Gena Showalter
Vampire in Atlantis - Alyssa Day
Vampire Dragon - Annette Blair
Captive Spirit - Anna Windsor
Chosen by Blood - Virna DePaul
Rebel - Zoe Archer
Stranger - Zoe Archer
A Taste of Desire - Beverley Kendall
Mistress by Midnight - Maggie Robinson
To Desire a Devil - Elizabeth Hoyt
To Tame a Dangerous Lord - Nicole Jordan

Digital TBR Next
Driven - Jayne Rylon (reread)
Shifting Gears - Jayne Rylon
Beg Me - Shiloh Walker
Tempt Me - Shiloh Walker
Jazz Baby - Lorelie Brown
Playboy Prankster - Pamela Britton
Just Like That - Erin Nicholas
Sweet Inspiration - Penny Watson
Breathe - Donna Alward
My Gigolo - Molly Burkhart
Scent of Persuason - Nikki Duncan

Blog Archive