September 22, 2007
6:32 PM
|
Edit Post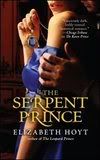 WHEN THE DEVIL MEETS AN ANGEL
Country bred Lucy Craddock-Hayes is content with her quiet life. Until the day she trips over an unconscious man—a naked unconscious one—and loses her innocence forever.

HE CAN TAKE HER TO HEAVEN
Viscount Simon Iddesleigh was nearly beaten to death by his enemies. Now he's hell-bent on vengeance. But as Lucy nurses him back to health, her honesty startles his jaded sensibilities—even as it ignites a desire that threatens to consume them both.

OR TO HELL
Charmed by Simon's sly wit, urbane manners, and even his red-heeled shoes, Lucy falls hard and fast for him. Yet as his honor keeps him from ravishing her, his revenge sends his attackers to her door. As Simon wages war on his foes, Lucy wages her own war for his soul using the only weapon she has—her love…
The Prince Trilogy absolutely stands out in the world of historical romance. With it's depth, it's superwitty humour, bordering on sarcasm, it's superb character building, it's wicked sensuality and last but not least it's wonderful lovestory both actual and metaphorical. With the third book in this trilogy, Hoyt has won me over forever! She started taking me in with the first one, lodged the hook deeply with the second one and this third one slowly but surely finished the job. The title as in the other two refers to a fairytale that's a methaphor for the lovestory between hero and heroin.

Simon is a man of contradictions, wanting to be a good man but at the same time giving in to his dark side and trying to conceal his true feelings and thoughts by being witty. Especially when he feels unworthy of something or in this case someone: Lucy. Lucy is loveliness in it's purest form. Straightforward, goodhearted, honest and strong. He stirs in her the longing for a life she never knew she craved until he came along. She stirs in him his desperate need for redemption, salvation from the evil, dark man he believes himself to have become. A salvation he also never knew he craved until she comes along. Lucy sees the good in Simon he tries so hard to deny.

The story builts up gradually, cresting ever so slowly to a wonderful climax that left me breathless at the end. It's both endearing and sensual, both tender and exciting. Reading this books was like peeling an onion, removing layer after layer after layer until at the core you find what it always comes down to: true love survives everything and saves even the most darkened of souls. The difference in status this time was less the focuspoint than in the other two books. But still the difference of their backgrounds, -one rural, the other urban- lingers throughout the book.

The love-scenes were so sensual and erotic they made my skin crawl, in a good way of course! They were so intense, so fitting the story and the characters. And again without being raunchy she describes the act of lovemaking in such a beautiful and classy way without unnecessary embellishments or odd-sounding analogies.

There also must be praise for the secondary characters. They were wonderful, well-written and a true addition to the book. All of them, both good and bad. Without them something most definitely would have been missing. Lucy's dad, her friend Priscilla and Simon's niece "Pocket" were secondary characters that really brought something extra to the already exquisite characters of Simon and Lucy.

The only thing that had me in a more of less ambiguous state was the plot. Or rather some of Simon's actions. At first I had a bit of trouble accepting him proclaiming himself judge, jury and executioner the way he did. Later in the story I totally understood it underlined Simon's character and motivation. It was his way of punishing himself for things that weren't his fault but which he had seen as such for a long time. And it was needed so he could recognize Lucy's love and acceptance as his salvation.

And so the Prince Trilogy ends here and I truly hope Ms Hoyt continues delivering more of these exceptional books that rise above the genre!
To this mistress in writing historical romance I bow in awe and admiration.
Without a doubt her books (will) have a special place on my bookshelf and in my romanceloving heart because it's the only way to treasure them and give credit where credit is due.

Nice to meet you!
Pearl

Netherlands
39, married to my real life romance hero, addicted to TV shows, reading romance novels and Twitter. I'm a chronic (e)book hoarder and my absolute favorite genres within romance fiction are contemporary romance and romantic suspense, but I don't shy away from historical, paranormal or erotic romance either. Even the occasional (urban) fantasy romance, futuristic and sci fi romance may make it to my Mount TBR. This is my corner of the world wide web where I let you know what books I'm hoarding, reading and reviewing.
View my complete profile

My Book-Providers
Reviews by Rating

Reviews by Genre
Reviews by Type

Reviews by Publisher

Fellow Bloggers


GR Reading Challenge
Pearl
has read 10 books toward her goal of 50 books.

On My TBR Shelf
Unforgivable - Laura Griffin
Snapped - Laura Griffin
Darkness at Dawn - Elizabeth Jennings
Sizzle and Burn - Alexis Grant
No Mercy - Lori Armstrong
Animal Magnetism - Jill Shalvis
Crazy for Love - Victoria Dahl
Kink - Saskia Walker/Sasha White
So Sensitive - Anne Rainey
Dark Taste of Rapture - Gena Showalter
The Darkest Secret - Gena Showalter
Vampire in Atlantis - Alyssa Day
Vampire Dragon - Annette Blair
Captive Spirit - Anna Windsor
Chosen by Blood - Virna DePaul
Rebel - Zoe Archer
Stranger - Zoe Archer
A Taste of Desire - Beverley Kendall
Mistress by Midnight - Maggie Robinson
To Desire a Devil - Elizabeth Hoyt
To Tame a Dangerous Lord - Nicole Jordan

Digital TBR Next
Driven - Jayne Rylon (reread)
Shifting Gears - Jayne Rylon
Beg Me - Shiloh Walker
Tempt Me - Shiloh Walker
Jazz Baby - Lorelie Brown
Playboy Prankster - Pamela Britton
Just Like That - Erin Nicholas
Sweet Inspiration - Penny Watson
Breathe - Donna Alward
My Gigolo - Molly Burkhart
Scent of Persuason - Nikki Duncan

Blog Archive