September 2, 2007
6:06 PM
|
Edit Post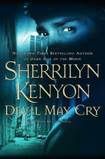 Ever since that moment his status as a god was revoked by Artemis, Sin has done nothing but plot his revenge. He kidnaps a woman he believes to be the goddess, but she's Artemis' servant, Katra. And instead of imprisoning her, Katra captures him and refuses to release him until he promises not to seek vengeance on her mistress. Despite himself, Sin finds himself intrigued by Katra, who is nothing like the goddess she serves. She's fierce, true, but she's also compassionate and loyal. However, Sin is not the only enemy Artemis has and it quickly becomes apparent that he must help Katra save her mistress or the world as we know it will end. What's a wannabe god to do?
After having read the last page of this book I was balancing on two thoughts:
It was a nice and entertaining story and it was absolutely not a Dark-Hunter story.
Something essential to the Dark-Hunters was missing and did not feel right in my opinion.
Were there too many new creatures being introduced?
Was the romance between Kat and Sin a bit forced together for the sake of it?
Why did I get this uneasy feeling with the way the relationship between Ash and Artie is portrayed in this book?
Was it the love and bonding of the Dark-Hunter and his heroin that I missed?
This last thing was totally overshadowed by so many other aspects and storylines in the book that for me it was really disappointing because I was expecting a Dark-Hunter novel to blow me of my feet and leave me breathless at the end.
In stead I get a Sumarian God and an Atlantean/Greek godess and a storyline as remote as possible from the Dark-Hunters I've known.

For me the ambiguity of the book lay in de fact that it was dissapointing on the one hand for not being a true Dark-Hunter novel but satifying on the other for answering some of the questions left unanswered in previous books. But there were really more things I liked.
The intense emotional interaction between Kat and Ash.
The humour and sarcasm of Kat, Xypher, Kish, Damien and even Ash.
Simi was her true hilarious self and an steady anchor in the midst of all these new creatures and pantheons being introduced.
I liked the storybuilding and the humor in the book which was the typical Kenyon-style we all know and love.

Kat was everything I expected from her after reading about her in the previous books she played a part in: intelligent, strong, brave, caring and loyal. The perfect match for any Dark-Hunter.
And Ash, he just broke my heart, to read about his suffering, his relationship with Artemis, the way he tries to do the right things and his perception of what love is...these were the moments that really saved the book from a far lower grading than it's getting now.
Sin was the character I found most dissapointing in this book. He just wasn't powerful enough to capture my full attention.
He was overshadowed by not only the Kat but also by some secondary characters!
The interactions essential for the book were not the ones between Sin and Kat.
For me Kat and Ash were the ones who carried the story with assistance of Kessar, Kish, Damien and let's not forget Xypher whose story I'm really looking forward to!

To be honest if the book had been marketed as something else than a Dark-Hunter novel and in consequence not creating expectations I would have said it was a great book, judging it's entertainment-level...but as a book in a series of books like Night Embrace, Night Pleasures, Dance with the Devil and Seize the Night it didn't live up to the expectations set by those books.

In short: a entertaining story of trust and betrayal, love and deceit but for me a preparation and introduction for Ash's books, nothing more....nothing less.

Nice to meet you!
Pearl

Netherlands
39, married to my real life romance hero, addicted to TV shows, reading romance novels and Twitter. I'm a chronic (e)book hoarder and my absolute favorite genres within romance fiction are contemporary romance and romantic suspense, but I don't shy away from historical, paranormal or erotic romance either. Even the occasional (urban) fantasy romance, futuristic and sci fi romance may make it to my Mount TBR. This is my corner of the world wide web where I let you know what books I'm hoarding, reading and reviewing.
View my complete profile

My Book-Providers
Reviews by Rating

Reviews by Genre
Reviews by Type

Reviews by Publisher

Fellow Bloggers


GR Reading Challenge
Pearl
has read 10 books toward her goal of 50 books.

On My TBR Shelf
Unforgivable - Laura Griffin
Snapped - Laura Griffin
Darkness at Dawn - Elizabeth Jennings
Sizzle and Burn - Alexis Grant
No Mercy - Lori Armstrong
Animal Magnetism - Jill Shalvis
Crazy for Love - Victoria Dahl
Kink - Saskia Walker/Sasha White
So Sensitive - Anne Rainey
Dark Taste of Rapture - Gena Showalter
The Darkest Secret - Gena Showalter
Vampire in Atlantis - Alyssa Day
Vampire Dragon - Annette Blair
Captive Spirit - Anna Windsor
Chosen by Blood - Virna DePaul
Rebel - Zoe Archer
Stranger - Zoe Archer
A Taste of Desire - Beverley Kendall
Mistress by Midnight - Maggie Robinson
To Desire a Devil - Elizabeth Hoyt
To Tame a Dangerous Lord - Nicole Jordan

Digital TBR Next
Driven - Jayne Rylon (reread)
Shifting Gears - Jayne Rylon
Beg Me - Shiloh Walker
Tempt Me - Shiloh Walker
Jazz Baby - Lorelie Brown
Playboy Prankster - Pamela Britton
Just Like That - Erin Nicholas
Sweet Inspiration - Penny Watson
Breathe - Donna Alward
My Gigolo - Molly Burkhart
Scent of Persuason - Nikki Duncan

Blog Archive