September 12, 2007
6:26 PM
|
Edit Post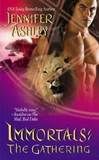 He was known as "the crazy one." And Leda Stowe could see why after finding the stunning half-naked warrior in her lion's pen—unarmed and completely unafraid. Though he could somehow soothe the temperamental beast, nothing could calm the desire that sparked through her body at his touch. She wished they could hide away together on her island forever, but the world thrummed with danger. Before Leda could claim Hunter for herself, they would have to join the other Immortals to face the greatest trial yet:
The Gathering.
What an amazing conclusion to a wonderful and magical set of books!
And lucky for us readers who have closed this series into our hearts the end is nowhere near yet since there are at least 3 more books and an anthology planned for the future starting with Taine's story in September 2008.
But for now let's get back to the book at hand.

After reading the Awakening the rollercoaster ride slowed down considerably but luckily Ashley took me for a serious spin with this one.

Leda and Hunter are great characters, made for each other and destined to save each other from the hurt and loss they've suffered in the past.
Leda is a practical and down to earth air-witch. Touched by death magic in her past, she keeps to herself, isolated on her island with her animals.

Hunter is the Immortal with nothing to lose and living by the moment. He doesn't waste time on subtleties or words. He wants something or in this case someone (Leda) he goes straight to the core of business without delay or smalltalk. He is crazy, but in a good way and not to mention hot and adorable too. You feel his grief and loss shimmering subconsciously but at the same time you feel his lust for life. He drives the grounded Leda, who's his perfect mate, crazy with his protectiveness. Although he maintains he can't come close to anyone out of fear of losing them, his actions towards Leda prove he does care for her even though he doesn't realize it at first.

Ashley does a terrific job of joining the previous books together and creating a conclusion to a magical quest to save the world of an evil doom. Especially in the final part when every main character and every important secondary character from the previous books gather together in an action- and magic-filled, exciting fight against the Old One (Kehksut-Amadja-Culsu). In this part you also get the answer to many questions raised in the previous books. With every turn of the page I longed to know what it really was Tain and the demon wanted, why certain things were happening, wanting to know how it was going to end.
And of course the humour I missed in books 2 and 3 was back in full force. Hunter is extremely funny in his "don't-care-about-a-thing" way and the banter between the brothers even in the midst of the grand fight is delicious to read.

In short, a satisfying and truly well written closure to this part of the series. My expectations for this book were certainly met and new expectations are being created for Tain's book!
Because next to the lovely story of Leda and Hunter and the great fight to save the world, he was the one who I really felt the most for. He broke my heart. His hurt and feelings of abandonment. The way he forced himself to survive and endure the torture by the Old demon. It all motivates him to become the person he had become, had to become. It was necessary for him, the only way to cope with what the demon had done to him. And the way his brothers saved him…this was one of the most intense parts of the whole series up till now.

Tain's book is in the making and I can't wait to get it into my hands so I can delve into this delicious world of Immortals, witches, demons, vampires, sidhes, werewolves and all the other magical creatures.
From this book you get a pretty good idea who Tain's HEA will be and I'm looking forward to reading their story.
Quote:
"Immortals." Leda ground her teeth. "They should be called Insufferables."

Nice to meet you!
Pearl

Netherlands
39, married to my real life romance hero, addicted to TV shows, reading romance novels and Twitter. I'm a chronic (e)book hoarder and my absolute favorite genres within romance fiction are contemporary romance and romantic suspense, but I don't shy away from historical, paranormal or erotic romance either. Even the occasional (urban) fantasy romance, futuristic and sci fi romance may make it to my Mount TBR. This is my corner of the world wide web where I let you know what books I'm hoarding, reading and reviewing.
View my complete profile

My Book-Providers
Reviews by Rating

Reviews by Genre
Reviews by Type

Reviews by Publisher

Fellow Bloggers


GR Reading Challenge
Pearl
has read 10 books toward her goal of 50 books.

On My TBR Shelf
Unforgivable - Laura Griffin
Snapped - Laura Griffin
Darkness at Dawn - Elizabeth Jennings
Sizzle and Burn - Alexis Grant
No Mercy - Lori Armstrong
Animal Magnetism - Jill Shalvis
Crazy for Love - Victoria Dahl
Kink - Saskia Walker/Sasha White
So Sensitive - Anne Rainey
Dark Taste of Rapture - Gena Showalter
The Darkest Secret - Gena Showalter
Vampire in Atlantis - Alyssa Day
Vampire Dragon - Annette Blair
Captive Spirit - Anna Windsor
Chosen by Blood - Virna DePaul
Rebel - Zoe Archer
Stranger - Zoe Archer
A Taste of Desire - Beverley Kendall
Mistress by Midnight - Maggie Robinson
To Desire a Devil - Elizabeth Hoyt
To Tame a Dangerous Lord - Nicole Jordan

Digital TBR Next
Driven - Jayne Rylon (reread)
Shifting Gears - Jayne Rylon
Beg Me - Shiloh Walker
Tempt Me - Shiloh Walker
Jazz Baby - Lorelie Brown
Playboy Prankster - Pamela Britton
Just Like That - Erin Nicholas
Sweet Inspiration - Penny Watson
Breathe - Donna Alward
My Gigolo - Molly Burkhart
Scent of Persuason - Nikki Duncan

Blog Archive