September 9, 2007
6:11 PM
|
Edit Post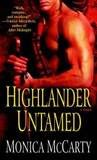 Rory McLeod is a bold and powerful Highland Chief with only one allegiance, to his clan. He vows revenge against the rival MacDonald caln, though duty demands a handfast marriage to Isabel MacDonald, a bride he does not want and has no intention of keeping. But Rory couldn't have anticipated the captivating woman who challenges his steely control and unleashes the untamed passion simmering beneath his fierce exterior.

Blessed with incomparable beauty, Isabel MacDonald is prepared to use every means possible, including seduction, to uncover her husband's most guarded secrets. Instead Rory awakens Isabel's deepest desires and her sweetest fantasies. Now Isabel has found the happiness she's always dreamed ofwith the very man she must betray, and discovers that passion can be far more dangerous than revenge.
What a wonderful book! History and romance mixed into a classical scottish story.
The story of Isabel and Rory is based on true historical facts and McCarty really knows how to write a compelling and lovely story able to pull you in to Scotland in the beginning of the 17th century.
Mingled beautifully with an intense and emotional love-story you discover a lot about the ways and customs of the Highlanders during that time-period. Reading this book made me long to go explore the Highlands myself and maybe stumble upon one of the scrumptious McLeods.
I felt really trown back into the rugged Highlands at the time of King James.

Both main and secondary characters complement each other, all of them being crucial to the plot.
Isabel tries to be demure and sweet but her true self, feisty and quick-minded has to come out and those were the moments I liked her the most!
Rory is a true Highlander: a tough, raw, manly and dominant warrior. Loyal to nothing but his clan. But little by little Isabel warms his cold heart.

The book is character-oriented, focusing mainly on Rory and Isabel and their feelings and emotions. I haven't read many of these and found it a pleasant change compared to the action-/plot-driven books I've read lately.
But this definitely does not mean there is no plot in the book, there absolutely is and it's a good plot but the feelings and emotions have the upper hand.

You can almost feel the impact Rory and Isabel have on each other at the first glance and this feeling just keeps building and building towards a climax both literally and figuratively.
McCarty really does a great job of describing what they feel in a very intense way.
She also has a way of building up the sexual tension between Isabel and Rory in such a magnificent way it blew me away. It's incredibly intense and sensual. Beautifullly written and emotion stirring in a major way!

I'm really glad this trilogy is being released back to back because I can't wait to read about Rory's siblings and their love-matches.
Quotes:
Her response turned his mind to black. The swift kick of pure lust hit him hard, and desire gripped him like an iron claw as he descended in the realm of no return.

Rory overwhelmed her senses, rendering her limp with desire, unable to form a coherent thought other than hunger for the man holding her.

Nice to meet you!
Pearl

Netherlands
39, married to my real life romance hero, addicted to TV shows, reading romance novels and Twitter. I'm a chronic (e)book hoarder and my absolute favorite genres within romance fiction are contemporary romance and romantic suspense, but I don't shy away from historical, paranormal or erotic romance either. Even the occasional (urban) fantasy romance, futuristic and sci fi romance may make it to my Mount TBR. This is my corner of the world wide web where I let you know what books I'm hoarding, reading and reviewing.
View my complete profile

My Book-Providers
Reviews by Rating

Reviews by Genre
Reviews by Type

Reviews by Publisher

Fellow Bloggers


GR Reading Challenge
Pearl
has read 10 books toward her goal of 50 books.

On My TBR Shelf
Unforgivable - Laura Griffin
Snapped - Laura Griffin
Darkness at Dawn - Elizabeth Jennings
Sizzle and Burn - Alexis Grant
No Mercy - Lori Armstrong
Animal Magnetism - Jill Shalvis
Crazy for Love - Victoria Dahl
Kink - Saskia Walker/Sasha White
So Sensitive - Anne Rainey
Dark Taste of Rapture - Gena Showalter
The Darkest Secret - Gena Showalter
Vampire in Atlantis - Alyssa Day
Vampire Dragon - Annette Blair
Captive Spirit - Anna Windsor
Chosen by Blood - Virna DePaul
Rebel - Zoe Archer
Stranger - Zoe Archer
A Taste of Desire - Beverley Kendall
Mistress by Midnight - Maggie Robinson
To Desire a Devil - Elizabeth Hoyt
To Tame a Dangerous Lord - Nicole Jordan

Digital TBR Next
Driven - Jayne Rylon (reread)
Shifting Gears - Jayne Rylon
Beg Me - Shiloh Walker
Tempt Me - Shiloh Walker
Jazz Baby - Lorelie Brown
Playboy Prankster - Pamela Britton
Just Like That - Erin Nicholas
Sweet Inspiration - Penny Watson
Breathe - Donna Alward
My Gigolo - Molly Burkhart
Scent of Persuason - Nikki Duncan

Blog Archive