February 16, 2009
7:41 PM
|
Edit Post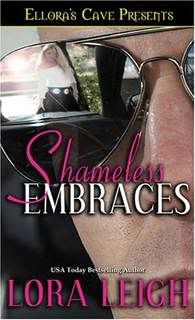 Embraced (book 6)
Back Cover Copy:
Marey has run from herself and from Sax for over three years. Lost years, hiding in the home her parents left her, living on the fantasy, too wary to reach out and make real the dreams of the life and man that torment her.

Sax Brogan is the embodiment of sinful and sexy—tall, dark, handsome and every inch of him the fantasy of Marey's dreams come to hot, throbbing life. And he's more than ready to claim his woman.

Now the time has come for Marey to stop running and embrace not just the fantasy he represents, but also the reality.
That is, if her ex-husband will let her live long enough to enjoy it…
Sax Brogan has been in love with Marey Dumont for three years but she keeps holding him off out of fear of her abusive and possessive ex-husband. When her ex lures her into a motel, supposedly with a message from Sax, and beats her up, Sax decides that he has given her enough breathing space. She needs not only his love, but also his protection. He wants her but doesn't want to force the issue. He wants it to be her free choice to be with him. Once he realizes Marey will always be running away from him and her feelings, he decides to take matters into his own hands and show her why she belongs with and to him.

Marey is afraid but stubborn. She knows Sax is the man for her but fear and insecurities about how to please him cause her to keep him at a distance for three years now. She is afraid of letting him into her life and her heart even if she has been in love with him for years. Part of it is uncertainty about her ability to please him but another part is her fear that her ex will do something horrible to him because of her.

Sax made me melt. He's made it to the upper regions of my Trojan list. He is honorable, caring and protective but he's also a take-charge sexual confident man who knows how to please a woman. The way he slowly and carefully won Marey's trust, after first giving into her need to keep him away, sealed the deal for me.
Me liking Sax this much took me a bit by surprise because in book 2 where he was the third for Ella and James and in book 5 where he was a secondary character, his appearances didn't make a lasting impression on me. But I guess Sax is one of those characters that leave the impressing for their own book.

As with the other books in the Bound Hearts series the focus is on the two main characters and supporting characters aren't on the foreground and the amount of secondary characters is small, which leaves plenty of room for Marey, Sax and their story. Still in this book there are some secondary characters who are important in providing backgrounds for Marey and Sax. Ella and Vince (Marey's ex) in Marey's case and James and Daniel in Sax's case. Daniel is the third for Marey and Sax and since his last name is Conover, he must be related (brother?) to Lucian and Deverill from book 4. This is not disclosed in this book but I hope Daniel will have his own story too some day. He was intriguing to say the least.

It's been a while since I read the previous installment in Lora Leigh's Bound Hearts series but from the first chapter I was thrown right back into the intriguing and emotional world of the Trojans and their women. I was treated to a great love story, a small plot that was nicely executed and characters that pulled at my heartstrings. Even though I've discovered some new authors in this same genre, with the same sexual themes and intensity since I read the last Bound Hearts book, Lora Leigh still holds on to her special spot on my bookshelves. She has the ability to make me immerse into her stories and infuse me with emotions like no one else can.

Lora Leigh has this unique way of writing explicit love scenes in this series. They are beautiful; I have no other word for it. They are explicit without getting vulgar or crude. They touch subjects like threesomes, toys and bondage without causing discomfort. They are emotional without taking away the hot sensuality.
Next to these love scenes she also is amazing at describing the dilemmas faced by the characters and the choices and decisions they have to make. Even if this story wasn't very long (118 pages) it still offered a well-rounded erotic romance with smoldering sex scenes and a nice albeit small plot.

As I'm nearing the full-length books in this series, I'm getting more and more curious as to what Lora Leigh will dish out in those, knowing she'll have even more pages at her disposal to flesh out characters, burn the pages with the sex scenes and create her stories.
Quotes:
A man shouldn't be so sinfully sexy, she thought. He shouldn't steal a woman's last breath with a frown, or make her knees weak from one of those hot little looks from dark, chocolate brown eyes.

"It doesn't take a decision." Gripping the neckline of the T-shirt with both hands, he tugged forcefully, ripping it down the front as she stared back at him in shock, gasping in arousal. "It doesn't take anything from you, baby. I'm not asking for anything. I don't have to ask. I know what's mine and I know how to claim it." (...) "I know how to love my woman," he whispered as his lips slid from her lips to her ear. "I know how to protect her, and I know how to hold her. And I will hold you, Marey."


Shameless (book 7)
Back Cover Copy:
She's a temptation he can't afford.
Ian Sinclair, the man with no heart, the ultimate Trojan, the untouchable, the unreachable, may just have met his match. As wild as the untamed winds, as innocent as love itself, Courtney's vivacious spirit shines as brilliantly as the brightest star. And he wants nothing more in life than to see the sweet innocence that is so much a part of her survive. That can never happen if he allows her to be drawn into the wicked, sexual excesses of his life.

He's a hunger she can't deny.
Courtney Mattlaw has understood her destiny her whole life. Her lifetime of happiness hangs on this moment in time, and forcing a man who feels he is unable to love, to trust his heart. Haunted. Filled with loneliness. Incomplete. Ian is the very breath of her soul. She knows the battle to steal his heart could ultimately destroy them both, but it's a risk she must take.

When these two come together, sparks fly and the lust simmering between them ignites in a conflagration that will burn them to their souls and leave them…Shameless.

Courtney Mattlaw knows what, or rather, who she wants: Ian Sinclair, her father's younger friend who helped her him rescue her and her mother when they were held captive by her mother's family when she was a little girl. She has carefully planned how to get him and make the dreams and a desire she's had since she was seventeen, come true. Ian is afraid Courtney won't be able to handle his sexual desires, his need to dominate his sexual partners and his need to share. He's afraid it will ruin their fragile friendship and her view of him, so he fights the temptation Courtney is to him. But he couldn't be farther from the truth.
Seven years of mutual wanting, desiring and hungering for each other leads to an explosive relationship between Courtney and Ian in which it's all about control...Ian trying to hold on to it and Courtney trying to make him lose it.

Courtney is a little hellion and spitfire. She's adventurous, reckless and wild but still has an air of innocence over her, or so her father and Ian would like to think. They don't see the mature woman she's grown into and this frustrates her to no end. Luckily when she realizes she's fighting ghosts from Ian's past, he realizes that she is different from the women in his past. She holds her own and gives to Ian as good as she gets. She doesn't settle for just the passion and sexuality between them. She wants nothing less than his heart.

Ian is cautious, distant and very dominant but utterly controlled. Control is everything for him, whether in his personal or professional life. But Courtney shatters his control, she is the only person who can make him turn loose his control and answer to his primal instincts. He is the elusive owner of the club that houses the men known as the Trojans, men with intense sexual proclivities. The club that has played crucial roles in former books in this series.
Ian is very intense and protective and he initially refuses to give into his feelings for Courtney, but before this extreme protectiveness actually starts to get annoying an explanation for it is given to provide understanding of his refusal and it made me realize what a complicated and layered character Ian is.

The recurring storyline of the third in the couples' relationships is present in this book again too but it is also again secondary, like in book 5, to the emotional turmoil surrounding the main characters, which takes a more prominent position in the story. Although I did miss the usual sensual tension this storyline provides, I did understand the reason it stayed in the background was Ian's struggle with his feelings for Courtney which created the presumption of him fighting his need to share Courtney with a third.
Like in the previous book (EMBRACED) the wives of the other Trojans form an important part of the supporting cast. It's very nice to see tidbits of them and their relationships with their Trojans.

This installment is emotion- and character-driven rather than plot- or action-driven and provides variation in the erotic genre so this series is definitely staying on my buying and reading lists. In this book there's no plot and none is needed but still the plot in the previous book did whet my appetite for more and it made me appreciate the addition of a plot to the emotional and sexual angles of the stories. That being said, no Bound Hearts book is the same. Even if the setting and framework may be similar, it is a series after all; Lora Leigh manages to give each couple/threesome their own intricate and unique story with their own problems, dilemmas and emotional intensity. She delivers on the promise every time.

Sometimes there are stories that are a bit less intensely emotional or a little shorter than others but every time that happens it's always followed by an installment that's so strong and emotionally charged, it blows me away. SHAMESLESS for me was one of the stories that wasn't less emotional but there were some things to make it less mind-blowing in the beginning. The major thing was Ian's stubborn behavior that almost started irritating me but it stopped just in time. After the first part, when Ian gives in to Courtney, it turned into the mind-blowing material I'm used to by Lora Leigh. Even though it seemed a bit slow in the build-up, once it picked up the pace and the third was brought into Ian and Courtney's relationship it worked it's way to an end that was amazing, heartbreaking and really made up for the slow start.

The combination of fierce eroticism and emotions so strong they seep through every page and every word is one that is exclusive to Lora Leigh's writing in this series. The books in this series portray the journeys of men and women toward exquisite passion, heartfelt emotions and an utterly satisfying love life and SHAMELESS fits right in there with strong and well-written characters.

This was the last Bound Hearts book published with Ellora's Cave and now that I've finished that line of stories I'm ready for the full-length books in this series. I have the feeling that the best is yet to come with Lora Leigh having even more pages to write her emotional and extremely hot stories and give them plots to make them even more intense and give them more body.

Quotes:
She was going to seduce the un-seducible. She was going to capture the most elusive prey in the world. The heart of the most cynical, jaded male she had ever known. A man who had sworn to possess no heart, no tender emotions.

"Feel, Courtney," he whispered as he tucked her head against his chest, his lips at ear. "The pleasure and the pain, the fire and ice. Feel it, baby, let it have all of you. Let me have all of you."



Nice to meet you!
Pearl

Netherlands
39, married to my real life romance hero, addicted to TV shows, reading romance novels and Twitter. I'm a chronic (e)book hoarder and my absolute favorite genres within romance fiction are contemporary romance and romantic suspense, but I don't shy away from historical, paranormal or erotic romance either. Even the occasional (urban) fantasy romance, futuristic and sci fi romance may make it to my Mount TBR. This is my corner of the world wide web where I let you know what books I'm hoarding, reading and reviewing.
View my complete profile

My Book-Providers
Reviews by Rating

Reviews by Genre
Reviews by Type

Reviews by Publisher

Fellow Bloggers


GR Reading Challenge
Pearl
has read 10 books toward her goal of 50 books.

On My TBR Shelf
Unforgivable - Laura Griffin
Snapped - Laura Griffin
Darkness at Dawn - Elizabeth Jennings
Sizzle and Burn - Alexis Grant
No Mercy - Lori Armstrong
Animal Magnetism - Jill Shalvis
Crazy for Love - Victoria Dahl
Kink - Saskia Walker/Sasha White
So Sensitive - Anne Rainey
Dark Taste of Rapture - Gena Showalter
The Darkest Secret - Gena Showalter
Vampire in Atlantis - Alyssa Day
Vampire Dragon - Annette Blair
Captive Spirit - Anna Windsor
Chosen by Blood - Virna DePaul
Rebel - Zoe Archer
Stranger - Zoe Archer
A Taste of Desire - Beverley Kendall
Mistress by Midnight - Maggie Robinson
To Desire a Devil - Elizabeth Hoyt
To Tame a Dangerous Lord - Nicole Jordan

Digital TBR Next
Driven - Jayne Rylon (reread)
Shifting Gears - Jayne Rylon
Beg Me - Shiloh Walker
Tempt Me - Shiloh Walker
Jazz Baby - Lorelie Brown
Playboy Prankster - Pamela Britton
Just Like That - Erin Nicholas
Sweet Inspiration - Penny Watson
Breathe - Donna Alward
My Gigolo - Molly Burkhart
Scent of Persuason - Nikki Duncan

Blog Archive