February 7, 2009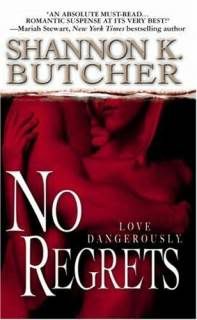 Back Cover Copy:
NO SURRENDER
Renowned cryptologist Noelle Blanche refuses to have blood on her hands. So when the military asks for her help in a covert operation, she refuses - until masked gunmen raid her home and threaten her life. Suddenly it's all too clear that the blood spilled may be her own. Noelle has no choice but to trust the dangerous stranger sent by the military to safeguard her. A stranger who is everything she detests, everything she fears…and everything she desires.

NO LOOKING BACK
Former Delta Force operative David Wolfe thought he left it all behind—the horror, the hurt, the guilt. But now the men who savagely murdered his wife have set their sights on a brilliant cryptologist who can lead them to the cache of weapons they prize. As passion ignites between David and the woman he's sworn to protect, what began as just a mission escalates into the fight of his life. But can he prevent history from repeating itself?

NO REGRETS
Cryptologist Noelle Blanche has no idea that an assignment from the U.S. Army she turned down will be the start of a series of events she never thought would happen in her quiet, uneventful life. When it turns out that a terrorist organization called "The Swarm" has possession of the same cipher text leading to hidden weapons from the Cold War, the threat on her life becomes imminent and former special agent David Wolfe is brought back into Delta Force to guard Noelle. David has a past with The Swarm and protecting Noelle isn't his only motive for returning to Delta Force. After a few attempts on Noelle's life they camp out in a remote and deserted cabin where Noelle works on the decoding the text, David plans his revenge on The Swarm, old acquaintances, both friendly and hostile, pop up and the shimmering attraction between David and Noelle develops into full-fledged passion.

Noelle epitomizes the brainy, rational, analytical and brave scientist. She has no clue about her own attraction and men have never been a priority in her life. She lives for her work and her family. In order to save her own and David's life Noelle needs to make some uncharacteristic decisions. These decisions aren't to be taken lightly and they go against her nature and everything she has always said she would never do. This makes her a great character in the book. She was a true heroine in every sense of the word.
David is the personification of a covert operative. He is cool and aloof, masculine and skilled in combat, gruff and merciless. But he is also guilt-ridden by his past failure to save the woman he loved from The Swarm. He is hesitant when he's asked back into Delta Force for the assignment of protecting Noelle. He's afraid he'll fail again and another life will be lost. But Noelle brings instincts and feelings to life he thought were long dead.

There are many secondary characters in this book. Almost all of them are connected to David. His commanding officer in Delta Force, his fellow operatives from Delta Force and of course the bad guy who was crucial in David's past dealings with The Swarm. The bond between David and his former buddies from Delta Force, Caleb Stone and Grant Kent is great. They tease each other but they know they can count on each other when it counts or when one of them is in trouble.
David is the earnest, responsible and cautious one. Caleb is the brooding, silent and intuitive one. Grant is the one who comes across as goofing of and womanizing with a wicked sense of humor, but there's much more to him than meets the eye. Just from their small roles in this book, I am very curious to know what Caleb's and Grant's stories will bring to the table in this trilogy.

The first two chapters of this book had me on the edge of my seat and the rest took me on the thrilling ride these two chapters promised.
My first encounter with Shannon K. Butcher's writing gave me a realistic and suspenseful love story, filled with nail biting action sequences, scorching sensuality, genuine characters and an interesting and intriguing plot. For me it's a true promise for the future and another addition to the romantic suspense section on my bookshelves.

With small fragments of the enemy's point of view you just know there's so much more to be unraveled in the suspense plot. And there is. Butcher sets this up brilliantly by slowly feeding the reader facts and knowledge to get to the bottom of the plot. She does the same with the characters; bit-by-bit she reveals their pasts, their personalities and their backgrounds. As a reader you have the feeling you really get to know them throughout the book.

Besides the great plot and characters, Butcher's writing style is very agreeable and fluent which allowed me to get through the book quick and easy but by no means is it a breezy, light read. I was grateful for Noelle and David's nice sense of humor that popped up now and then and the subtle humor played a big part in providing counter-balance to the sometimes-brutal suspense.
It seems like lately every romantic suspense book I pick from my reading pile is a winner.

Shannon K. Butcher proves to be no different. She knows how to set up a romantic suspense from the get go and keep me enthralled with a story of suspense and romance that rivals with other great authors I've read in this genre.
Quotes:
Her one and only boyfriend, Stanley, was an unimaginative toothpick of a man who generally preferred his PlayStation to sex with Noelle. After a couple of romps in bed with him, she preferred the PlayStation as well.

She was completely feminine and fragile, and it made every primal protective urge in his body stand up and roar.


Nice to meet you!
Pearl

Netherlands
39, married to my real life romance hero, addicted to TV shows, reading romance novels and Twitter. I'm a chronic (e)book hoarder and my absolute favorite genres within romance fiction are contemporary romance and romantic suspense, but I don't shy away from historical, paranormal or erotic romance either. Even the occasional (urban) fantasy romance, futuristic and sci fi romance may make it to my Mount TBR. This is my corner of the world wide web where I let you know what books I'm hoarding, reading and reviewing.
View my complete profile

My Book-Providers
Reviews by Rating

Reviews by Genre
Reviews by Type

Reviews by Publisher

Fellow Bloggers


GR Reading Challenge
Pearl
has read 10 books toward her goal of 50 books.

On My TBR Shelf
Unforgivable - Laura Griffin
Snapped - Laura Griffin
Darkness at Dawn - Elizabeth Jennings
Sizzle and Burn - Alexis Grant
No Mercy - Lori Armstrong
Animal Magnetism - Jill Shalvis
Crazy for Love - Victoria Dahl
Kink - Saskia Walker/Sasha White
So Sensitive - Anne Rainey
Dark Taste of Rapture - Gena Showalter
The Darkest Secret - Gena Showalter
Vampire in Atlantis - Alyssa Day
Vampire Dragon - Annette Blair
Captive Spirit - Anna Windsor
Chosen by Blood - Virna DePaul
Rebel - Zoe Archer
Stranger - Zoe Archer
A Taste of Desire - Beverley Kendall
Mistress by Midnight - Maggie Robinson
To Desire a Devil - Elizabeth Hoyt
To Tame a Dangerous Lord - Nicole Jordan

Digital TBR Next
Driven - Jayne Rylon (reread)
Shifting Gears - Jayne Rylon
Beg Me - Shiloh Walker
Tempt Me - Shiloh Walker
Jazz Baby - Lorelie Brown
Playboy Prankster - Pamela Britton
Just Like That - Erin Nicholas
Sweet Inspiration - Penny Watson
Breathe - Donna Alward
My Gigolo - Molly Burkhart
Scent of Persuason - Nikki Duncan

Blog Archive