February 9, 2009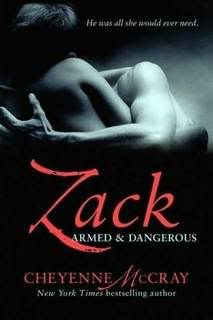 Back Cover Copy
Ever since Zack Hunter, the ultimate alpha boy, left her ten years ago and broke her heart, Sky MacKenna hasn't been able to find a man who sets her on fire the way he did. Then he comes striding back into her life–bigger, badder and sexier than before…

ICE agent, Zack Hunter never thought he'd return to his small home town and he never thought he'd set eyes on Sky again. Leaving her behind had been the stupidest thing he had ever done but this time he isn't going to let her go. And as soon as he lays eyes on Sky he makes it clear that he intends to make her his all over again.

When Sky becomes entangled in the case he's investigating, Zack can't help but take the threat personal. As the danger mounts, their passion burns even hotter.
When a case of stolen cattle brings Zack Hunter, former deputy-sheriff turned ICE (Immigration and Customs Enforcement) agent back to his home town, he decides to seize the opportunity to look up his ex-girlfriend Skylar MacKenna and try to get back together. He left her ten years ago in a bad way and wants to give their relationship another chance. Skylar is one of the ranchers whose cattle is being stolen and that puts her in the middle of Zack's investigation but after he broke her heart ten years before, Skylar has absolutely no intention of giving him another chance with her.

Zack and Skylar's childhood have been very different. Where Sky's had loving parents and grew up knowing she was loved and supported, Zack had to deal with first an abusive father and later with an equally abusive stepfather. With the latter things escalated when Zack almost beat him to death after he found him beating on his mother. This event was crucial in his decision to break up with Skylar, his girlfriend of 6 months. He doesn't think he's worthy of her love and is afraid of the violence he discovers in himself. Now ten years later he's back and he is determined to show Sky that he's changed and he's willing to commit to her.
Sky was devastated when Zack left and though she has tried to forget him, by dating other men for example, she has never truly succeeded. But when he comes back to Douglas declaring he wants her back, she puts her foot down and refuses to let him lure her into his clutches again. She has suffered a broken heart once and that's more than enough.

But slowly Zack and Sky do pick up where they left of 10 years before and their relationship is rekindled but now at a much more mature level. The romance between them is alternately hot and chilly. From Zack's point of view it's clear he wants to go back to the hot, passionate relationship they once had. Sky however, tries to keep him at a distance because of the way Zack hurt her in the past. Because of this there aren't that many love scenes in the book, especially in the first half. The ones that are fleshed out are definitely scorching but there's a lot of suggestion and thinking about sex instead of the real thing from both Zack and Sky. Sometimes suggestion can make a book very sensual but for me in this one it missed the mark. Many times I thought it was going to somewhere, just to be a little let down when McCray would switch back to the suspense, leaving me hanging there.

Contrary to what I'm used to by Cheyenne McCray, this book just didn't do it for me. I think it has to do with expectations. I was expecting covert operatives dealing with weapon smugglers or drug lords and hot love scenes and instead of weapons or drugs I got a ranch and cattle. Not that this is bad the back cover blurb just didn't prepare me for it and so ZACK and I started on the wrong foot and to be honest we never got quite on the right foot. Eventually the hot love scenes and the touching and fiery relationship between Zack and Sky made up for some of it and it was the relationship between Zack and Sky that kept me reading on. I liked the book but the mix of romance and suspense just wasn't good enough. It didn't blend together fluently and there was something off that's hard for me to pinpoint. The promise is there in the plot and the romance but McCray didn't deliver it well enough to blow me away like other books by her hand did.

At first there seemed to be two different suspense plots that were linked and the true plot didn't become clear until after halfway through the story but still the plot just couldn't keep me enthralled. A ranch, cattle, cowboys...In this setting it just doesn't do anything for me. This book once again proved that for me. This setting only appeals to me when strong emotions or hot eroticism is there to balance the scale but unfortunately I missed both in this first installment of the Armed and Dangerous series. The romance on its own had potential but the mixture with the western themed plot didn't come together for me.

In conclusion, I loved the romance separately, loved the love scenes but the western theme and the plot just weren't my cup of tea and even though I was intrigued by Sky's foreman, Luke Rider, who is the hero of the next book, I am very hesitant to invest my time and attention in this series.
Quote:
Just the thought of what she wearing under that scrap of a dress was enough to make him want to throw back his head and let loose a primal chest-beating howl, throw her over his shoulder, and take her home and bury himself inside her.


Nice to meet you!
Pearl

Netherlands
39, married to my real life romance hero, addicted to TV shows, reading romance novels and Twitter. I'm a chronic (e)book hoarder and my absolute favorite genres within romance fiction are contemporary romance and romantic suspense, but I don't shy away from historical, paranormal or erotic romance either. Even the occasional (urban) fantasy romance, futuristic and sci fi romance may make it to my Mount TBR. This is my corner of the world wide web where I let you know what books I'm hoarding, reading and reviewing.
View my complete profile

My Book-Providers
Reviews by Rating

Reviews by Genre
Reviews by Type

Reviews by Publisher

Fellow Bloggers


GR Reading Challenge
Pearl
has read 10 books toward her goal of 50 books.

On My TBR Shelf
Unforgivable - Laura Griffin
Snapped - Laura Griffin
Darkness at Dawn - Elizabeth Jennings
Sizzle and Burn - Alexis Grant
No Mercy - Lori Armstrong
Animal Magnetism - Jill Shalvis
Crazy for Love - Victoria Dahl
Kink - Saskia Walker/Sasha White
So Sensitive - Anne Rainey
Dark Taste of Rapture - Gena Showalter
The Darkest Secret - Gena Showalter
Vampire in Atlantis - Alyssa Day
Vampire Dragon - Annette Blair
Captive Spirit - Anna Windsor
Chosen by Blood - Virna DePaul
Rebel - Zoe Archer
Stranger - Zoe Archer
A Taste of Desire - Beverley Kendall
Mistress by Midnight - Maggie Robinson
To Desire a Devil - Elizabeth Hoyt
To Tame a Dangerous Lord - Nicole Jordan

Digital TBR Next
Driven - Jayne Rylon (reread)
Shifting Gears - Jayne Rylon
Beg Me - Shiloh Walker
Tempt Me - Shiloh Walker
Jazz Baby - Lorelie Brown
Playboy Prankster - Pamela Britton
Just Like That - Erin Nicholas
Sweet Inspiration - Penny Watson
Breathe - Donna Alward
My Gigolo - Molly Burkhart
Scent of Persuason - Nikki Duncan

Blog Archive