May 31, 2008
7:33 PM
|
Edit Post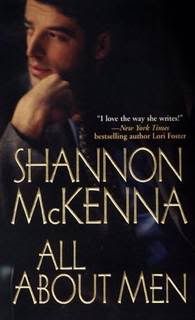 The first collection of the super-sexy, beautifully written stories that put Shannon McKenna in the forefront of hot romance!
Shannon McKenna writes blazing hot heroes and her readers know it. Men who are hard and handsome. Potent and protective. And so, so sexy. Ready for real lovers who want to get wild? They're ready for you.
Presenting three of the best . . .


A powerful man on a motorcycle makes a tantalizing promise . . . and a willing woman learns the ultimate lesson in pleasure in SOMETHING WILD

It started out as a not-so-innocent flirtation, but Annie Simon can't resist the powerful man on the motorcycle . . . or his tantalizingly erotic promises. Long-haired and leather-clad, Jacob Kerr is strong, sexy, and determined to give her the ultimate lesson in pleasure, if she's willing. And all she can say is yes . . .

A masterful hotel CEO introduces his lovely date to a suite seduction she'll never forget in MELTDOWN

All Jane Duvall wants is to bag another big account for her headhunting firm, even if it means stealing a key employee right out from under sexy hotel CEO Michael "Mac" MacNamara's gorgeous nose. But Mac can tell that the luscious, elusive Jane is up to no good. He has to find out what game she's playing--even if it involves giving her a very private tour of the hotel's finest suite, where she can take whatever she wants from him--and he'll give her everything he's got in the process . . .

And a sexy billionaire invites a massage therapist to his mountain hideaway for a sensational session just for two . . .in TOUCH ME

Tess Langley's been hurt by love before. That's why the voluptuous brunette prefers to keep her look low-maintenance and concentrate on her work as a massage therapist. She can tell by the scratch marks on gorgeous Jonah Markham's back that the rich playboy is exactly the sort of man she should avoid, but when he offers to pay her an outrageous sum of money to tend to his guests at his luxurious mountain hideaway, she can't say no. Except Jonah has no intention of sharing Tess with anyone else, and though he's promised to be a good boy, she has no idea just how good he can be . . .
I was going to review this anthology story by story but decided not to since then it would be three reviews with similar things in it so I've decided to combine it all in one review.

First I must start by taking a deep bow and lay myself at Shannon McKenna's feet. She is the queen of erotic romance, the empress of intense emotional characterization be it her brooding, dominant, sexually aggressive and in-your-face heroes or her strong-minded, feisty, take-no-crap-from-men and bring-it-on heroines. I must also admire her for even pulling of making me feel the same intense feelings reading her short stories as I feel reading her full-length books.
Okay that being said of course the full-length books that take it to a much deeper level, having time and pages to work out and deepen out plots and characters but these stories definitely came close, especially MELTDOWN and TOUCH ME.
The men had me panting, all hot and bothered. The women had me sympathizing and rooting. "You go girls...show those men what you're made of but don't hesitate to enjoy the pleasures of a dominant alpha!"

The dominant alpha behavior of the men, both in and out of the bedroom, is perfectly countered by the women's fierce resistance. The men like to be in control but the women show them that you can't control feelings; attraction and you certainly can't control love. The men have a hint of rudeness to them but in a good way. They know what they want and just go for it, no sweet courting but pure and direct seduction...the kind of seduction that makes a women surrender her whole being to them...mind, body and soul. The women don't give in meekly but give as good as they get, stripping the men to their vulnerable core.

Underneath the sexual tension and chemistry a battle of wills takes place in each story, where the main characters tries to fight the hold the other one has on his or her feelings. Along the way their attraction and sexual play and the battle of wills fuse them into a deeper and emotional bond and love. Even though this process goes rather quick (because let's not forget we're talking about short stories) it fit in the stories like a glove due to McKenna's masterful writing skills. McKenna has a magnetic, tantalizing way of describing feelings and sensations, both emotional and sexual.

The stories hardly had any (sub)plots beside the romance between the hero and heroine, the focus is on the main characters and there are few secondary characters. Except for MELTDOWN, the stories are centered on the meeting, the instant chemistry, the sexual and emotional battles and the falling in love of the primary characters, with an occasional mention of people surrounding them.

If I had to rate the three stories separately I would give SOMETHING WILD 3,5 stars, MELTDOWN 4,5 stars and TOUCH ME 4 stars.
This rating reflects the degree in which I liked the stories but also it was MELTDOWN that came the closest to the full-length books' feeling. It had some intriguing secondary characters, a hint of a plot and the MacNamara brothers (Mac and Danny) really give the McCleod brothers a run for their money. This is not an easy task because the McCleod brothers for me are intense, passionate and utterly alpha.

Shannon McKenna is well on her way to making herself indispensable on my bookshelves and even taking a prominent place on them. To say I love her writing style is the understatement of the year. I adore it, I crave it, and I'm on the border of worshipping it.
Even in short stories she manages to keep the intensity, the emotions and the sexual play on a high. Her love scenes make me want to melt in a puddle of lust. They are explicit but beautiful and emotional, layered and just as intense as her heroes, heroines and the stories/plots.

Do I have anything else to say about this book? Oh yeah! Buy it, read it, enjoy it...and let yourself be swept of your feet by Shannon McKenna and her delicious characters and writing.

Nice to meet you!
Pearl

Netherlands
39, married to my real life romance hero, addicted to TV shows, reading romance novels and Twitter. I'm a chronic (e)book hoarder and my absolute favorite genres within romance fiction are contemporary romance and romantic suspense, but I don't shy away from historical, paranormal or erotic romance either. Even the occasional (urban) fantasy romance, futuristic and sci fi romance may make it to my Mount TBR. This is my corner of the world wide web where I let you know what books I'm hoarding, reading and reviewing.
View my complete profile

My Book-Providers
Reviews by Rating

Reviews by Genre
Reviews by Type

Reviews by Publisher

Fellow Bloggers


GR Reading Challenge
Pearl
has read 10 books toward her goal of 50 books.

On My TBR Shelf
Unforgivable - Laura Griffin
Snapped - Laura Griffin
Darkness at Dawn - Elizabeth Jennings
Sizzle and Burn - Alexis Grant
No Mercy - Lori Armstrong
Animal Magnetism - Jill Shalvis
Crazy for Love - Victoria Dahl
Kink - Saskia Walker/Sasha White
So Sensitive - Anne Rainey
Dark Taste of Rapture - Gena Showalter
The Darkest Secret - Gena Showalter
Vampire in Atlantis - Alyssa Day
Vampire Dragon - Annette Blair
Captive Spirit - Anna Windsor
Chosen by Blood - Virna DePaul
Rebel - Zoe Archer
Stranger - Zoe Archer
A Taste of Desire - Beverley Kendall
Mistress by Midnight - Maggie Robinson
To Desire a Devil - Elizabeth Hoyt
To Tame a Dangerous Lord - Nicole Jordan

Digital TBR Next
Driven - Jayne Rylon (reread)
Shifting Gears - Jayne Rylon
Beg Me - Shiloh Walker
Tempt Me - Shiloh Walker
Jazz Baby - Lorelie Brown
Playboy Prankster - Pamela Britton
Just Like That - Erin Nicholas
Sweet Inspiration - Penny Watson
Breathe - Donna Alward
My Gigolo - Molly Burkhart
Scent of Persuason - Nikki Duncan

Blog Archive