May 10, 2008
11:39 PM
|
Edit Post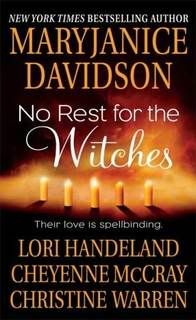 FOUR WITCHES ON A MAN HUNT
From broomsticks to black magic, leather-clad warriors to love potions gone wrong, here you'll find four stories of supernatural sex and suspense from some of today's hottest bestselling authors.
MaryJanice Davidson - The Majicka
Life's a bit crowded for Ireland and her roommates—a fairy, a werewolf, a vampire, and now a zombie…especially when a mysterious man walks through the door. Will there be any room left for love?
Ireland Shea is an unknowing guardian of the Magick (a Magicka). She lives with a vampire, a werewolf, a faerie and a mage spelled into a car. Micah is new Magicks tutor. He teaches them the ropes. When he goes to Ireland to tutor her, he finds her in the middle of saving a Dryad from being killed. Micah tags along, they save the Dryad, fall in love and live happily ever after.
This story was really not for me but I think MaryJanice Davidson fans will like it. It just was not my thing despite being a pleasant and funny story. There's a lot of funny bantering and sarcastic dialogues but there was just too much going on and to little pages to explain it all, which left me with a rushed and dissatisfied feeling. For example I still don't know what a Magicka does exactly or what Micah role exactly entails other than that he is the tutor. There is a lot of humor in the story but just not my kind of humor and I missed the balance between humor and romance a bit. I like humor in books and the wittier, the more I like but there also has to be some kind of balance and in my opinion this story lacked that balance. I had the feeling the author was trying to outdo herself in the funny department, trying to see if she could make every sentence funnier than the previous one. Because of this the focus is too much on the funny part and less on the storyline/plot and that combined with the lack of explanation and background on certain things and characters hasn't won me over for MaryJanice Davidson. I was never really attracted to her books and unfortunately this story hasn't changed that.

Lori Handeland - Voodoo Moon
For Devil's Fork–based FBI Agent Dana Duran, the only way to fight a supernatural serial killer just may be to embrace life. But little did she know that voodoo could be so viciously sexy…
FBI Agent Dana Duran is sent to Devil's Fork to investigate a string of unexplainable murders. When she arrives there it turns out that voodoo is involved in the killings. Subsequently the voodoo-shop owner Julian Portier is the main suspect and Dana finds herself in an investigation that will change her life forever!
This was a story in first person narrative from Dana's perspective and as I've mentioned before in reviews this is not my favorite narrative. There are very few authors who can enthrall me with it and I must say that Lori Handeland turned out to be one of them.
In this short story Lori Handeland delivered well-rounded and believable characters, a strong and sensual romance and a very original plot and the outcome of whom and why and how they dealt with him was fascinating to say the least. Despite the fact that it was short I didn't have the feeling I was missing something or the usual dissatisfied feeling I have when reading anthology-story.
The story was utterly captivating, exploring the voodoo scene with well-researched accuracy. The story was able to keep my attention and I kept on reading breathlessly, anxious for how it all was going to unfold, sad when I finished it because I didn't want it to end.

Cheyenne McCray - Breath of Magic (part 4 in Magic Series)
San Francisco's witches are in an epic battle. But even if Sydney can use her sultry ways and ancient Druid powers to save the world, can she risk losing her heart to handsome warrior Conlan?
Sydney Aline, one of the gray witches of the San Francisco D'Anu Coven has stayed behind with a handful of D'Danann warriors to find the warlock Darkwolf and his Fomorii companion Junga. The rest of the Coven and warriors have gone to Otherworld to round up allies to fight the evil goddess and god who threaten to destroy San Francisco. One of the D'Danann warriors who has stayed behind is Conlan. He is a proverbial playboy; he enjoys the pleasure of women but never commits to them. Sydney finds herself attracted to this warrior but doesn't want to give in to those feelings because of his playboy ways. But in the middle of the search for Darkwolf and Junga the attraction between them grows into something more. Conlan discovers that Sydney is not just another pleasure partner for him and Sydney has to admit to deeper feelings for Conlan.
This was the story I was most anticipating in the anthology and to be honest I was a little bit disappointed. The full-length books in the series were amazing and captivating but despite the fact that the story was pleasant and fitting in the series there was something lacking for me that I did find in the books. I can't pinpoint it exactly but I didn't feel the chemistry between the hero and the heroine. This can be because of the limited page-count which forces the romance plot, not giving them time to build up the sensual tension and a relationship in which they can grow. I would incline to think that because in the books this was present and that's what made me like the books so much. So I'm going to blame it on the fact that it's an anthology-novella.
Again, and even in this short story, the plot thickens. McCray brings answers to some questions from the previous books but she also raises more new questions.
The storyline from the books continues. This time concentrating more on Darkwolf though. He does some remarkable things that make you wonder what his true goals ultimately will be. I hope to get answers to this in the two future books that will conclude the series.
I like this series and this short story, despite the weaker main couple, is another addition to the continuing plot, setting up the next full-length novel. All the elements were there, just with a bit less depth and intensity.

Christine Warren - Any Witch Way She Can
A desperately lonely witch decides to take matters of love into her own hands when she casts a cosmic personal ad…only to find that the perfect formula for love is a strange brew indeed.
Miranda Berry (Randy) has had it with her single life and the lowlife men that pass through it. She wants a worthy mate and what better way to get one than to use a little magic to help things along. But little does she know that this little magic is going to bring her not only her the man of her dreams in the form of male witch Michael Devon but also a whole lot of trouble.
This story certainly took me by surprise. I wasn't familiar with Christine Warren's writing so I didn't know what to expect. But what I got was a well-written, delightful story with witty characters, a lovely romance and even a little villain-plot worked into it.
I really loved everything about this story. This one had the perfect balance between humor and romance I mentioned in my review of another story in this anthology.
The fluent and easy writing style and the extremely witty characters, especially Randy, and the magical elements pulled me into the story deep and fast.
Randy is adorable and chaotic, trouble has no problems finding her and many times this is her own fault. Michael is one hot witch, very capable and calm. He's the perfect match for Randy. The plot involving Randy's grandmother and someone trying to sabotage her was a nice touch to the story, giving it that little bit extra to make it a well-rounded story with lots of laugh-out-loud moments.
This taste of Christine Warren's writing certainly has intrigued me so I'm going to look into finding more of her writing and see if I enjoy that as much as I did this story.

This was an anthology with for me different level of stories. I liked the Handeland and Warren stories best because these were the stories with the best-written mix and balance between humor, characters and story. The McCray story was not bad but just didn't live up to my expectations, proving once again that writing amazing books doesn't automatically mean writing great novella's and the Davidson story just wasn't my cup of tea, proving that my gut-feeling when choosing books/authors is something I really can rely on and in this aspect I'm glad that these kind of anthologies exist. They are the perfect way to find out if an author's writing style agrees with you or not.
Nice to meet you!
Pearl

Netherlands
39, married to my real life romance hero, addicted to TV shows, reading romance novels and Twitter. I'm a chronic (e)book hoarder and my absolute favorite genres within romance fiction are contemporary romance and romantic suspense, but I don't shy away from historical, paranormal or erotic romance either. Even the occasional (urban) fantasy romance, futuristic and sci fi romance may make it to my Mount TBR. This is my corner of the world wide web where I let you know what books I'm hoarding, reading and reviewing.
View my complete profile

My Book-Providers
Reviews by Rating

Reviews by Genre
Reviews by Type

Reviews by Publisher

Fellow Bloggers


GR Reading Challenge
Pearl
has read 10 books toward her goal of 50 books.

On My TBR Shelf
Unforgivable - Laura Griffin
Snapped - Laura Griffin
Darkness at Dawn - Elizabeth Jennings
Sizzle and Burn - Alexis Grant
No Mercy - Lori Armstrong
Animal Magnetism - Jill Shalvis
Crazy for Love - Victoria Dahl
Kink - Saskia Walker/Sasha White
So Sensitive - Anne Rainey
Dark Taste of Rapture - Gena Showalter
The Darkest Secret - Gena Showalter
Vampire in Atlantis - Alyssa Day
Vampire Dragon - Annette Blair
Captive Spirit - Anna Windsor
Chosen by Blood - Virna DePaul
Rebel - Zoe Archer
Stranger - Zoe Archer
A Taste of Desire - Beverley Kendall
Mistress by Midnight - Maggie Robinson
To Desire a Devil - Elizabeth Hoyt
To Tame a Dangerous Lord - Nicole Jordan

Digital TBR Next
Driven - Jayne Rylon (reread)
Shifting Gears - Jayne Rylon
Beg Me - Shiloh Walker
Tempt Me - Shiloh Walker
Jazz Baby - Lorelie Brown
Playboy Prankster - Pamela Britton
Just Like That - Erin Nicholas
Sweet Inspiration - Penny Watson
Breathe - Donna Alward
My Gigolo - Molly Burkhart
Scent of Persuason - Nikki Duncan

Blog Archive