May 13, 2008
11:05 PM
|
Edit Post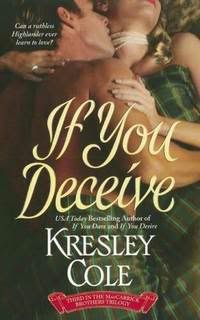 CAN A RUTHLESS HIGHLANDER EVER LEARN TO LOVE . . .?

Burning vengeance . . .
Ethan MacCarrick was a heartbreakingly handsome rake until a powerful nobleman ordered him brutally beaten and his face scarred for a crime he didn't commit. Ethan's reprisal—bankrupting the nobleman and forcing his exile—does little to appease his wrath. Ten years later, a haughty, mysterious beauty enchants Ethan—the daughter of his enemy. At last, Ethan will have the revenge he's craved; he'll promise her marriage, seduce her, then cast her aside.

Bitter hardships . . .
When Madeleine Van Rowen's family was suddenly plunged into destitution and dishonor, she steeled herself against further heartache. She never weakened, never trusted, until a towering, scarred Highlander relentlessly pursues her, breaking down her defenses.

At what price forgiveness?
The passion between them burns hotter than Ethan's fury, and soon he finds he can't let her go. But when Madeleine uncovers the truth about him, can Ethan convince her to accept all he now offers—when he once destroyed everything she had?
Ethan MacCarrick has only lived for his revenge on the family responsible for his scars, both physically and emotionally. Since that terrible night his life changed forever he has been cold and determined. This combined with his scarred face and the curse that hangs above him and his brothers, he believes he'll never want or need a woman, much less that a woman would ever want or need him. Until Madeleine van Rowen, the daughter of the two people who ruined his life but whose lives he ruined in turn. His plan to seduce her and cast her aside backfires at the very first move and he is doomed, doomed to fall hard and deep at the hands of the woman destined for him, just as his brothers did.
Madeleine Van Rowen has been forced to lead a terrible life in the slumps of Paris after Ethan's justifiable revenge on her parents. She goes to London to seek her last chance of finding a, preferably rich, husband so she can live in some measure of safety and security and escape the horrors she deals with everyday. Little does she know that that safety and security is going to be provided by the very man that set her terrible life in motion.

Ethan is a complicated and fascinating hero. He is a man of contradictions. A brutal, cold and calculated man that at some points I didn't even really like but still could admire since the motivations for his actions were legitimate and his revenge was something that had to be acted on, the only thing was that Maddy was caught in the middle. On the other hand his harshness and coldness is compromised by his feelings for Maddy, feelings he fights with all his might and desperately tries to ignore and deny, but this is truly a lost battle. I've said it before: when the MacCarrick men fall, they fall hard and deep and Ethan's fall was enormous.

I thought I had read my fair share of intimidating, coldhearted and detached heroes on a vengeance, but I hadn't encountered Ethan yet. He sets them all to shame. But beneath this cold-heartedness and detachment he has donned for self-preservation there is a very passionate and caring man who can only be brought to the surface by Maddy and her feelings for him. He has never cared for anyone but his brothers and now he finds that a woman, the woman whose life he ruined when she was just a little girl, has crept under his defenses and under his skin, never to leave again.

And then Maddy.... she has shot straight to the top of my favorite heroines list. What a woman! At only 21 she has gone through so much and still she bounces back every time, picking herself up and going on despite all the horrible things life throws at her. Her life is unbelievably deplorable and the things she has gone through just sent shivers over my whole body while reading. Yet she survives thanks to her courage, wit and spirit. She never gives up, knowing somewhere, someday her luck will change and she will have a better life. She is smart and she counters Ethan on every move. She doesn't let him corner or dominate her. She is resilient, brave and resourceful. A true heroine in every way.

When she discovers Ethan's role in her past, she is crushed, devastated but of course it wouldn't be a true romance if there wasn't a happily ever after. And here I must applaud Kresley Cole's talent. As she did in the whole book, the whole trilogy actually, she didn't rush it but wrote an ending with forgiveness and redemption in the most beautiful way, heart wrenching and honest, bringing tears to my eyes.

The attraction and chemistry between Maddy and Ethan is instant and flaming hot! I was surprised the pages didn't catch flame reading some of the love scenes. Kresley Cole knows how to write some amazing scenes where she doesn't even go all the way but the sensuality of them is something I've seldom read. Ethan is really wicked in the best sense of the word and in the beginning he really tries to bind Maddy to him by pleasure and Maddy is fearless and eager to learn how to please Ethan. Erotica eat your heart out is all I can say.

Another winner by Kresley Cole. A book I will always treasure in a trilogy that has tilted my world on its axis.
I suspected Ethan MacCarrick's story was going to be good, but truly this book shook me to my core. From the prologue to the epilogue the story was intense, sensual, heart wrenching and breathtaking. A story of seduction, trust, betrayal and redemption. A story of struggle and hardship but also of passion and love.

Kresley Cole has a descriptive and vivid writing style with a talent for displaying emotions that will almost rip your heart out. Be it from anger and disbelief or from the compassion and sorrow. She was able to lure and capture me into a world with characters that kept me enthralled and mesmerized. She mixes characters, plot, history, scenery and romance in a way that I can only call perfect and masterful. I just couldn't stop reading.

In the span of 356 pages of this last book in the trilogy she put all it all together, especially emotionally. I went through the whole scope of it: I was outraged with Ethan and some of the things he did, I felt sorry for Maddy and the harsh life she has led, I was holding my breath for them both to accept their feelings and each other, I laughed at their smart and witty bantering, I was aroused by their love scenes and I cried and cried when they realized how they both had been wronged by the same people and in another occasion I won't disclose here because of the spoiler's nature of it. But if you read this book and you can keep away from the tissues at that point, I guess you must be one tough cookie.

IF YOU DECEIVE for me is a true keeper that sent me on that rollercoaster of emotions that I crave so much in the books I read. In my opinion it deserves nothing but my highest praise and admiration.
And now, in awe, I proceed to Kresley's Cole paranormals (The Immortals After Dark series) and hope they will rock my world as hard as the MacCarrick Brothers did.
Quotes:
"Well I see now why you wouldn't take of your mask." She tilted her head. "You had to cover the ten-inch-long scar twisting across your face"
His eyes narrowed. "Aingeal, there is only one thing on my body that's ten inches long and, if you'll recall, the scar is no' it."

Ethan:
"I look at your wee body and reasoned thought leaves my brain. So if you want to see a man lose his mind, you'll come to me and let me touch you some more."
Rating: 10 out of 10
Nice to meet you!
Pearl

Netherlands
39, married to my real life romance hero, addicted to TV shows, reading romance novels and Twitter. I'm a chronic (e)book hoarder and my absolute favorite genres within romance fiction are contemporary romance and romantic suspense, but I don't shy away from historical, paranormal or erotic romance either. Even the occasional (urban) fantasy romance, futuristic and sci fi romance may make it to my Mount TBR. This is my corner of the world wide web where I let you know what books I'm hoarding, reading and reviewing.
View my complete profile

My Book-Providers
Reviews by Rating

Reviews by Genre
Reviews by Type

Reviews by Publisher

Fellow Bloggers


GR Reading Challenge
Pearl
has read 10 books toward her goal of 50 books.

On My TBR Shelf
Unforgivable - Laura Griffin
Snapped - Laura Griffin
Darkness at Dawn - Elizabeth Jennings
Sizzle and Burn - Alexis Grant
No Mercy - Lori Armstrong
Animal Magnetism - Jill Shalvis
Crazy for Love - Victoria Dahl
Kink - Saskia Walker/Sasha White
So Sensitive - Anne Rainey
Dark Taste of Rapture - Gena Showalter
The Darkest Secret - Gena Showalter
Vampire in Atlantis - Alyssa Day
Vampire Dragon - Annette Blair
Captive Spirit - Anna Windsor
Chosen by Blood - Virna DePaul
Rebel - Zoe Archer
Stranger - Zoe Archer
A Taste of Desire - Beverley Kendall
Mistress by Midnight - Maggie Robinson
To Desire a Devil - Elizabeth Hoyt
To Tame a Dangerous Lord - Nicole Jordan

Digital TBR Next
Driven - Jayne Rylon (reread)
Shifting Gears - Jayne Rylon
Beg Me - Shiloh Walker
Tempt Me - Shiloh Walker
Jazz Baby - Lorelie Brown
Playboy Prankster - Pamela Britton
Just Like That - Erin Nicholas
Sweet Inspiration - Penny Watson
Breathe - Donna Alward
My Gigolo - Molly Burkhart
Scent of Persuason - Nikki Duncan

Blog Archive