May 9, 2008
3:54 PM
|
Edit Post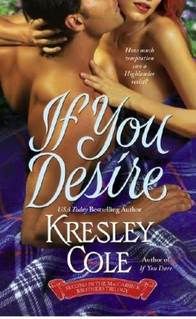 HOW MUCH TEMPTATION CAN A HIGHLANDER RESIST?

He tried to run . . .
In his youth, Hugh MacCarrick foolishly fell in love with a beautiful English lass who delighted in teasing him with her flirtatious ways. Yet he knew he could never marry her because he was a second son with no prospects, shadowed by an accursed family legacy. To avoid temptation, Hugh left home and trained as an assassin.

She tried to forget him . . .
Jane Weyland was devastated when the Highlander she believed would marry her abandoned her instead. Years later, when Hugh MacCarrick is summoned to protect her from her father's enemies, her heartache has turned to fury—but her desire for him has not waned.

Will passion overwhelm them?
In hiding, Jane torments Hugh with seductive play. He struggles to resist her because of deadly secrets that could endanger her further. But Hugh is no longer a gentle young man—and toying with the fever-pitched desires of a hardened warrior will either get Jane burned . . . or enflame a love that never died.
The first book in the MacCarrick trilogy rocked my world and blew me away and this one didn't allow me to come back.

Hugh MacCarrick has had an obsession for the lovely Jane Weyland for over a decade now. An obsession he can't give into because of the curse he and his brothers live under: they will only bring harm to the women they bind to them. But then an old friend turned enemy threatens her life knowing it would deeply hurt both Hugh and Jane's father. Because of this threat Jane's father orders Hugh to marry his daughter and take her away in hiding until they catch the enemy. Hugh has to find a way to protect Jane without giving in to his feelings.
Jane secretly claimed Hugh as being hers from the first time she laid eyes on him, when she was thirteen and he was eighteen. Now 14 years later she has her chance when circumstances force them into a marriage so Hugh can protect her. But who will protect her heart from Hugh or Hugh from her?

Of the three MacCarrick brothers Hugh is the middle one, the steady and quiet one. The one who thinks before he does and the one who does nothing irrational or impulsively. This comes in handy in his profession: an assassin for the Crown. He is a solitary, rugged man, brooding, intimidating and utterly masculine.
He has but one weakness: his feelings for the lovely, English Jane Weyland.

Jane is charming, outspoken and independent. Lately I've been reading books with amazing heroines and Jane is no exception. Fearless, witty and ready to taunt and tease Hugh to the point of desperation.

Contrary to the hostility between Court and Annalía in book 1, between Hugh and Jane there has always been friendship to go along with the very strong attraction to each other. An attraction Hugh has never acted upon because of his profession, the curse and the fact that he thinks he's not worthy of her. Hugh really tries to resist but he succumbs to Jane's seductive lure and his own powerful feelings.

Jane in love with Hugh but won't let him intimidate her. She doesn't give him a moment's breath and really stood her ground in all circumstances. The battles of will between them ultimately lead to undeniable passion because when the MacCarrick brothers fall for a woman, they fall hard and deep!


Again I really have nothing but praise for this book. The main couple is strong and they are easy to admire and love. They have great personalities; they know their own minor points and are not afraid of showing their vulnerability. The love scenes are utterly intense and very erotic. The plot is compelling and complementing. The secondary characters are brought into the story at precisely the right moments and offer nice contribution to the whole story. The bad guy is evil at his worst and saddening at his best. The focus of the book is mainly on the relationship between Hugh and Jane and how they eventually come to accept each other and their feelings but the plot surrounding the threat on Jane's life is nicely set up and rounded off in a perfect way.

The third and final book in the trilogy is Ethan story, the eldest brother. In book 1 and 2 you get little glimpses of him that really stirred my imagination and I can't wait to read his whole story. There is so much more to him than meets the eye. He is going to be the cherry on the pie of this trilogy for me!

Kresley Cole has again delivered an amazing tale. One that kept me mesmerized and glued to the book every minute I could.
This is turning out to be a trilogy that is a true must if you like either Kresley Cole or Highlanders and one that makes me want a MacCarrick brother of my own to sweep me of my feet!
Quotes:
Jane to Hugh after their engagement:
"You've made it clear that you don't want this marriage," she said. "So before you go forward with this madness, consider– how much can you resist...day after day?"
He swallowed. "Prepare yourself, darling." (…) Over her shoulder, she said,
"Because I'm about to make your life a living hell."

Hugh to Jane when he can't resist her teasing and tempting anymore:
"You think that I'll react the same way to your teasing as I did years ago?"(...)."In the past I was young and honorable. Now I'm old enough to know what I need and dishonorable enough" –he softly tugged on her nipple with his teeth making her gasp and arch into his mouth– "to take it."

Nice to meet you!
Pearl

Netherlands
39, married to my real life romance hero, addicted to TV shows, reading romance novels and Twitter. I'm a chronic (e)book hoarder and my absolute favorite genres within romance fiction are contemporary romance and romantic suspense, but I don't shy away from historical, paranormal or erotic romance either. Even the occasional (urban) fantasy romance, futuristic and sci fi romance may make it to my Mount TBR. This is my corner of the world wide web where I let you know what books I'm hoarding, reading and reviewing.
View my complete profile

My Book-Providers
Reviews by Rating

Reviews by Genre
Reviews by Type

Reviews by Publisher

Fellow Bloggers


GR Reading Challenge
Pearl
has read 10 books toward her goal of 50 books.

On My TBR Shelf
Unforgivable - Laura Griffin
Snapped - Laura Griffin
Darkness at Dawn - Elizabeth Jennings
Sizzle and Burn - Alexis Grant
No Mercy - Lori Armstrong
Animal Magnetism - Jill Shalvis
Crazy for Love - Victoria Dahl
Kink - Saskia Walker/Sasha White
So Sensitive - Anne Rainey
Dark Taste of Rapture - Gena Showalter
The Darkest Secret - Gena Showalter
Vampire in Atlantis - Alyssa Day
Vampire Dragon - Annette Blair
Captive Spirit - Anna Windsor
Chosen by Blood - Virna DePaul
Rebel - Zoe Archer
Stranger - Zoe Archer
A Taste of Desire - Beverley Kendall
Mistress by Midnight - Maggie Robinson
To Desire a Devil - Elizabeth Hoyt
To Tame a Dangerous Lord - Nicole Jordan

Digital TBR Next
Driven - Jayne Rylon (reread)
Shifting Gears - Jayne Rylon
Beg Me - Shiloh Walker
Tempt Me - Shiloh Walker
Jazz Baby - Lorelie Brown
Playboy Prankster - Pamela Britton
Just Like That - Erin Nicholas
Sweet Inspiration - Penny Watson
Breathe - Donna Alward
My Gigolo - Molly Burkhart
Scent of Persuason - Nikki Duncan

Blog Archive