May 1, 2008
10:00 AM
|
Edit Post
April has been an average to good reading month, I read 3 paperbacks, 2 tradesize paperbacks, an anthology and an eBook-novella. This makes 7 books...that's a bit better than an average month so I'm not complaining.
I started and ended this month with
Shannon McKenna
and I must say, the more of her books I read, the more I get pulled in by her amazing writing skills and characters. Both in STANDING IN THE SHADOWS with which I started the month as with RETURN TO ME with which I ended the month.
In the ARC-department I read
Kat Martin's SEASON OF STRANGERS
which will be coming out in June. So watch out for the ARC-review on REALMS ON OUR BOOKSHELVES in the month of May.
Both the ARC-review on
Sally MacKenzie's THE NAKED GENTLEMAN
and the one on
Gena Showalter's THE DARKEST NIGHT
were placed on the REALMS-website.
I also read the prequel to the
The Lords of the Underworld Series
by Showalter, this was an eBook novella (THE DARKEST FIRE) that can't be missed if you're a Gena Showalter fan.
And being a huge Gena Showalter fan I was overjoyed when I received the ARC of
THE DARKEST PLEASURE
to review for REALMS ON OUR BOOKSHELVES! This book is is book 3 in the series and will be coming out in July. I will be reading it the coming month...
There was also some frustration this month...I pre-ordered
Lara Adrian's MIDNIGHT RISING
, book 4 in the
Midnight Breed Series
in the beginning of February, knowing it would be released March 25th and then March 25th came and went and no MIDNIGHT RISING, after 3 weeks....3 whole effing weeks....it finally arrived on my doorstep and I can tell you this has been one of the most frustrating waits for a book in a long time...the last time I remember being this anxious was when LOVER REVEALED by JR Ward had been delivered to the neighbours on a Friday afternoon because we weren't home and then the neighbours went away for the weekend before I picked the book up....
But luckily MIDNIGHT RISING arrived and I have read and reviewed it.
This was a month with the focus on paranormal and contemporary/romantic suspense genre. The only historical I read was the third book in the
Courtship Wars Series by Nicole Jordan
....to which the saying "it's not about quantity but quality" certainly applies! It was the best regency romance I've read in quite a while! I loved it and was glad to find out that the series isn't ending here but will have at least 3 more books.
In the new discoveries-department I rediscovered
Lora Leigh
in the form of her
Breeds Series
, this discovery was made while reading her anthology novella in
SHIFTER
, I bought that anthology mainly for the novella in
Alyssa Day's Warriors of Poseidon Series
but was pleasantly surprised by Lora Leigh's story, so pleasantly that I started collecting the books in the Breeds Series immediately, some in eBook, others in print...
And through
Monica McCarty
's Blog I discovered a new medieval series by
Karin Tabke
:
The series is called Blood Sword Legacy this is what Karin Tabke says about it:
Bound by a brotherhood forged in the hell of a Saracen prison, eight Blood Swords—mercenary knights for William the Conqueror—set out to claim their legacies the only way they can: by right of arms, by right of victory, by right of conquest.
Book 1:
MASTER OF SURRENDER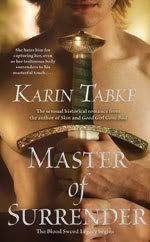 Release: June 2008
The year is 1066. William, bastard Duke of Normandy, has claimed the English throne by right of conquest. To quell the Saxon unrest, William sends out his most trusted knights to secure the land. One of those knights is his cousin, Sir Rohan de Luc, known far and wide for his bloody deeds as The Black Sword. . .

Bold and courageous, Saxon maiden Isabel of Alethorpe is the only one left to protect the people of the manor and its lands. When Rohan de Luc seizes Alethorpe, he offers to spare the life of Isabel's young squire in exchange for her willing gift of the charms of her body. Betrothed to another, she vows to that while he may take her maidenhead, her heart will remain her own. But even as her lips say no, Isabel's traitorous body is awakened to desire by the seductive attentions of this potent invader. Can she remain true to her own people, or will Sir Rohan's skilled touch capture her unwilling heart as surely as his prowess with his sword captured her father's lands?
Book 2:
MASTER OF TORMENT
No cover or blurb yet
Release: December 2008
Nice to meet you!
Pearl

Netherlands
39, married to my real life romance hero, addicted to TV shows, reading romance novels and Twitter. I'm a chronic (e)book hoarder and my absolute favorite genres within romance fiction are contemporary romance and romantic suspense, but I don't shy away from historical, paranormal or erotic romance either. Even the occasional (urban) fantasy romance, futuristic and sci fi romance may make it to my Mount TBR. This is my corner of the world wide web where I let you know what books I'm hoarding, reading and reviewing.
View my complete profile

My Book-Providers
Reviews by Rating

Reviews by Genre
Reviews by Type

Reviews by Publisher

Fellow Bloggers


GR Reading Challenge
Pearl
has read 10 books toward her goal of 50 books.

On My TBR Shelf
Unforgivable - Laura Griffin
Snapped - Laura Griffin
Darkness at Dawn - Elizabeth Jennings
Sizzle and Burn - Alexis Grant
No Mercy - Lori Armstrong
Animal Magnetism - Jill Shalvis
Crazy for Love - Victoria Dahl
Kink - Saskia Walker/Sasha White
So Sensitive - Anne Rainey
Dark Taste of Rapture - Gena Showalter
The Darkest Secret - Gena Showalter
Vampire in Atlantis - Alyssa Day
Vampire Dragon - Annette Blair
Captive Spirit - Anna Windsor
Chosen by Blood - Virna DePaul
Rebel - Zoe Archer
Stranger - Zoe Archer
A Taste of Desire - Beverley Kendall
Mistress by Midnight - Maggie Robinson
To Desire a Devil - Elizabeth Hoyt
To Tame a Dangerous Lord - Nicole Jordan

Digital TBR Next
Driven - Jayne Rylon (reread)
Shifting Gears - Jayne Rylon
Beg Me - Shiloh Walker
Tempt Me - Shiloh Walker
Jazz Baby - Lorelie Brown
Playboy Prankster - Pamela Britton
Just Like That - Erin Nicholas
Sweet Inspiration - Penny Watson
Breathe - Donna Alward
My Gigolo - Molly Burkhart
Scent of Persuason - Nikki Duncan

Blog Archive