November 30, 2008
5:26 PM
|
Edit Post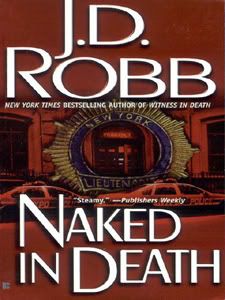 Back Cover:
Eve Dallas is a New York police lieutenant hunting for a ruthless killer. In over ten years on the force, she's seen it all--and knows her survival depends on her instincts. And she's going against every warning telling her not to get involved with Roarke, an Irish billionaire--and a suspect in Eve's murder investigation. But passion and seduction have rules of their own, and it's up to Eve to take a chance in the arms of a man she knows nothing about--except the addictive hunger of needing his touch.
When the granddaughter of a US senator is killed in a vicious way, lieutenant Eve Dallas gets assigned to the case. It's a case filled with mystery and secrets and when Eve starts falling for Roarke, the wealthy billionaire suspected of the murder, she knows things are going to get a lot more complicated. But then more women are murdered and the necessity to find the killer is more imperative than a budding romance between Eve and Roarke...

Eve Dallas is a police officer in New York who has the reputation of being tough, stubborn and analytical. She is great at her job despite, or maybe thanks to, her own not so happy childhood. She is smart, practical and has a wicked sarcastic streak. She doesn't need or want pampering or luxuries. She's satisfied with the basic necessities in life and is happiest when she can do her job and contribute to society by catching criminals.

Eve is a tough woman who doesn't show weakness but still she is not hard or cold. I found Eve extremely likable and there was never a moment where her character annoyed or irritated me.

Roarke is a very enigmatic character. He is aloof, guarded, confident and used to getting his way. He too has had a childhood that was anything but pleasant, something that isn't deepened out in this book but the hints were most certainly given.

Roarke comes of as very mysterious but at the same time he's very direct and doesn't hesitate to go after anything he wants and in this case he wants Eve. I had heard a lot about Roarke before reading this first Eve Dallas-book and he absolutely met the picture I had formed of him. The way he pushed Eve over her emotional boundaries and got her to open up was a joy to read.

Despite their aloofness and tough exterior behavior both Eve and Roarke have this air of vulnerability that they reveal only to each other. This made them characters I found delightful to read about and combined with the chemistry between them that was palpable throughout the book it made their romance a good counterweight for the exciting and intense suspense plot.

The romance and the suspense complemented each other perfectly and they were a flawless combination of action and emotion. Emotion was provided in the romance between Eve and Roarke and the action came with the unpredictable and exemplary executed suspense plot.

This is the first romantic suspense I've read that takes place in the future, my guess is that it's set around 2050-2060 but despite of all kinds of high tech gadgets, appliances and methods of transportation both on and off earth, the feel of the book isn't downright futuristic. But for the fact that things we find normal in these times like guns, fresh meat and coffee are seen as rare and valuable in Eve's world and time, it could have taken place in the present day and reads just as easy as romantic suspense books that are set in our time.

I also liked that along the course of the investigation of the case you not only get to learn more about Eve and her life and struggles but there's also a very extensive portrayal of the murder victims and their backgrounds.

Inherent to romantic suspense there are lots of secondary characters in the victims, witnesses, suspects, law enforcement people and media. But there were also a few secondary characters taken from the personal environment of Eve and Roarke.
Despite the amount of secondary characters and the plot the focus remains on Eve and Roarke in a very subtle way throughout the story. I can only praise J.D. Robb on the characterization of both Eve and Dallas and for letting them take their place in the book in a very natural way.

From start to finish J.D. Robb's writing mesmerized me. It kept me enthralled and engaged through the characters, the romance and the plot which all contributed to the enjoyment I had in reading this top-notch romantic suspense.
Quotes:
His voice was smooth, with a whisper of the charm of Ireland over it, like rich cream over warmed whiskey.

It stunned him how much he could want her still, baffled him that she could be blind to how helpless he was under the clawing need for her. It infuriated him that she could, simply by existing, be his weakness.

Nice to meet you!
Pearl

Netherlands
39, married to my real life romance hero, addicted to TV shows, reading romance novels and Twitter. I'm a chronic (e)book hoarder and my absolute favorite genres within romance fiction are contemporary romance and romantic suspense, but I don't shy away from historical, paranormal or erotic romance either. Even the occasional (urban) fantasy romance, futuristic and sci fi romance may make it to my Mount TBR. This is my corner of the world wide web where I let you know what books I'm hoarding, reading and reviewing.
View my complete profile

My Book-Providers
Reviews by Rating

Reviews by Genre
Reviews by Type

Reviews by Publisher

Fellow Bloggers


GR Reading Challenge
Pearl
has read 10 books toward her goal of 50 books.

On My TBR Shelf
Unforgivable - Laura Griffin
Snapped - Laura Griffin
Darkness at Dawn - Elizabeth Jennings
Sizzle and Burn - Alexis Grant
No Mercy - Lori Armstrong
Animal Magnetism - Jill Shalvis
Crazy for Love - Victoria Dahl
Kink - Saskia Walker/Sasha White
So Sensitive - Anne Rainey
Dark Taste of Rapture - Gena Showalter
The Darkest Secret - Gena Showalter
Vampire in Atlantis - Alyssa Day
Vampire Dragon - Annette Blair
Captive Spirit - Anna Windsor
Chosen by Blood - Virna DePaul
Rebel - Zoe Archer
Stranger - Zoe Archer
A Taste of Desire - Beverley Kendall
Mistress by Midnight - Maggie Robinson
To Desire a Devil - Elizabeth Hoyt
To Tame a Dangerous Lord - Nicole Jordan

Digital TBR Next
Driven - Jayne Rylon (reread)
Shifting Gears - Jayne Rylon
Beg Me - Shiloh Walker
Tempt Me - Shiloh Walker
Jazz Baby - Lorelie Brown
Playboy Prankster - Pamela Britton
Just Like That - Erin Nicholas
Sweet Inspiration - Penny Watson
Breathe - Donna Alward
My Gigolo - Molly Burkhart
Scent of Persuason - Nikki Duncan

Blog Archive