November 26, 2008
8:00 AM
|
Edit Post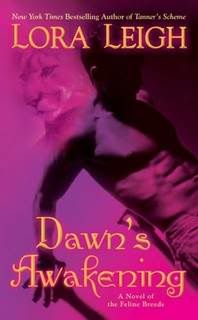 Back Cover:
The runt of the lab she was created in, Dawn Daniels endured years of torture by her pride brother and the council soldiers. Finally freed from her torment, she's now a Breed Enforcer, in control of her own life. Until she's assigned to protect the one man destined to be her mate—and realizes it's far too easy to lose total control…

One of the Breed's most important supporters, Seth Lawrence has spent years trying to forget Dawn, knowing that her lost innocence has made it impossible for her to get close to anyone. But suddenly neither of them can find the strength to fight the overwhelming passion between them. At least until the most brutal tormenter from Dawn's past reappears—and threatens to destroy their newfound love, along with their lives…
This is the story of Dawn Daniels and Seth Lawrence. A story I have been looking forward to since ELIZABETH'S WOLF and KISS OF HEAT. And my anticipation was thoroughly met and satisfied.

Dawn Daniels is a female Breed who suffered horribly in the Labs. The acts committed against her as a child have left a lasting imprint and she tries very hard not to remember them. She has grown into a strong woman, a Breed Enforcer who doesn't take any crap from anyone. But deep down she knows she can't escape the memories forever.

Seth Lawrence knew Dawn was his mate the moment he laid his eyes on her ten years ago but he also knew he couldn't have her because of her horrendous experiences in the past. He has done the impossible and fought the mating heat until it subsided. But now with his life in danger he has no choice but to accept the protection of the woman he could never have.

For Dawn men equal suffering and abuse, so when she starts having feelings for Seth she is utterly confused. Filled with pain and rage Dawn is both vulnerable and strong at the same time. She is defiant and underneath the traumatized and hurt woman there's a lively, playful woman with a witty personality that surfaces only when she feels comfortable, loved and protected. She has a wicked and sarcastic sense of humor that I found very entertaining. But her sarcasm and smart-ass attitude are also ways for her to protect herself and hide feelings that would leave her vulnerable. With Seth she learns how to put her trust in a man and accept the pleasure of a lover's touch.

Seth is the ultimate alpha. He is proud, powerful and honorable but he also has a tender side to him that he shows only to Dawn. These moments took my breath away and there were numerous occasions it would cross my mind that Dawn was one lucky woman to have Seth wooing her.
But before getting to the wooing part of their relationship there were lots of obstacles to overcome. The internal struggle that raged within Seth was intense and heartbreaking. He wants and loves Dawn but he knows his desire for her can evoke painful memories, memories he's afraid she won't be able to handle.

Next to the fiery dialogues between Dawn and Seth there were some endearing and romantic moments filled with emotions that reflected both the loneliness seeping from Dawn and Seth through every scene of this book and the tenderness of feelings that have been developing between them for ten years. Seth and Dawn were amazing, both individually and together as a couple.

There were many familiar secondary characters and some new secondary characters but the substantial supporting roles were saved for Callan Lyons, Cassie and Dash Sinclair. Especially Cassie's character was crucial to the book, not only to both Seth and Dawn and their evolving relationship but to the plot too. As an 8-year old Cassie stole my heart in ELIZABETH'S WOLF, now as an 18-year old she has matured into a creature wise beyond her years and with a future ahead filled with complications and obstacles. I loved seeing her character developed over the years and I can't wait for her own story to hit me.

A very mysterious secondary character pops up in this book. A character that is connected to Cassie but whose identity remains unknown. This character intrigued me to distraction and I really want to know who he is and what his connection to Cassie is.

And of course a Lora Leigh Breed book wouldn't be a Lora Leigh Breed book if there wasn't some enticing tiny subplot concerning a future couple and believe me I'm extremely anxious to see that particular story unfold.

With just the prologue Lora Leigh pulled me right back in and set the stage for this heartrending, emotionally devastating installment of the Breeds series. She took me back to the Felines who secured their place in my bookcase and on my emotional radar from the very first sentence of the first book I read in this series and now at book 14 she gave me the most emotional and heartbreaking story so far.

At first I wondered how Lora Leigh was going to pull this off. How could she get Dawn, with the amount of abuse she suffered, to handle the mating heat, to accept love and to trust a man who needs her trust?
But she came through with flying colors and did it, delivering a believable story, fitting the set-ups from previous books and for me DAWN'S AWAKENING she is her best work in the Breeds series till now.

Even with the recurring storylines of the mating heat and the battle with the
Genetics Council, Lora Leigh managed to give me new angles and developments. She combined everything I loved in all the previous installments into one perfectly executed, well-balanced, emotional rollercoaster and completed it with a mind-blowing plot.
The emotional part of the book invoked tears and was just heartbreaking. The love scenes were hot and sizzling and yet in excellent balance with the plot and the emotions. One moment the avalanche of emotions almost brought me down and to tears and the next I would melt away at the blazing sensuality between Seth and Dawn.

This book ate away at me emotionally and it will take some time for me to get over the heavy impact it left on my feelings. I truly wonder if Lora Leigh can top this one, and if so, how I'll be able to get through it in one piece. And I mean that in the positive sense. This book just blew me away in the emotional sense mixing my favorite characters from her books with heart wrenching emotions, scorching love scenes and a plot that has cost me my nails.

It's these books that make me overlook the lesser installments in the series because with her canny talent for emotion-filled stories that singe the pages Lora Leigh has delivered my favorite, most appreciated book in the series up to now. She managed to keep me enthralled with known storylines and familiar characters and at the same time surprised me by intertwining them with new characters, elements and twists.
Quotes:
Seth jerked his head back, stared down at her, and God help him, from this moment on, if he wasn't touching Dawn, loving her, tasting her, then he would be completely alone. Because no other woman's touch would do.

"I want to touch you." Her voice was whisper thin and pleading. If she was touching him then he couldn't be stealing parts of her soul a little piece at a time with his words, his touch.
Rating: 10 out of 10
Nice to meet you!
Pearl

Netherlands
39, married to my real life romance hero, addicted to TV shows, reading romance novels and Twitter. I'm a chronic (e)book hoarder and my absolute favorite genres within romance fiction are contemporary romance and romantic suspense, but I don't shy away from historical, paranormal or erotic romance either. Even the occasional (urban) fantasy romance, futuristic and sci fi romance may make it to my Mount TBR. This is my corner of the world wide web where I let you know what books I'm hoarding, reading and reviewing.
View my complete profile

My Book-Providers
Reviews by Rating

Reviews by Genre
Reviews by Type

Reviews by Publisher

Fellow Bloggers


GR Reading Challenge
Pearl
has read 10 books toward her goal of 50 books.

On My TBR Shelf
Unforgivable - Laura Griffin
Snapped - Laura Griffin
Darkness at Dawn - Elizabeth Jennings
Sizzle and Burn - Alexis Grant
No Mercy - Lori Armstrong
Animal Magnetism - Jill Shalvis
Crazy for Love - Victoria Dahl
Kink - Saskia Walker/Sasha White
So Sensitive - Anne Rainey
Dark Taste of Rapture - Gena Showalter
The Darkest Secret - Gena Showalter
Vampire in Atlantis - Alyssa Day
Vampire Dragon - Annette Blair
Captive Spirit - Anna Windsor
Chosen by Blood - Virna DePaul
Rebel - Zoe Archer
Stranger - Zoe Archer
A Taste of Desire - Beverley Kendall
Mistress by Midnight - Maggie Robinson
To Desire a Devil - Elizabeth Hoyt
To Tame a Dangerous Lord - Nicole Jordan

Digital TBR Next
Driven - Jayne Rylon (reread)
Shifting Gears - Jayne Rylon
Beg Me - Shiloh Walker
Tempt Me - Shiloh Walker
Jazz Baby - Lorelie Brown
Playboy Prankster - Pamela Britton
Just Like That - Erin Nicholas
Sweet Inspiration - Penny Watson
Breathe - Donna Alward
My Gigolo - Molly Burkhart
Scent of Persuason - Nikki Duncan

Blog Archive