November 12, 2008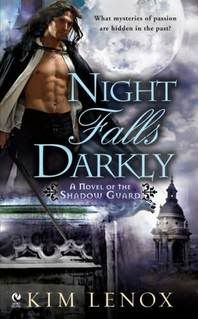 Back Cover:
Death is inevitable.
But there are some souls, more wicked and disobedient than most, who defy Death's claim.
Rebellious souls who must be called to heel.

ARCHER, Lord Black, returns to England at the behest of Queen Victoria to immerse himself in the dark, hellish streets of London's East End. Among the immortal Shadow Guard, he is the most prolific and cunning of the Reclaimers. He revels in the hunt of his current prey: an ill-mannered, reluctant soul reviled in the daily newspapers as Jack the Ripper. Archer has only one weakness … one distraction … the young woman he spared from death two years before.

ELENA WHITNEY has never wanted for anything – not since coming under the protection of her mysterious and absent guardian, Lord Black, who has gifted her with everything a young woman of quality could ever hope for, including an enviable address, an unlimited income and entrée into the drawing rooms of high society. But now, after nearly two years of indifference, he believes he can sweep into her life and rid himself of her by marrying her off. If he knew anything about her – anything at all – he'd know she had greater aspirations than that.
Immortal Shadow Guard Archer Black is summoned to London to deal with a persistent criminal who's murdering and slashing up prostitutes. Back in London he finds the woman he saved years before while Reclaiming another depraved soul. He discovers the emotional pull she had on him is still there.
Elena Whitney lives in her guardian's home after an accident that left her with severe memory loss. Nevertheless she has ambitions in life and the freedom to follow them. When her unknown guardian, Lord Black, finally makes an appearance, her life is turned upside down, not in the least because of the budding feelings of passion she develops for him.

The main characters are Archer, Lord Black, and Elena.
Elena is a strong young woman who hasn't let tragedy ruin her life and who speaks exactly what's on her mind. She is intelligent, outspoken, strong-willed, sensitive, benevolent, impulsive and rebellious. She has dreams and ambitions and is determined to make them real. She wants to be a doctor like her father was and does everything she can to realize this dream. She volunteers at the charity ward at the hospital and has applied for the School of Medicine for Women. She has no time for romantic feelings towards any one until her guardian shows up in London and for the first time in her life she's aware of him in a way she has never been of any man.
Archer Black is a man of few words. He is elusive, mysterious and compassionate.
Unknown to Archer and thanks to his secretary Leeson, Elena is his ward and when he comes back to London she is the last person he expects to find in his home. He is an immortal hunter and a killer of souls who cannot be saved. His job is to take them and send them somewhere where they can't harm mortals or penetrate the Inner Realm of the immortal world of the Amaranthine. Feelings are unfamiliar to him and he is unable to feel or attach until he met Elena. He doesn't need the complication of living close to the only woman who stirs his cold heart.

I saw both Elena and Archer through their eyes, how they saw each other. Lenox has a way of changing points of view effortlessly; giving me rounded characters viewed from all angles. Elena and Archer are irresistibly drawn to each other from the very beginning. As a reader you follow them in their struggles with each other and their own feelings, all against the background of a dangerous murderer on the loose.

The secondary characters are many. There is Jack the Ripper, whose presence is absolutely tangible in the story even if he doesn't appear physically until the very end. There are Archer's secretary Leeson and fellow Guards, the twins Selena and Mark. There is quite some story between Archer and the twins and in my opinion just part of it is revealed in this book. Selene has a very funny quirk that involves books and I'm sure that there's much more to her than met the eye in this story.
There are also the people surrounding Elena: maid Mary Alice, companion Mrs. Hazelgreaves, the staff and patients in the hospital.
All these secondary characters had their role in the plot and the romance but they never took the focus from Elena and Archer. As true supporting characters they provided the background for the main couple to star against but the book wouldn't be the same without them.

There are so many things I liked about this book that I don't know where to start.
I liked the world, the characters, the romance, and the plot. Everything was mixed together in a breathtaking debut novel with all the elements worked out in a superb way. Slowly Kim Lenox provides information on the Amaranthine Shadow Guards and their world. She builds it up in a great way, mixing explanations and descriptions smoothly with the story. This way she keeps the Amaranthine mysterious until the very end but you don't realize this until the whole picture is formed. Her world building and descriptions of characters and events are meticulous and extensive without interfering with the pace and without making the book dull or repetitive.

Lenox' eye for historical details is amazing. I had no trouble picturing myself in Victorian London at the end of the 19th century. Not in the least because of the way she mixed the fictional characters, both main and secondary, with real historical figures like Jack the Ripper, Queen Victoria and Bram Stoker. She embedded them perfectly in the story. The new and refreshing approach of taking ancient mythology to provide not only Archer's background but also Jack the Ripper's actions and motives struck a cord with me since there are so many books on both mythology and Jack the Ripper and Lenox managed to give it an original twist.

Her writing is captivating and addictive. With the use of just looks, touches and kisses and only one real love scene she builds up the attraction between Elena and Archer in a way that's fantastic. It's like watching two magnets being drawn together slowly but surely. She proved to me, who likes her romances steamy, that romance can be just as tantalizing without many physical love scenes. Reading this gradual journey to love at the perfect pace was utterly enjoyable. The balance between plot and romance was excellent. Both were interlaced throughout the book and neither took a more prominent role over the other. I find it hard to name the plot. Yes, there are murders, yes there's a murderer but the plot is so much more elaborate than just a suspense plot to catch a killer. It was set up magnificently. The gradual disclosure of information kept me at the edge of my seat, waiting for the big confrontation to conclude the plot. With her unexpected twists and turns in the plot she lead me all over the place while reading and she gave the book and the characters that welcome veil of unpredictability.
The book has a great ending that entails closure for Elena and Archer but it's only the beginning for Mark Alexander who is the hero of the next book.
For me it's clear, especially at the end that this first installment of the Shadow Guard series is just an introduction and there's much more to come.

With her first book Kim Lenox gave me a enthralling and original romance spiked with suspense and paranormal elements and in me she has found a loyal reader who's hooked and waiting for the next treat.
Quotes:
He felt all tangled up with her, something his mind rejected, but his soul craved.

While "hauteur" was no accurate description -for he was not arrogant in his mannerisms or speech- he emanated inaccessibility, as if every emotion and impulse were kept behind an impenetrable wall. Elena couldn't help but wonder what he would be like if that wall were destroyed.

Nice to meet you!
Pearl

Netherlands
39, married to my real life romance hero, addicted to TV shows, reading romance novels and Twitter. I'm a chronic (e)book hoarder and my absolute favorite genres within romance fiction are contemporary romance and romantic suspense, but I don't shy away from historical, paranormal or erotic romance either. Even the occasional (urban) fantasy romance, futuristic and sci fi romance may make it to my Mount TBR. This is my corner of the world wide web where I let you know what books I'm hoarding, reading and reviewing.
View my complete profile

My Book-Providers
Reviews by Rating

Reviews by Genre
Reviews by Type

Reviews by Publisher

Fellow Bloggers


GR Reading Challenge
Pearl
has read 10 books toward her goal of 50 books.

On My TBR Shelf
Unforgivable - Laura Griffin
Snapped - Laura Griffin
Darkness at Dawn - Elizabeth Jennings
Sizzle and Burn - Alexis Grant
No Mercy - Lori Armstrong
Animal Magnetism - Jill Shalvis
Crazy for Love - Victoria Dahl
Kink - Saskia Walker/Sasha White
So Sensitive - Anne Rainey
Dark Taste of Rapture - Gena Showalter
The Darkest Secret - Gena Showalter
Vampire in Atlantis - Alyssa Day
Vampire Dragon - Annette Blair
Captive Spirit - Anna Windsor
Chosen by Blood - Virna DePaul
Rebel - Zoe Archer
Stranger - Zoe Archer
A Taste of Desire - Beverley Kendall
Mistress by Midnight - Maggie Robinson
To Desire a Devil - Elizabeth Hoyt
To Tame a Dangerous Lord - Nicole Jordan

Digital TBR Next
Driven - Jayne Rylon (reread)
Shifting Gears - Jayne Rylon
Beg Me - Shiloh Walker
Tempt Me - Shiloh Walker
Jazz Baby - Lorelie Brown
Playboy Prankster - Pamela Britton
Just Like That - Erin Nicholas
Sweet Inspiration - Penny Watson
Breathe - Donna Alward
My Gigolo - Molly Burkhart
Scent of Persuason - Nikki Duncan

Blog Archive