November 14, 2008
5:33 PM
|
Edit Post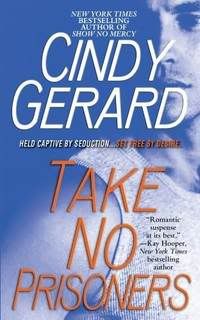 Back Cover
A DANGEROUS ATTRACTION . . .
Abbie Hughes no longer trusts men, but despite her cool indifference, her long legs and showgirl face still draw plenty of advances. Between working as a Vegas blackjack dealer, going to school, and keeping an eye on her younger brother, Cory, there's no time for romance—until the night a sexy, mysterious stranger places a wager at her table.

SPURRED BY REVENGE. . .
Sam Lang left Black Ops, Inc. when tragedy struck his family. Although he's determined to retire his M-16 rifle and K-bar knife to lead a quiet life on his ranch, a vengeful quest will send him on a dangerous manhunt for the ruthless international crime lord who murdered his sister.

. . . REVEALS A SAVAGE THREAT THEY CAN'T IGNORE.
Though Sam suspects Abbie is in on a lucrative gem-smuggling deal her brother made with the enemy, their attraction is undeniable. Now Cory is missing, and together they search the wild backcountry of Honduras to find him. With evil on their trail and bearing down, they must trust each other completely or face certain death alone. . .
Sam Lang has been after a notorious arms- and drug dealer ever since he can remember. He hunted him when he was part of the Task Force and continued when he joined the Black Ops. He lives and breathes his chase of Frederick Nader until it consumes his life. Until his sister is killed in order to get him to stop his hunt. He gives up and retreats at his family's ranch to avoid more danger for his family.
Abbie Hughes lives a quiet uneventful life until her brother Cory gets mixed up with some shady people and ends up fighting for his life in South America in the hands of the same man Sam hunted for years: Frederick Nader. The connection between Cory, Abbie and Nader leads Sam to Abbie and he decides to get involved in one last attempt to catch Nader. But when Cory, unwillingly, drags Abbie into his troubles Sam has no choice but to help the woman he is developing deep and intense feelings for, regardless that they are unwanted feelings.

Abbie is strong, loyal, giving but careful and who has no qualms about diving head first into a situation she has no control over just to save a loved one.
Her childhood wasn't pleasant and her brother is still suffering from the consequences of it. It has made her cautious and she doesn't trust easily.

Sam is the confident, silent type but underneath all that silence and brooding is a man who yearns to give and receive love from the woman who is able to steal his heart. He goes through life with icy resolve and doesn't let his emotions get in control. But with Abbie he discovers his grasp on control is slipping. Until Abbie his life was first and exclusively about revenge and obligation to his family.

The romance between Abbie and Sam progresses naturally and gradually despite the heart pounding situations they find themselves in. Cindy Gerard did a great job in letting both Abbie and Sam come to grips with their emotions towards each other and the place these emotions take in their lives.

In the secondary cast of characters names from SHOW NO MERCY (book 1) pop up and some are expanded a bit, others stay the same. I was a bit disappointed in not seeing a particular storyline from book 1 continued in this book but hopefully Gerard will pick it up in a future installment.

What I loved about both books was the bond between Sam and his fellow operatives, especially with Johnny Duane Reed (the hero of the next book). The camaraderie and subtle bantering was heartwarming and so much fun to read. From their interactions you can feel how much they trust in each other's abilities and how much they depend on each other.

Next to Sam's buddies there are also some secondary characters linked to Abbie: her brother Cory who plays a big role in the plot and her friend Crystal who will be the heroine of the next book and therefore is partnered up with Reed...their story starts at the end of this book with two intriguing scenes that have left me wanting more, much more

From the very first page I was immersed in the genial plot with breathtaking suspense and thrilling action, in the perfectly written characters and the heartwarming romance. Once I read the first few pages I just couldn't stop reading and I knew I was in for an amazing trip. On the journey I saw the lively Strip in Las Vegas but also the wonderful landscape of Honduras. I had fun, I was afraid, I felt anger and I got hot and bothered, all in the span of 363 pages of superb storytelling.

The whole book was fast-paced, action-filled and masterfully plotted. It was written so realistic and vivid it felt like watching a movie. I could just picture it all and see the bullets flying.
Cindy Gerard's extensive knowledge and/or research of South America, weapons and covert operations make her books rich in background and a true joy to read. I haven't read that much in the romantic suspense genre but I do know Cindy Gerard is climbing fast to the top of my favorite list thanks to this great Black Ops series.

Cindy Gerard has delivered again! She gave me a perfect mix of romance and suspense with characters that nestled themselves deep into my book loving heart and she pulled me into a story filled with action, suspense, romance, great characters and wonderful scenery.
Quotes:
"Go forth and orgasm," Crystal ordered
"Orgasm is not a verb," Abbie pointed out with a laugh
" Oh, sweetie, it is if it's done right."

Some things were worth waiting for.
Some things were worth praying for.
Sam Lang's kiss, she decided, was worth dying for.

Nice to meet you!
Pearl

Netherlands
39, married to my real life romance hero, addicted to TV shows, reading romance novels and Twitter. I'm a chronic (e)book hoarder and my absolute favorite genres within romance fiction are contemporary romance and romantic suspense, but I don't shy away from historical, paranormal or erotic romance either. Even the occasional (urban) fantasy romance, futuristic and sci fi romance may make it to my Mount TBR. This is my corner of the world wide web where I let you know what books I'm hoarding, reading and reviewing.
View my complete profile

My Book-Providers
Reviews by Rating

Reviews by Genre
Reviews by Type

Reviews by Publisher

Fellow Bloggers


GR Reading Challenge
Pearl
has read 10 books toward her goal of 50 books.

On My TBR Shelf
Unforgivable - Laura Griffin
Snapped - Laura Griffin
Darkness at Dawn - Elizabeth Jennings
Sizzle and Burn - Alexis Grant
No Mercy - Lori Armstrong
Animal Magnetism - Jill Shalvis
Crazy for Love - Victoria Dahl
Kink - Saskia Walker/Sasha White
So Sensitive - Anne Rainey
Dark Taste of Rapture - Gena Showalter
The Darkest Secret - Gena Showalter
Vampire in Atlantis - Alyssa Day
Vampire Dragon - Annette Blair
Captive Spirit - Anna Windsor
Chosen by Blood - Virna DePaul
Rebel - Zoe Archer
Stranger - Zoe Archer
A Taste of Desire - Beverley Kendall
Mistress by Midnight - Maggie Robinson
To Desire a Devil - Elizabeth Hoyt
To Tame a Dangerous Lord - Nicole Jordan

Digital TBR Next
Driven - Jayne Rylon (reread)
Shifting Gears - Jayne Rylon
Beg Me - Shiloh Walker
Tempt Me - Shiloh Walker
Jazz Baby - Lorelie Brown
Playboy Prankster - Pamela Britton
Just Like That - Erin Nicholas
Sweet Inspiration - Penny Watson
Breathe - Donna Alward
My Gigolo - Molly Burkhart
Scent of Persuason - Nikki Duncan

Blog Archive