November 22, 2008
8:00 AM
|
Edit Post
This book was released on November 8th and I reviewed it for REALMS ON OUR BOOKSHELVES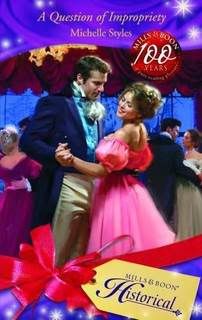 Back Cover:
Diana Clare has had enough of London – the balls, the rakes you can never trust… Now, having returned home in disgrace, she is trying to forget what drove her from the ton.

But rake and gambler Brett Farnham, Earl of Coltonby, seems intent on making Diana remember exactly what it was like to be whirled around the ballroom and seduced by the glint in your partner's eye...
But Brett has 'mistress' rather than 'marriage' in mind, and Diana is not sure her reputation can stand up to another scandal...
After a disastrous engagement and the death of her fiancé, Diana Clare leaves London to settle in Northumberland with her brother. She has learned her lesson about men who are only after her money and decides to live according to her rules of propriety. She is determined to behave and dress like a spinster so she won't attract rakes to ruin her. But a chance meeting with Brett Farnham, Lord Coltonby, endangers her determination since he represents a temptation able to make her forsake her own rules.

Lovely is the first word that came to mind after finishing Michelle Styles' A QUESTION OF IMPROPRIETY. With it I reconnected with the genuine Regency historical romance, complete with the society gossips, the secretive seduction and wooing, the misinterpreted intentions and the budding feelings of love.

At first I almost started to dislike Brett with his slick and manipulating ways and his intention of using Diana to get what he wanted from her brother. But just in time Michelle Styles made him realize his feelings for Diana, turning him into a romantic hero worth liking and admiring. He developed from a man with a rake's reputation into a man with honorable intentions not allowing Diana to have anything but genuine passion and love.

While reading the first chapters you know there is more to Diana than is being disclosed and throughout the book I was curious as to what her secrets were and when she would let down her guard and give in to Brett's persistent but patient seduction. She grew within the story from a rigid young woman, living by rules of propriety she laid upon herself, to a woman who realizes she can enjoy life and love without being afraid of impropriety.

Because the book is centered on Brett and Diana and their story, most of the supporting characters don't play big parts in it. The more important ones are Simon, Diana's brother, and his son. They are crucial in the character-development of both Brett and Diana. The other secondary characters are neighbors and servants who mainly stay in the background, providing occasional insight mainly into Diana's character.

Michelle Styles has an amazingly complaisant writing style that enables you to really get to know the characters and sympathize with them.
Both Diana and Brett are characters who evolve during the story when little by little their personalities and backgrounds are revealed.
From the start the dialogues between Diana and Brett are sharp, quick-witted and filled with underlying attraction. Since the story really concentrates on their feelings and the developing relationship there were a lot of these wonderful dialogues.

I used to enjoy historical romances like these but have been sidetracked by intricate and intense historical, contemporary and paranormal romances. Reading this book I remembered what true Regency is all about and I enjoyed it immensely. With Michelle Styles' keen eye for historical details like clothing and food and her knowledge of subjects typical to the time-period, like horses and engines, she took me on a journey back in time to the 19th century.

The book is character-driven rather than action-driven and because of Michelle Styles' talent to portray realistic and three-dimensional characters the romance is so touching and well-written that I didn't miss the action or intensity I usually look for in my reads.
I will most definitely be looking out for Simon's story, coming next year. I'm curious to know what is behind his brooding exterior and his attitude towards his son.

For me this book was refreshingly original with its gradual build-up of romance and characters. It can be classified under the classical regency that any historical romance lover will enjoy and appreciate.

Nice to meet you!
Pearl

Netherlands
39, married to my real life romance hero, addicted to TV shows, reading romance novels and Twitter. I'm a chronic (e)book hoarder and my absolute favorite genres within romance fiction are contemporary romance and romantic suspense, but I don't shy away from historical, paranormal or erotic romance either. Even the occasional (urban) fantasy romance, futuristic and sci fi romance may make it to my Mount TBR. This is my corner of the world wide web where I let you know what books I'm hoarding, reading and reviewing.
View my complete profile

My Book-Providers
Reviews by Rating

Reviews by Genre
Reviews by Type

Reviews by Publisher

Fellow Bloggers


GR Reading Challenge
Pearl
has read 10 books toward her goal of 50 books.

On My TBR Shelf
Unforgivable - Laura Griffin
Snapped - Laura Griffin
Darkness at Dawn - Elizabeth Jennings
Sizzle and Burn - Alexis Grant
No Mercy - Lori Armstrong
Animal Magnetism - Jill Shalvis
Crazy for Love - Victoria Dahl
Kink - Saskia Walker/Sasha White
So Sensitive - Anne Rainey
Dark Taste of Rapture - Gena Showalter
The Darkest Secret - Gena Showalter
Vampire in Atlantis - Alyssa Day
Vampire Dragon - Annette Blair
Captive Spirit - Anna Windsor
Chosen by Blood - Virna DePaul
Rebel - Zoe Archer
Stranger - Zoe Archer
A Taste of Desire - Beverley Kendall
Mistress by Midnight - Maggie Robinson
To Desire a Devil - Elizabeth Hoyt
To Tame a Dangerous Lord - Nicole Jordan

Digital TBR Next
Driven - Jayne Rylon (reread)
Shifting Gears - Jayne Rylon
Beg Me - Shiloh Walker
Tempt Me - Shiloh Walker
Jazz Baby - Lorelie Brown
Playboy Prankster - Pamela Britton
Just Like That - Erin Nicholas
Sweet Inspiration - Penny Watson
Breathe - Donna Alward
My Gigolo - Molly Burkhart
Scent of Persuason - Nikki Duncan

Blog Archive