January 31, 2008
4:21 PM
|
Edit Post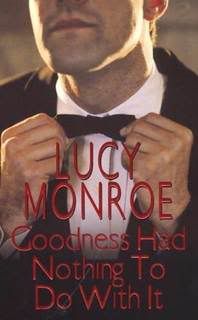 SURPRISE, SUPRISE
The last woman business consultant Marcus Danvers expects to find at Kline Electronics is Veronica Richards. He's supposed to be rooting out a corporate spy, not rehashing an old love affair—with the woman who sold out the company they both used to work for and then took off without so much as a kiss goodbye. All the clues point to Ronnie as the firm's newest mole, which means he'll have to spend time with the stubbornly reticent—and mouthwateringly sexy—woman he hasn't been able to forget, and uncover every last thing she has to hide…

FANCY SEEING YOU HERE
It's just Ronnie's luck. The one man she'd hoped never to see again is suddenly everywhere she looks—and taking up a starring role in her daydreams, too. Remembering the passion she and Marcus once shared certainly isn't going to help, though, not when she has so many secrets, and no explanation for the way she left him eighteen months ago—or at least not one he'll want to hear. The problem is, when Marcus is around all her good intentions go up in smoke…
Veronica Richards (Ronnie) is a young woman with the responsibility of raising her teenage sister after their parents die in an accident. Everything in her life falls apart when she has to make decisions no young woman must have to in her early twenties and this causes her to lose the only man she has ever loved: Marcus Danvers. She's betrayed not only the company they both worked for but also his trust and feelings. Now after almost two years they meet again when Marcus has to smoke out a corporate spy at the company she works for never thinking she would see Marcus ever again. Ronnie being a logical suspect brings them together and Ronnie knows it's only a matter of time before everything she run away from almost two years ago is not going to go away before she deals with them and Marcus.

Ronnie and Marcus' story started in Book 1 of the CIS Duo (Come Up and See Me Sometime). The little hints in that book certainly had me longing for their own book just to know just what exactly was the deal with Ronnie. And after a fairly long search I was finally able to get it in my hands and it didn't disappoint me at all.
The motivation and reasons for Ronnie's actions in book 1 is finally given. And they were more than satisfactory.

Marcus and Ronnie are believable and very recognizable characters. The focus is mainly on the relationship between the main characters and less on the plot of finding the corporate spy, although this is indissoluble tied to the development of their relationship.

Marcus is a hero you must like right from the beginning. It does help that he sounds utterly delectable but he's also honest, straight to the point and hiding his true feelings under a mask of humor and male self-assurance on the border of arrogance. But he was never able to forget the woman who left him without a word of goodbye after betraying him and his business partner. The only woman ever to get to him.
Ronnie is a heroine who has done some things you disapprove but at the same time you understand her motivation for her actions. Her insecurity and the setbacks she has had early in life make her doubt his feelings toward her and this influences her decisions. She does have a "pot calling the kettle black"-moment that had me raising my eyebrows but that didn't affect my overall opinion of her. She still was an appealing character and perfect match for Marcus.

The secondary characters were as appealing as the main characters but again Monroe's talent lets her give them complementing and significant roles without taking the attention away from Ronnie and Marcus.

The sexual tension between them builds up gradually, spiraling towards great sensual heights in some exquisite love scenes and a grand finale in the second part of the book. In general I liked the second part of the book the best. That's were it got interesting when they both finally open up to each other and trust each other with everything they were keeping from one another.
But again this was a book appealing to your emotions and your heart. Lucy Monroe has a way with combining the themes of love and trust with a suspense plot that make you want to keep reading in spite of the fact that the book wasn't fast-paced. You just involuntarily get pulled in into the relationship of two people who have secrets and issues and the way they eventually come to terms with them and each other, finding love and trust.

Both books of the CIS duo are equally well written and able to move you even though they both have a different touch and feel. I liked book 1 a tiny bit better but that was because it pulled my heartstrings just a bit more and I think the fact of knowing so much already about Marcus and Ronnie left little surprises to be revealed at the end. You as the reader already know how it is going to end. I prefer being left a little in the dark so I can be as stunned and surprised as the characters in the book. In book 1 this was the case but in this book I missed that feeling.

Nonetheless for me as a reader with great appreciation for the contemporary genre Lucy Monroe is a must-read. Her illustrative, vivid and simple writing style makes you feel like you watching a television series instead of reading a book. If you're looking for an emotional but recognizable and easy to relate to contemporary romance you will most definitely find it these CIS books.

Nice to meet you!
Pearl

Netherlands
39, married to my real life romance hero, addicted to TV shows, reading romance novels and Twitter. I'm a chronic (e)book hoarder and my absolute favorite genres within romance fiction are contemporary romance and romantic suspense, but I don't shy away from historical, paranormal or erotic romance either. Even the occasional (urban) fantasy romance, futuristic and sci fi romance may make it to my Mount TBR. This is my corner of the world wide web where I let you know what books I'm hoarding, reading and reviewing.
View my complete profile

My Book-Providers
Reviews by Rating

Reviews by Genre
Reviews by Type

Reviews by Publisher

Fellow Bloggers


GR Reading Challenge
Pearl
has read 10 books toward her goal of 50 books.

On My TBR Shelf
Unforgivable - Laura Griffin
Snapped - Laura Griffin
Darkness at Dawn - Elizabeth Jennings
Sizzle and Burn - Alexis Grant
No Mercy - Lori Armstrong
Animal Magnetism - Jill Shalvis
Crazy for Love - Victoria Dahl
Kink - Saskia Walker/Sasha White
So Sensitive - Anne Rainey
Dark Taste of Rapture - Gena Showalter
The Darkest Secret - Gena Showalter
Vampire in Atlantis - Alyssa Day
Vampire Dragon - Annette Blair
Captive Spirit - Anna Windsor
Chosen by Blood - Virna DePaul
Rebel - Zoe Archer
Stranger - Zoe Archer
A Taste of Desire - Beverley Kendall
Mistress by Midnight - Maggie Robinson
To Desire a Devil - Elizabeth Hoyt
To Tame a Dangerous Lord - Nicole Jordan

Digital TBR Next
Driven - Jayne Rylon (reread)
Shifting Gears - Jayne Rylon
Beg Me - Shiloh Walker
Tempt Me - Shiloh Walker
Jazz Baby - Lorelie Brown
Playboy Prankster - Pamela Britton
Just Like That - Erin Nicholas
Sweet Inspiration - Penny Watson
Breathe - Donna Alward
My Gigolo - Molly Burkhart
Scent of Persuason - Nikki Duncan

Blog Archive