January 23, 2008
10:05 PM
|
Edit Post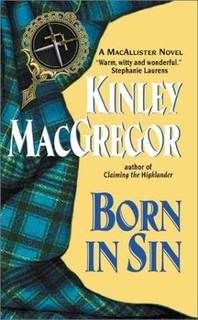 A sinful passion
Though few can equal her skill with the sword, Caledonia MacNeely fights an unfamiliar shiver when she is offered in marriage to the infamous "Lord Sin." Though Callie fears this mysterious, unreachable stranger -less for the dark whispers that damn him than for the heat of his touch- she is under the order of the English king. And with the fate of her troubled clan hanging in the balance, she has little recourse.

Banished as a child, "Sin" MacAllister learned to despise his Scottish heritage. Yet now, to unmask King Henry's foes, he must return to the hated Highlands -wedded to a bewitching lass whose flaming red hair match the fire of her spirit. A cold, hard heart has always been the key to Sin's survival, but this beauty awakens in him a perilous need he's never known.
A forced marriage between Sin MacAllister, illegitimate and unloved son, and Callie MacNeely, hostage of the English King Henry marks the end of a lifetime of him being spurned, rejected and used.
Will his ice-cold heart melt under her kindness and love or will his word and loyalty cause him to lose the very thing he's yearned deep inside for all his life?

What a wonderful book delivered by Kinley MacGregor. My heart broke for Sin, I laughed with Sin, I cried for Sin and ultimately I fell in love with Sin.
He intrigued me in "Claiming the Highlander" but never could I have imagined the way he moved me from the very first page of the prologue in his own book.
A few pages into chapter one I was praying for his happily ever after.
His story grabbed me from the very first word until the very last, stirring several strong different and conflicting emotions: One moment I was (almost) in tears for Sin and his suffering, another moment I was cheering on Callie's fierceness and the next moment I was swept away by their passion.

Sin is deliciously arrogant but still a man of his word and an honorable man. He is strong and powerful, a force to be reckoned with. He possesses a dry wit that managed to plaster numerous smiles on my face while reading the book. I really enjoyed the bantering between him and Simon, him and Callie and him and his brothers.

Sin broke my heart with his yearning for acceptance and love, his yearning to belong. He is lethal and cold but he's also a man who -although he thinks he can't- can be gentle and tender given the right incentive. This incentive is Callie. Brave, fearless, stubborn, outspoken, kind and loyal Callie. He has never known love or compassion and doesn't know how to deal with Callie's kindness and care. She represents something he has never known. Someone who is kind to him and not afraid of him. She is also his weakness, a weakness he eventually embraces after first uselessly trying to fight it.

The last few chapters were breathtaking and heartbreaking. I cried my eyes out when Sin was presented with the dilemma of choosing between his word and loyalty to Henry and his love for Callie and the way he tried to solve his dilemma. I can tell you I tear up a lot reading books but crying my eyes out is something that only happens when my emotions are really rattled.

Written with humor and flair I really enjoyed this MacAllister-novel. Combining light humor with intense primary characters with deep emotions and adding a collection of wonderful, compelling secondary characters who are endearing and funny and who complement both story and main characters makes it the best in the series so far for me.
MacGregor captured my attention and kept it in a firm hold with a delightful and heart-wrenching story of love, honor, passion and loyalty.
Quotes:
Sin to one of Henry's knights: " My idea of amusement is disemboweling those who contradict and annoy me. What say you that you and I have a bit of fun?"

She looked like a goddess standing there. A breathtaking angel come to save his rotten soul.
Rating: 10 out of 10
Nice to meet you!
Pearl

Netherlands
39, married to my real life romance hero, addicted to TV shows, reading romance novels and Twitter. I'm a chronic (e)book hoarder and my absolute favorite genres within romance fiction are contemporary romance and romantic suspense, but I don't shy away from historical, paranormal or erotic romance either. Even the occasional (urban) fantasy romance, futuristic and sci fi romance may make it to my Mount TBR. This is my corner of the world wide web where I let you know what books I'm hoarding, reading and reviewing.
View my complete profile

My Book-Providers
Reviews by Rating

Reviews by Genre
Reviews by Type

Reviews by Publisher

Fellow Bloggers


GR Reading Challenge
Pearl
has read 10 books toward her goal of 50 books.

On My TBR Shelf
Unforgivable - Laura Griffin
Snapped - Laura Griffin
Darkness at Dawn - Elizabeth Jennings
Sizzle and Burn - Alexis Grant
No Mercy - Lori Armstrong
Animal Magnetism - Jill Shalvis
Crazy for Love - Victoria Dahl
Kink - Saskia Walker/Sasha White
So Sensitive - Anne Rainey
Dark Taste of Rapture - Gena Showalter
The Darkest Secret - Gena Showalter
Vampire in Atlantis - Alyssa Day
Vampire Dragon - Annette Blair
Captive Spirit - Anna Windsor
Chosen by Blood - Virna DePaul
Rebel - Zoe Archer
Stranger - Zoe Archer
A Taste of Desire - Beverley Kendall
Mistress by Midnight - Maggie Robinson
To Desire a Devil - Elizabeth Hoyt
To Tame a Dangerous Lord - Nicole Jordan

Digital TBR Next
Driven - Jayne Rylon (reread)
Shifting Gears - Jayne Rylon
Beg Me - Shiloh Walker
Tempt Me - Shiloh Walker
Jazz Baby - Lorelie Brown
Playboy Prankster - Pamela Britton
Just Like That - Erin Nicholas
Sweet Inspiration - Penny Watson
Breathe - Donna Alward
My Gigolo - Molly Burkhart
Scent of Persuason - Nikki Duncan

Blog Archive