January 29, 2008
4:14 PM
|
Edit Post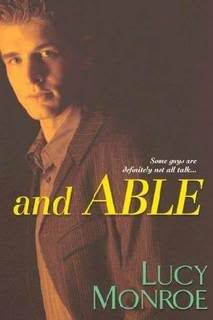 They're the good guys fighting the bad guys. They'll get the job done—if the price is right and so is the cause. Meet three sexy men who individually are READY, WILLING, and ABLE to go the distance—and together, are unstoppable...

Claire Sharp trusts few people and relies on no one. But after her life is threatened, ex-mercenary Brett Adams blows into her self-contained world, full of southern charm, rugged good looks, and enough sexual experience to write a how-to manual...experience he makes it clear he'd like to use on Claire. She wants help fighting the bad guys, but she's not about to fall into Brett's bed. For one thing, the guy has a no-commitment clause better than most big shot attorneys and for another, despite her response to his too sensual kisses, in her experience sex isn't exactly fireworks and brass bands. Definitely not worth getting all excited over...

Brett plans to prove her wrong. He's never felt such a powerful combination of lust and friendship with a woman. He'll give her a white-hot pleasure like nothing she's ever known and she'll realize that some things in life are worth taking the risk for. When the threat to Claire grows dangerously close, pitting them against deadly odds, Brett will do whatever it takes to save her. Because Claire Sharp has just found herself a man who's ready to bring it on, willing to do what it takes, and able to go the distance…
They say three is a charm...and a charm Hotwire definitely was. Being a sucker for southern charm I must say Lucy Monroe saved the best for last in this trilogy. I was anticipating his story from the first time he appeared in book 1 and by the time he unintentionally showed his affection for Claire in the second book I was not just anticipating anymore but more like craving. I could never have guessed it would be this good, he turned out to be much more than meets the eye.

We met Hotwire in "Ready" as one of Wolf's fellow mercenaries and friend. He is a wiz with computers, charming, polite and honorable but that's all on the surface, underneath he is a toughened mercenary ready to take on any enemy to cross his path or the path of the ones he holds dear. He has feelings for Claire but because of things in the past he can't offer her anything more than his friendship.
Claire first made her appearance in "Willing" as Josie's roommate and friend. She is smart, independent and stubborn and she has a crush on Hotwire but he's warned her that he's not looking for any type of commitment so she keeps her distance.
A threat on Claire's life spirals into both a very imaginative plot and the realization that there is much more between Claire and Hotwire than friendship.
The plot spins off subplots that all roll into one final great conclusion and the relationship between the main characters takes a very surprising turn that blows them both of their feet.

Claire and Hotwire are well-developed main characters, each with their own personal tragedies in their pasts to motivate their views on life, love and passion. I do think Hotwire went a little overboard at one point with his chivalry. It was nice to see him take responsibility for his actions but his views on marriage were a bit archaic and he wasn't seeing that. Luckily Claire was smart enough to show him he was overreacting a bit. Showing her determination and independence she formed the balance I needed to keep Hotwire the hero I loved from the start.
The secondary characters were well-dosed into the story and very complementary to Hotwire and Claire, of course some of them were the main characters of book 1 and 2: Lise, Wolf, Josie and Nitro and they were all a true contribution to Claire and Hotwire's story, giving them center stage to do their thing.
My favorite scene was the one where Hotwire realizes, with a little help from Wolf and Nitro, that he does love Claire. It was a great scene and a real trademark for Lucy Monroe's style: emotional, intense but still spiked with humor and wit.

Again Lucy Monroe has written a delicious combination of passionate romance and another amazing suspense plot. She is very good at mixing everyday things as studying for finals with suspense and romance. Her writing style is fluent and although not fast-paced in this book she kept me turning the pages anxious to know how everything was going to fall in place. Her characters are very easy to relate to, compelling and touching. They have depth and through their dialogues and thoughts you really get to know them and their feelings. Her love scenes are formidable and an addition to the already intense emotional love story and they are the cherries on the pie. The first kissing scene is the appetizer for a delicious meal of passionate love scenes throughout the book. Beautifully written and very erotic in a tasteful way. There was a pool scene that made me happy I was reading this book in the middle of the winter because in the summer I would have combusted into flames...

Overall it's a great trilogy where the total turns out to be so much more that the sum of the parts. Each book has it's own perfectly balanced and paired hero and heroine and it's own unique suspense plot. For me this trilogy is a true keeper in the genre of romantic suspense with the lovely and strong heroines and the delightful alpha heroes topped of with the capability of combining a thrilling plot with intense emotions.
Quotes:
Hotwire and Claire after their first kiss:
" So, no more soul kisses"
"That felt more like a groping, marauder kiss to me."
" I do not grope." Hotwire looked truly offended
"So the fingers I felt on my behind were a spectral phenomenon?" she mocked

Nice to meet you!
Pearl

Netherlands
39, married to my real life romance hero, addicted to TV shows, reading romance novels and Twitter. I'm a chronic (e)book hoarder and my absolute favorite genres within romance fiction are contemporary romance and romantic suspense, but I don't shy away from historical, paranormal or erotic romance either. Even the occasional (urban) fantasy romance, futuristic and sci fi romance may make it to my Mount TBR. This is my corner of the world wide web where I let you know what books I'm hoarding, reading and reviewing.
View my complete profile

My Book-Providers
Reviews by Rating

Reviews by Genre
Reviews by Type

Reviews by Publisher

Fellow Bloggers


GR Reading Challenge
Pearl
has read 10 books toward her goal of 50 books.

On My TBR Shelf
Unforgivable - Laura Griffin
Snapped - Laura Griffin
Darkness at Dawn - Elizabeth Jennings
Sizzle and Burn - Alexis Grant
No Mercy - Lori Armstrong
Animal Magnetism - Jill Shalvis
Crazy for Love - Victoria Dahl
Kink - Saskia Walker/Sasha White
So Sensitive - Anne Rainey
Dark Taste of Rapture - Gena Showalter
The Darkest Secret - Gena Showalter
Vampire in Atlantis - Alyssa Day
Vampire Dragon - Annette Blair
Captive Spirit - Anna Windsor
Chosen by Blood - Virna DePaul
Rebel - Zoe Archer
Stranger - Zoe Archer
A Taste of Desire - Beverley Kendall
Mistress by Midnight - Maggie Robinson
To Desire a Devil - Elizabeth Hoyt
To Tame a Dangerous Lord - Nicole Jordan

Digital TBR Next
Driven - Jayne Rylon (reread)
Shifting Gears - Jayne Rylon
Beg Me - Shiloh Walker
Tempt Me - Shiloh Walker
Jazz Baby - Lorelie Brown
Playboy Prankster - Pamela Britton
Just Like That - Erin Nicholas
Sweet Inspiration - Penny Watson
Breathe - Donna Alward
My Gigolo - Molly Burkhart
Scent of Persuason - Nikki Duncan

Blog Archive