January 18, 2008
10:35 PM
|
Edit Post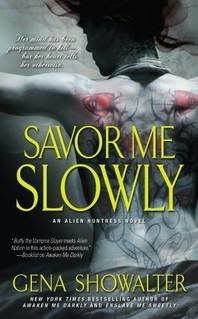 Mishka Le'Ace was created to be an undercover operative . . . literally. Her beautiful body has been mechanically augmented to give her superhuman strength -- strength she's going to need. Her latest mission sends her to rescue Alien Investigation and Removal agent Jaxon Tremain from torture and death. With him, she discovers a passion unlike any other. A passion she was forbidden to know. . .

From the moment they meet in a darkened cell, Jaxon craves her touch. But the machine half of Le'Ace forces her to do things she doesn't always want to do. Even betray him . . . and ultimately destroy him. Now Jaxon must battle the man controlling Le'Ace and even Le'Ace herself to at last claim the woman he's come to love.
This book took me on a ride that was fast and exciting, touching and sensual. If you're looking for a futuristic, delicious, heartbreaking story, look no further. With this series Gena Showalter has created a fascinating world of aliens and humans, adding an android to the mix in this third installment.

Jaxon Tremain is an agent with the Alien Investigation and Removal agency (A.I.R.). Investigating a new race of aliens called the Schön, who have come to earth infecting humans with a virus that turns them into cannibals, he's captured and tortured by another race of aliens whose planet was destroyed by the Schön.
Jaxon found out the hard way a long time ago that every action has consequences so he has learned to hide his wild side under a mask of control, reservation and perfect manners. Until he meets Mishka, she stirs something inside him he'd thought well hidden and with her bit by bit he starts showing his true self. He tries to deny with all his might that he's falling for Mishka but he's fighting a lost battle.

Mishka Le 'Ace, an android, part machine, part animal, part alien, part human is sent in to rescue him.
Mishka is a fighting and killing machine, to be commanded by whomever owns her. She never lets anyone come close and never allows herself to care about people because sooner or later she will be ordered to betray those same people and do something to hurt them. Until she meets Jaxon, he shows her there is more than orders and also that love will not be overruled by commands or ownership. From the moment she gets to know Jaxon she struggles with the choice between her feelings for him and the fact that her every action is controlled by the man who owns her. The choice between the man she loves and admires and the obedience to orders that are programmed into her system. The choice between being a woman or a machine. She believes she has no freedom of choice but Jaxon and the love he has for her make her realize that she does have free choice.

This wonderful story of duty, love, sacrifice, fear, free choice, love and loyalty kicks right into gear from the very first page with instant attraction between Jaxon and Mishka, an action-packed plot, a delectable alpha-male hero and an utterly strong and capable heroine who kicks butt like no one else.

The secondary characters are strong and complimentary to the plot and this is logical since some of them are main characters in the previous books. And off course Devyn, king of Targon also makes an appearance...He establishes once again his status as a major secondary character with his cockiness, selfconfidence, his one-track mind and his dry sense of humour...I'm still hoping he'll get his own book some day.

Contrary to the first two books in this series this book is not written in the first person but in the third person. I was already starting to get used to the first person but personally I think Showalter hit the jackpot writing this one in the third person and I understand why she stepped away from the first person perspective for this book. For me it wouldn't have worked as well as it did now because to get the full scope of the story and the plot you need more than one person's perspective. So not only that of Mishka was neccesary to make the storylines work but also those of Jaxon, Dallas and Mia. Adding their points of view were what gave the book the extra juice I missed in the previous books. But I do need to mention that the previous books did a marvellous job of setting the stage for this tremendously well-written third book. It all came together in a way that was enticing, compelling and not to mention so fast-paced it kept me turning the pages like a madwoman!

The plot is so well written it kept me on edge right until the end, Showalter did a great job of building up the tension, unraveling bits and pieces at a time up to an all-consuming, unexpected climax that leaves you wondering how she comes up with these plots. Her skills at storytelling are amazing both, emotionally as well as the action; the scenes where Jaxon defends Mishka and stands up for her against his fellow agents and friends, who see her as a coldhearted killer, are heartwarming and made me like him even more than I already did.
And the love-scenes were so hot, they practically burned the pages and they certainly had me burning...
But also the fight sequences were truly mindblowing! I already thought this reading the previous books, but the ones in this book were top notch, being topped of by the fight between Mishka and Mia. It was like seeing it on a moviescreen with the way Showalter described it so vividly it just came of the pages.

Gena Showalter has a knack for very satisfying plots and appealing characters and manages to balance plot, romance and characters into an exquisitely balanced and enchanting mix keeping me reading page after page to find out what would happen next. It felt like being on a speeding train, moving fast on the tracks, never slowing down and forcing you to hold on tight and ride it to the end. At that end reaching the final destination with nothing but a feeling of utter satisfaction.
If she wasn't on my auto-buy list already she would certainly be put on it now.
Quotes:
Mia and Jaxon:
"You and Dallas should kiss and make up," Mia suggested. "With tongue. I mean, really. It's the least you can do."
"When he tells me what I want to know, I'll plant a fat wet one right on his mouth."
She rolled her eyes. "Liar. Not nice to get my hopes up like that."

Devyn when Mishka and Mia engage in a fight:
"Anyone else aroused by this?" the one called Devyn asked with a laugh.
"You need to shut it, you pervert," Eden grumbled, but there was affection in her tone.

Nice to meet you!
Pearl

Netherlands
39, married to my real life romance hero, addicted to TV shows, reading romance novels and Twitter. I'm a chronic (e)book hoarder and my absolute favorite genres within romance fiction are contemporary romance and romantic suspense, but I don't shy away from historical, paranormal or erotic romance either. Even the occasional (urban) fantasy romance, futuristic and sci fi romance may make it to my Mount TBR. This is my corner of the world wide web where I let you know what books I'm hoarding, reading and reviewing.
View my complete profile

My Book-Providers
Reviews by Rating

Reviews by Genre
Reviews by Type

Reviews by Publisher

Fellow Bloggers


GR Reading Challenge
Pearl
has read 10 books toward her goal of 50 books.

On My TBR Shelf
Unforgivable - Laura Griffin
Snapped - Laura Griffin
Darkness at Dawn - Elizabeth Jennings
Sizzle and Burn - Alexis Grant
No Mercy - Lori Armstrong
Animal Magnetism - Jill Shalvis
Crazy for Love - Victoria Dahl
Kink - Saskia Walker/Sasha White
So Sensitive - Anne Rainey
Dark Taste of Rapture - Gena Showalter
The Darkest Secret - Gena Showalter
Vampire in Atlantis - Alyssa Day
Vampire Dragon - Annette Blair
Captive Spirit - Anna Windsor
Chosen by Blood - Virna DePaul
Rebel - Zoe Archer
Stranger - Zoe Archer
A Taste of Desire - Beverley Kendall
Mistress by Midnight - Maggie Robinson
To Desire a Devil - Elizabeth Hoyt
To Tame a Dangerous Lord - Nicole Jordan

Digital TBR Next
Driven - Jayne Rylon (reread)
Shifting Gears - Jayne Rylon
Beg Me - Shiloh Walker
Tempt Me - Shiloh Walker
Jazz Baby - Lorelie Brown
Playboy Prankster - Pamela Britton
Just Like That - Erin Nicholas
Sweet Inspiration - Penny Watson
Breathe - Donna Alward
My Gigolo - Molly Burkhart
Scent of Persuason - Nikki Duncan

Blog Archive