January 26, 2008
10:19 PM
|
Edit Post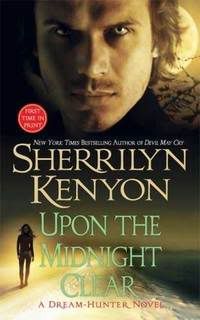 EVER THINK SCROOGE HAD IT RIGHT BEFORE THE GHOSTS RUINED HIS LIFE? MEET AIDAN CONNOR
At one time he was a world-renowned celebrity who gave freely of himself and his money without wanting anything in return...until those around him took without asking. Now Aidan wants nothing to do with the world -or anyone who's part of it.

WHEN A STRANGER APPEARS ON HIS DOORSTEP, AIDAN KNOWS HE'S SEEN HER BEFORE...IN HIS DREAMS
Born on Olympus as a goddess, Leta knows nothing of the human world. But a ruthless enemy has driven her from the world of dreams and into the home of the only man who can help her: Aidan. Her immortal powers are derived from human emotions -and his anger is just the fuel she needs to defend herself...

ONE COLD WINTER'S NIGHT WILL CHANGE THEIR LIVES FOREVER...
Trapped together in a brutal winter storm, Aidan and Leta must turn to the only power capable of saving them -or destroying them both: trust.
Well, I'm still reeling after reading the last page of this book and I'm sorry to say not reeling in a positive way but more with disappointment and indignation.
This novella -I seriously can't call it a book being 240 pages in a very large font- does not deserve the Kenyon name to it.
The ingredients were all there:
Aidan: the famous movie star and disappointed by his family's jealousy and resentment, Leta: a goddess bent saving Aidan's life from Dolor: the bad-ass god of Pain summoned by Aidan's revengeful brother and who still has a bone to pick with Leta. But unfortunately it never made good on the promise by mixing these ingredients into a story able to blow me away.

It read like it was written in a rush, trying to stuff as much information as possible into as little pages as possible.
Aidan and Leta were promising characters but I think they deserved more than this anthology-like story. I would have liked a bit more of backgrounds for them instead of a full-blown romance in the time span of 24 hours. Why the Christmas theme was brought into the mix? I really don't know. It could easily have done without it in my opinion so that there would be more room for character development. I certainly had ambivalent feelings towards their characters, especially Aidan's, one moment I could relate to his feelings but the next I felt he was whining like a small child and I really wanted him to move on. I was getting tired of the "oh I'm so good and the whole world is mean and bad"-crap and it really started to annoy me only a few chapters into the story.
It's really not a good sign when a secondary character with very little appearances is much more appealing to you than both hero and heroine. But this has happened to me twice in a row with Kenyon (Devil May Cry and this novella). In this one it was Deimos who intrigued me to a point I was hoping he would come back every next scene.
Even the love scene didn't have that Kenyon-vibe. It felt rushed and dispassionate and certainly not what I'm used to in Kenyon's books.
What I did like of Aidan and Leta was their interaction, their sarcastic banter. This Kenyon trademark is what saved the novella from really being burned to the ground in my eyes

Still something was off, it didn't give me the emotional rush I had reading Dream Hunter. It lacked intensity and excitement I did experience reading the early Dark-Hunter novels. I only caught a glimpse of these feelings in the last few chapters where Aidan. Leta and Deimos engage Dolor and Donnie in battle and where Aidan finally realizes he has to stop whining. But by then it was too late to really save the book for me. The negative feelings couldn't be completely redeemed by the last few positive chapters.

Kenyon has been on my auto-buy list ever since I read Fantasy Lover for the first time but if Dream Chaser (Xypher's story) doesn't reach the level the early Dark-Hunter books had or that of The Dream-Hunter this is something definitely worth reconsidering.

Upon The Midnight Clear was marketed as a gift from Kenyon to her readers and I know you aren't supposed to look a gift horse in the mouth but honestly this is a gift we could have done without. Especially when the gift is certainly not for free but costs about the same as regular paperbacks that aren't gifts.

Nice to meet you!
Pearl

Netherlands
39, married to my real life romance hero, addicted to TV shows, reading romance novels and Twitter. I'm a chronic (e)book hoarder and my absolute favorite genres within romance fiction are contemporary romance and romantic suspense, but I don't shy away from historical, paranormal or erotic romance either. Even the occasional (urban) fantasy romance, futuristic and sci fi romance may make it to my Mount TBR. This is my corner of the world wide web where I let you know what books I'm hoarding, reading and reviewing.
View my complete profile

My Book-Providers
Reviews by Rating

Reviews by Genre
Reviews by Type

Reviews by Publisher

Fellow Bloggers


GR Reading Challenge
Pearl
has read 10 books toward her goal of 50 books.

On My TBR Shelf
Unforgivable - Laura Griffin
Snapped - Laura Griffin
Darkness at Dawn - Elizabeth Jennings
Sizzle and Burn - Alexis Grant
No Mercy - Lori Armstrong
Animal Magnetism - Jill Shalvis
Crazy for Love - Victoria Dahl
Kink - Saskia Walker/Sasha White
So Sensitive - Anne Rainey
Dark Taste of Rapture - Gena Showalter
The Darkest Secret - Gena Showalter
Vampire in Atlantis - Alyssa Day
Vampire Dragon - Annette Blair
Captive Spirit - Anna Windsor
Chosen by Blood - Virna DePaul
Rebel - Zoe Archer
Stranger - Zoe Archer
A Taste of Desire - Beverley Kendall
Mistress by Midnight - Maggie Robinson
To Desire a Devil - Elizabeth Hoyt
To Tame a Dangerous Lord - Nicole Jordan

Digital TBR Next
Driven - Jayne Rylon (reread)
Shifting Gears - Jayne Rylon
Beg Me - Shiloh Walker
Tempt Me - Shiloh Walker
Jazz Baby - Lorelie Brown
Playboy Prankster - Pamela Britton
Just Like That - Erin Nicholas
Sweet Inspiration - Penny Watson
Breathe - Donna Alward
My Gigolo - Molly Burkhart
Scent of Persuason - Nikki Duncan

Blog Archive