September 28, 2008
8:35 AM
|
Edit Post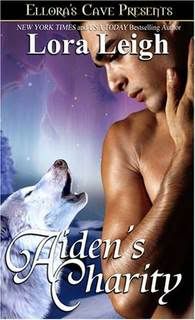 Back Cover:
The forces of survival and destruction swirl in the darkest corners of men's minds. The nature of the beast cannot be harnessed, and survival is the purest of all instincts. Survival of the species itself goes soul deep.
But can the human heart accept and adapt as easily? Can Charity bestow the love and the acceptance that has always been a part of her, to the man whose very survival depended on the hardening of his heart, of his soul? And can Aiden maintain that cruelty now, in the face of the sacrifices she made? Only time and nature can tell…
Aiden has fought not to give the depraved scientist who created him, what they wanted, his ability to breed a child they can mold better than the original Wolf Breeds. With sheer willpower and self-control he has managed to feign impotence, even given powerful aphrodisiacs, so he wouldn't be able to service the women brought to him. He was succeeding until a new Lab tech starts in the Lab where he was created. She is his mate and he is barely able to hide and suppress his reactions to her. What he assumes is her betrayal causes a deep-felt hatred in him and he vows she'll pay for it, even after 6 years.
But Charity had no evil motives for her actions, her aim was to save Aiden and help the Breeds and she paid dearly for it. What she went through after Aiden escaped and left her behind in the Labs, no one should go through, but she has survived and is ready to confront the Breed mate who she loves and hates at the same time. But this is the least of their worries. The Council is after Charity and they'll do anything to get her back.

Though Charity seems timid she is strong and stubborn and when provoked she can lash out as fierce as any other.
Charity has a scientific mind and is determined to approach her attraction to Aiden just like that. She believes her need for him comes from the drugs she was forced to take and that this need is just a virus that can be diminished and even cured in a scientific way.
It's up to Aiden to convince her otherwise and Aiden has a lot of anger towards Charity in him but the more time he spends with her the less his anger becomes and the more he is determined to prove to her that there is no cure for their mating and they belong together. She triggers an unknown tenderness in him, something he thought he was incapable of.

Charity and Aiden feed and build up their mutual anger and unwanted attraction towards each other to an intensity that's impossible to ignore and their dialogues cause enough sparks to singe the pages. Charity taunts and tempts Aiden almost to insanity and it's amusing to see how Aiden deals with it and how long he can resist her tempting defiance.

The supporting characters are mainly the Wolf Breed couples from former installments but there are some new characters added to the mix, one of them is Dr. Nicole "Nikki" Armani, she's a doctor helping the Wolf Breeds. To say the least she is an interesting character and I hope she'll star in her own story someday. I see lots of potential and fireworks if she's paired with an alpha Breed.

In the previous book a new Breed species is introduced, one that's very intriguing and in this book a bit more information is disclosed on them. I really hope Lora Leigh will write their stories, starting with the elusive and mysterious Keegan.

I wasn't fond of the Wolf Breeds stories with the exception of ELIZABETH'S WOLF but with this one Lora Leigh has again created a story that's worthy of my praise. The twists and turns in the plot are surprising and in hind side were beautifully set up in previous Wolf Breed installments in this series. But in this one I found the fireworks and intensity I have grown used to in the Breeds series and I was longing for in the Wolf Breed installments.

She does a great job of building up the sexual tension between Aiden and Charity and providing a satisfying climax to round it off. This is what I missed in the other Wolf Breeds. There was no build-up; they went straight for the bottom of the barrel right away, leaving me with a feeling of dissatisfaction.

I'm very glad with AIDEN'S CHARITY this has been rectified, proving that Wolves can make this reader's heart pound in anticipation just as hard as the Felines.
Again there are more titillating tidbits of information on the Mating Heat and the future of the Breeds, especially where the Wolf Breeds are concerned.
Of course Lora Leigh's tempting and addiction-feeding lure is present in this book too: she reveals small portions of information surrounding the Breeds that make you eager to know more and she introduces future main characters with just enough information to spike curiosity and anticipation to a high.

The erotic scenes, characters and plot were very well balanced. Neither takes precedence over the other. Nonetheless the way Lora Leigh describes the erotic scenes are imcomparable with other erotica writers, she knows how to describe actions and emotions so explicitly and vividly, the images and sensations form automatically in your mind.

The battle between the Council and the Breeds is threatening to become a full-blown war and Lora Leigh has managed to pull me back into the Wolf Breeds world with a great story.
Quotes:
As though her body had instinctively recognized its sexual master, it began to hum in joy. A joy her mind rejected, the intellectual part of her aware that she may have well escaped the physical pain, but the emotional agony to come could well be worse.

She wouldn't have believed lust could have its own unique flavor, but Aiden's did. It tasted of a summer thunderstorm, quenching her thirst for his passion but only driving her hunger for his touch higher. The taste filled her, intoxicated her, made her desperate for more. It made her as wild as his taste.

Nice to meet you!
Pearl

Netherlands
39, married to my real life romance hero, addicted to TV shows, reading romance novels and Twitter. I'm a chronic (e)book hoarder and my absolute favorite genres within romance fiction are contemporary romance and romantic suspense, but I don't shy away from historical, paranormal or erotic romance either. Even the occasional (urban) fantasy romance, futuristic and sci fi romance may make it to my Mount TBR. This is my corner of the world wide web where I let you know what books I'm hoarding, reading and reviewing.
View my complete profile

My Book-Providers
Reviews by Rating

Reviews by Genre
Reviews by Type

Reviews by Publisher

Fellow Bloggers


GR Reading Challenge
Pearl
has read 10 books toward her goal of 50 books.

On My TBR Shelf
Unforgivable - Laura Griffin
Snapped - Laura Griffin
Darkness at Dawn - Elizabeth Jennings
Sizzle and Burn - Alexis Grant
No Mercy - Lori Armstrong
Animal Magnetism - Jill Shalvis
Crazy for Love - Victoria Dahl
Kink - Saskia Walker/Sasha White
So Sensitive - Anne Rainey
Dark Taste of Rapture - Gena Showalter
The Darkest Secret - Gena Showalter
Vampire in Atlantis - Alyssa Day
Vampire Dragon - Annette Blair
Captive Spirit - Anna Windsor
Chosen by Blood - Virna DePaul
Rebel - Zoe Archer
Stranger - Zoe Archer
A Taste of Desire - Beverley Kendall
Mistress by Midnight - Maggie Robinson
To Desire a Devil - Elizabeth Hoyt
To Tame a Dangerous Lord - Nicole Jordan

Digital TBR Next
Driven - Jayne Rylon (reread)
Shifting Gears - Jayne Rylon
Beg Me - Shiloh Walker
Tempt Me - Shiloh Walker
Jazz Baby - Lorelie Brown
Playboy Prankster - Pamela Britton
Just Like That - Erin Nicholas
Sweet Inspiration - Penny Watson
Breathe - Donna Alward
My Gigolo - Molly Burkhart
Scent of Persuason - Nikki Duncan

Blog Archive