September 21, 2008
9:36 PM
|
Edit Post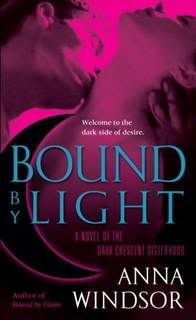 Back Cover:
As the broom end of her Sibyl triad, Merilee Alexander has the sacred duty as a warrior of taking out the trash. Lately, though, she's been a little overwhelmed: Manhattan is a mess. And her prophetic end-of-the-world nightmares aren't helped by the waking fantasies of love. Or the fact that the object of her affections, gorgeous Jake Lowell of NYPD's Occult Crimes Unit, is playing it so cool.

Actually, Jake wants Merilee desperately, every luscious inch of her. Still, he's holding back. He's got secrets. Dark, dangerous, demonic secrets. But as Jake and Merilee trawl the city's supernatural underbelly to out a demonic kingpin who, disguised as a charismatic leader, is amassing dark power, it's make-or-break time. For their lives, their love, and the world are about to be sucked into the undertow of the tides of an unstoppable evil.
Merilee Alexander is the air Sybil of her triad. She is the broom, the one who keeps an overall view of things and is the source of knowledge, research and archiving within the Sibyls. She has elemental control over wind and air and she has a bubbly personality, she's witty and intelligent but also accurate, thorough and confident. Though she may seem gentle and angelic because of her kindness, she is a fierce warrior, ready to do battle with anyone or anything threatening those she loves and cares about.

Jake Lowell is different from his brothers in a very elementary way. Where Nick and Creed are half-demons, Jake is an Astaroth, a full-blooded demon and he doesn't want to be. After he helped the Sybils and his brothers in their fight against an enemy of the Sibyls he turns to the Motherhouses to help him find a ritual to reverse the process that turned him into this demon he is forced to be, a ritual to make him permanently human.
The only Motherhouse that doesn't turn him down right away, saying it's impossible, is Motherhouse Greece but not even mother Anemone and her extensive archives and libraries can help him.

Jake is a smart and a take-charge kind of guy. He has a hard time accepting that he's a demon and not human and therefore not able to give Merilee what a he thinks she needs in a man. His desperation is palpable. It shows both his determination and his vulnerability. It's heartrending to see how he deals with his dilemma of being a demon and wanting to be human.
Merilee accepts all aspects of Jake quicker than Jake can. Her acceptance helps him overcome his fears and insecurities about himself.

Where in the other two books it was the triad sisters and Motherhouses fighting and disapproving the attraction between the Sybil and the (half) demon. In this one it's Jake. Mother Anemone of Motherhouse Greece actually approves and thinks he would be a good match for Merilee but he disagrees and doesn't want Merilee risking everything to be with him when he can't be everything he wants to be for her. Merilee luckily sets him straight early in the story.

Due to special circumstances Riana and Cynda aren't able to fully perform their triad duties so Merilee has to rely on the OCU, Andy and Jake for back up in the fight against evil in this book and if you thought evil was bad in the previous books, think again! The bond between the Sybils is still strong and very much present but the change in the dynamics gives a different vibe to the book compared to the previous two. A good one because with the triad not being able to work in full capacity it gives room for Merilee and Jake's relationship to develop in a very strong way and fitting their romance perfectly and effortlessly into the plot.

I couldn't wait to get my greedy hands on this third book of the series and my anticipation was met in a most satisfying way. Again Anna Windsor deepened and expanded her already astounding world filled with magic and intrigue. Voodoo gods and a very ancient evil demon now join the Sybils, demons and OCU-officers.
And again she created characters that have conquered an everlasting place in my book-loving heart. Again she gave me humor in different forms and in unexpected places: from brotherly teasing and sisterly banter in the midst of thrilling action to sarcastic self-views and witty intelligence in during heartfelt emotional moments.
Again the love scenes excel in quality over quantity. There aren't many hardcore love scenes but those that are there are magical, intense and erotic, exuding the mutual attraction between Jake and Merilee.

I'm probably repeating myself but the plotting is exquisite again. Storylines from different angles come together to explain mysteries and answer all questions.
Anna Windsor has a one-of-a-kind and unique way of setting up plotlines and bringing them together in a culmination that takes your breath away and almost makes your heart stop! I really didn't want this book to end because I knew it would be the end of something really, really good and who knows how long it will take until Anna Windsor will blow me away again with a story of these proportions. She has kept me enthralled, spell-bound and captivated throughout these three books with a perfect mix of characters, plot, action, romance, magic, humor and emotions. I went through the whole scope of grief, fear, doubt and pain but also laughter, trust, love and determination.

Just when I thought I'd seen it all in the previous two books I was confronted by a new kind of evil in the mix to embody the Legion, giving the plot some surprising twists I really didn't see coming. In this installment I discovered who (or what) was the driving force behind the Legion and its motivation comes down to the mother of motivations for evil: power and world domination, obtained by causing chaos and anarchy.
Cohesion runs both through each book separately as throughout the set of books. Plotlines that seemed completed in books 1 or 2 are deepened out in books 2 or 3, creating a coherent whole that's perfectly dosed and layered throughout all the books.

There's nothing she doesn't tackle the right way in both this book and the other books of this trilogy. Her writing is truly compelling and addictive. She kept me glued to the pages and totally absorbed in the story with another action-packed plot and a sensual and emotional love story.
For me there just aren't enough words to praise Anna Windsor's imagination and writing skills. She is one of the best I've come across since I've been reading in this genre and I hope she'll grace my bookshelves with many more books to come because I know I want more of this!
Quotes:
I want to taste you, his mind whispered to the beautiful woman he had once vowed never to touch. I want to take my time with each slow, delicious bite.

Jake demanded trust and surrender with each thrust of his tongue, his hips, and Merilee knew she would never be able to resist him. She wanted him so badly, and she didn't think the desire screaming and bellowing inside her would ever be satisfied.
Rating: 10 out of 10
Nice to meet you!
Pearl

Netherlands
39, married to my real life romance hero, addicted to TV shows, reading romance novels and Twitter. I'm a chronic (e)book hoarder and my absolute favorite genres within romance fiction are contemporary romance and romantic suspense, but I don't shy away from historical, paranormal or erotic romance either. Even the occasional (urban) fantasy romance, futuristic and sci fi romance may make it to my Mount TBR. This is my corner of the world wide web where I let you know what books I'm hoarding, reading and reviewing.
View my complete profile

My Book-Providers
Reviews by Rating

Reviews by Genre
Reviews by Type

Reviews by Publisher

Fellow Bloggers


GR Reading Challenge
Pearl
has read 10 books toward her goal of 50 books.

On My TBR Shelf
Unforgivable - Laura Griffin
Snapped - Laura Griffin
Darkness at Dawn - Elizabeth Jennings
Sizzle and Burn - Alexis Grant
No Mercy - Lori Armstrong
Animal Magnetism - Jill Shalvis
Crazy for Love - Victoria Dahl
Kink - Saskia Walker/Sasha White
So Sensitive - Anne Rainey
Dark Taste of Rapture - Gena Showalter
The Darkest Secret - Gena Showalter
Vampire in Atlantis - Alyssa Day
Vampire Dragon - Annette Blair
Captive Spirit - Anna Windsor
Chosen by Blood - Virna DePaul
Rebel - Zoe Archer
Stranger - Zoe Archer
A Taste of Desire - Beverley Kendall
Mistress by Midnight - Maggie Robinson
To Desire a Devil - Elizabeth Hoyt
To Tame a Dangerous Lord - Nicole Jordan

Digital TBR Next
Driven - Jayne Rylon (reread)
Shifting Gears - Jayne Rylon
Beg Me - Shiloh Walker
Tempt Me - Shiloh Walker
Jazz Baby - Lorelie Brown
Playboy Prankster - Pamela Britton
Just Like That - Erin Nicholas
Sweet Inspiration - Penny Watson
Breathe - Donna Alward
My Gigolo - Molly Burkhart
Scent of Persuason - Nikki Duncan

Blog Archive