September 27, 2008
7:51 PM
|
Edit Post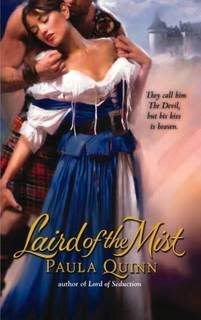 Back Cover:
They call him The Devil, but his kiss is heaven.

Protecting Her Was His Passion
High-born though she is, Kate Campbell isn't afraid to draw her sword. When raiders strike, she rushes into the fray…and is lucky when a mysterious Highlander shields her from a deadly blow. Swept onto his stallion, she soon discovers that her rescuer is her clan's most hated enemy: Callum MacGregor, the man they call The Devil. Yet she can not ignore his achingly tender touch or the way his fiery gaze leaves her breathless…

Possessing Her Would Be His Pleasure
Callum MacGregor has taken many Campbell lives, but he's never saved one—until now. Mesmerized by this spirited lass, he wants her by his side—even if it means holding her ransom. As his fingers graze her sumptuous curves and tangle in her unruly tresses, Callum realizes Kate Campbell is his most dangerous foe of all. For he can't make love to her without betraying his kinsmen and his honor…and surrendering his heart forever.
A family feud has been tearing the Campbells and MacGregors apart for centuries but when Callum MacGregor saves Kate Campbell's life this feud takes a new turn.
Kate has been fed scary stories about "Devil" MacGregor ever since she can remember but when he saves her life, she finds out things aren't as she was told. He shows her compassion and mercy her family never bestowed on him. Callum abducts Kate in order to lure her uncle into his trap and dispose of her afterwards but he soon realizes he has encountered the first Campbell he has no desire to kill.

I loved all the characters in this book. Callum and Kate were the proverbial star-crossed couple that captured my heart. Callum is a hero to die for. The torment and anguish inside him cover a compassionate and loyal man who despite his suffering and reputation has a big heart, even if he doesn't always show it.

But it was Kate who truly won my heart in this book. When she gives, she gives it all. She is saucy, brave and headstrong and she gives Callum a run for his money. She has a big heart and is devastated when she finds out what was done to the MacGregors by her family.

The secondary cast surrounding Kate and Callum is an impressive, witty and endearing bunch. Graham, Robert, Jamie and Maggie warmed my heart, Angus and Brodie put an indulgent smile on my face and Duncan repelled me.

This book seeps into your sense until it takes over! The more pages I read the more I became utterly enthralled by this beautiful story. It was a journey of two people towards truth, love and trust. Paula Quinn has created a perfectly blended mix of historical facts and romantic fiction. She gave me a wonderful tale that's filled with love, hate, betrayal, passion and hope. It was a story that touched my heart and left me missing the characters when the book was finished.

In short, I've enjoyed another splendid book by Paula Quinn. Few authors in this genre can create the stir of feelings I experience when I read her books. She prepared me with the Risande Trilogy and now she has stoked the fire up with LAIRD OF THE MIST. I am ready for A HIGHLANDER NEVER SURRENDERS.
Quotes:
Kate and Callum:
"If you dare touch me, I will rip out your heart."
"How might ye do that?" he asked, sounding somewhat amused. "With yer teeth?"

He stared down at her for a moment, long enough to make her insides melt. He possessed the confidence to conquer, the intoxicating power to thoroughly seduce her, and the strength to resist doing either.

Nice to meet you!
Pearl

Netherlands
39, married to my real life romance hero, addicted to TV shows, reading romance novels and Twitter. I'm a chronic (e)book hoarder and my absolute favorite genres within romance fiction are contemporary romance and romantic suspense, but I don't shy away from historical, paranormal or erotic romance either. Even the occasional (urban) fantasy romance, futuristic and sci fi romance may make it to my Mount TBR. This is my corner of the world wide web where I let you know what books I'm hoarding, reading and reviewing.
View my complete profile

My Book-Providers
Reviews by Rating

Reviews by Genre
Reviews by Type

Reviews by Publisher

Fellow Bloggers


GR Reading Challenge
Pearl
has read 10 books toward her goal of 50 books.

On My TBR Shelf
Unforgivable - Laura Griffin
Snapped - Laura Griffin
Darkness at Dawn - Elizabeth Jennings
Sizzle and Burn - Alexis Grant
No Mercy - Lori Armstrong
Animal Magnetism - Jill Shalvis
Crazy for Love - Victoria Dahl
Kink - Saskia Walker/Sasha White
So Sensitive - Anne Rainey
Dark Taste of Rapture - Gena Showalter
The Darkest Secret - Gena Showalter
Vampire in Atlantis - Alyssa Day
Vampire Dragon - Annette Blair
Captive Spirit - Anna Windsor
Chosen by Blood - Virna DePaul
Rebel - Zoe Archer
Stranger - Zoe Archer
A Taste of Desire - Beverley Kendall
Mistress by Midnight - Maggie Robinson
To Desire a Devil - Elizabeth Hoyt
To Tame a Dangerous Lord - Nicole Jordan

Digital TBR Next
Driven - Jayne Rylon (reread)
Shifting Gears - Jayne Rylon
Beg Me - Shiloh Walker
Tempt Me - Shiloh Walker
Jazz Baby - Lorelie Brown
Playboy Prankster - Pamela Britton
Just Like That - Erin Nicholas
Sweet Inspiration - Penny Watson
Breathe - Donna Alward
My Gigolo - Molly Burkhart
Scent of Persuason - Nikki Duncan

Blog Archive