September 16, 2008
6:25 PM
|
Edit Post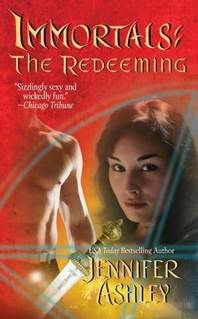 Back Cover:
As Samantha Taylor investigates the abduction of young demon women in gritty Los Angeles, she encounters Tain, the Immortal she hasn't seen since his enslavement to a powerful demon the year before.
Now Tain needs Samantha's help, and Samantha wonders if she can hide the fact that she's in love with him while they work together. Tain spent years being tortured by a demon--the last thing he'll want is a half-demon woman longing for him . . . or so she thinks.

Haunted by his past, Tain seeks peace by healing others, but he's not sure if the madness that trapped him has completely gone away. And he's never been able to get the dark-eyed Samantha Taylor out of his mind.
It's been more than a year since Samantha Taylor was involved in Tain's rescue from the Old One (ancient demon) who was holding him captive for over seven centuries. She fell in love with Tain that night but after his rescue he leaves without looking back, to heal from the torture he went through. Samantha has moved on and finds satisfaction in her work for the paranormal division of the LAPD.
More than a year after his brothers and Samantha freed him from Kehksut Tain is still a long way from healing and he wonders if he will be able to enjoy the pleasure of being with a woman ever again.
But Samantha isn't just any woman, when he needs her help to solve a case of missing demon girls, he finds it more and more difficult to resist his attraction to her beauty both inside and out, even if she is part demon and a demon kept him imprisoned and tortured for centuries.
Tain seems healed and sane again but is he really safe from the pull of the darkness deep inside him? Is he truly restored enough to keep away the darkness that once ruled his actions?

Tain is scarred both inside and out and Samantha is the only one who can soothe him, not even his brothers are truly able to do that. She soothes him with her presence, both mentally and physically but her demon-half scares him because of his torment under a demon's hand. He's also afraid of succumbing to the darkness that remained inside him and because of his fear he tries to stay away from family and friends, afraid he will do something that will hurt them. Since his capture he has associated women and lovemaking with pain and suffering but Samantha shows him it can be different and love is something he is capable of.

Samantha is utterly fascinated by Tain and like him she's scared of her demon-half. She has a hard time accepting that part of her and everything that comes along with it because she was brought up by her human mother to embrace her human side. Tain helps her to accept and embrace both parts of who she is and in the end that in turn helps Tain overcome his own fears and tribulations. In this story hero and heroine represent each other's salvation.

As secondary characters there are some characters from the previous books, like Hunter, Leda and Septimus. But of course there are some intriguing new ones in the form of Logan, Samantha's werewolf partner who is very interesting. I hope he'll get his own story in this series too.
Like in the other books the love his brothers have for Tain is heartfelt and I loved the way it is shown in the books, this one included.
Again an Ancient demon fills the part of evil in this series but in this book he has a surprising lackey to do his bidding.

After THE GATHERING it was a long wait for Tain's story but it was worth every minute of it. Jennifer Ashley swept me right back into that world of Immortals, demons, vampires, and werewolf shape shifters. The only group missing this time was the witches but the others held me captivated enough not to miss them that bad.
Each book in the series has its own unique plot fitting each Immortal and his heroine and this book was a beautiful closure of Tain's story that ran throughout the previous ones linking them together.

I loved the plot; it was intriguing, surprising and original. It is incomparable to the previous Immortals books. After THE GATHERING I thought it couldn't be that much of a surprise but I was wrong. I was enthralled by another sublime installment in this series by the talented Jennifer Ashley.
I love her writing style. It's fast-paced and action-filled.
The romance is sensual and beautifully written. The plot is perfectly set up and well rounded. Hero and heroine are well matched and the secondary characters are compelling and complementing.

For me this was an excellent way to give Tain the closure he was looking for since the first book of the Immortals and I'm really looking forward to the next storyline in this series.
Quotes:
Who wouldn't fantasize about a hard-bodied male with intense blue eyes and hair she longed to run her fingers through? A man who'd made her feel so incredible when he healed her she'd almost jumped his bones right there in the club?

She flicked on the lights, noting that Tain had done the dishes.
"What a dream man." she murmured as she closed the door. "A one-night stand who cleans the house before leaving."

Nice to meet you!
Pearl

Netherlands
39, married to my real life romance hero, addicted to TV shows, reading romance novels and Twitter. I'm a chronic (e)book hoarder and my absolute favorite genres within romance fiction are contemporary romance and romantic suspense, but I don't shy away from historical, paranormal or erotic romance either. Even the occasional (urban) fantasy romance, futuristic and sci fi romance may make it to my Mount TBR. This is my corner of the world wide web where I let you know what books I'm hoarding, reading and reviewing.
View my complete profile

My Book-Providers
Reviews by Rating

Reviews by Genre
Reviews by Type

Reviews by Publisher

Fellow Bloggers


GR Reading Challenge
Pearl
has read 10 books toward her goal of 50 books.

On My TBR Shelf
Unforgivable - Laura Griffin
Snapped - Laura Griffin
Darkness at Dawn - Elizabeth Jennings
Sizzle and Burn - Alexis Grant
No Mercy - Lori Armstrong
Animal Magnetism - Jill Shalvis
Crazy for Love - Victoria Dahl
Kink - Saskia Walker/Sasha White
So Sensitive - Anne Rainey
Dark Taste of Rapture - Gena Showalter
The Darkest Secret - Gena Showalter
Vampire in Atlantis - Alyssa Day
Vampire Dragon - Annette Blair
Captive Spirit - Anna Windsor
Chosen by Blood - Virna DePaul
Rebel - Zoe Archer
Stranger - Zoe Archer
A Taste of Desire - Beverley Kendall
Mistress by Midnight - Maggie Robinson
To Desire a Devil - Elizabeth Hoyt
To Tame a Dangerous Lord - Nicole Jordan

Digital TBR Next
Driven - Jayne Rylon (reread)
Shifting Gears - Jayne Rylon
Beg Me - Shiloh Walker
Tempt Me - Shiloh Walker
Jazz Baby - Lorelie Brown
Playboy Prankster - Pamela Britton
Just Like That - Erin Nicholas
Sweet Inspiration - Penny Watson
Breathe - Donna Alward
My Gigolo - Molly Burkhart
Scent of Persuason - Nikki Duncan

Blog Archive