September 10, 2008
5:23 PM
|
Edit Post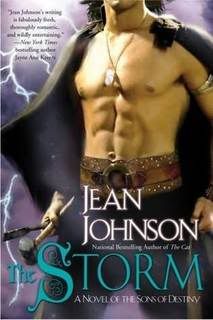 Back Cover:
Eight brothers, born in four sets of twins, two years apart to the day—they fulfill the Curse of Eight Prophecy. Though no longer trapped in exile, their growing family faces new problems. The sixthborn son must find a way to trust his Destined bride…

First, his most heavily guarded refuge is breached. And now, the worst of all crimes against Rydan of Nightfall: Rora, a pesky, privacy-invading foreigner, likes him and won't leave him alone! Rydan knows he's as appealing as a rosebush stripped of its blooms, so why does she persist? Any normal maiden should be seeking less thorny company than his.

But Rora isn't normal. She alone sees the secret of what torments Rydan. And only she can persuade him to put it right before it destroys him. But Rora has her own secret as well—one of such vast power that other mages have killed in order to possess it. It once drove Rora and her sisters into exile, and, in the wrong hands, its power could annihilate their world. In the right hands, it could change her and Rydan's fate forever.
Rydan is the brother who has been keeping to himself ever since they arrived on Nightfall. He secludes himself from the rest for reasons only he knows and they are finally explained in his book. The self-imposed isolation is not of his free will. He has to because he can't be around others too long without their emotions causing him excruciating pain. That is why he lives at night and sleeps during the day. That way he's least likely to come into contact with others.

After Rora and Amara end up on Nightfall Rora discovers Rydan's "lair", where he isolates himself from the others and sets events into action that will determine her and Rydan's future. They both have their secrets to keep and their reasons for not trusting each other with said secrets and while Rydan fights his Destiny, Rora embraces it with both hands, just as she does everything else in life.
Little by little Rora starts to grow on Rydan and together they have to overcome many obstacles before they can both enjoy the pleasures of their entwined Destinies.

Rora is Amara's twin sister. She is the reason Amara had to leave her life behind, for Rora is a living Fountain and mages covet her powers. Though she looks plain and uncomplicated on the outside Rora is anything but that. She is a sweet and open woman and pleasant to be around. She's the absolute opposite of dark, reclusive and brooding Rydan and still they are more alike than you would think. They both have this link with other people's feelings even if Rydan's is a bit more negative than Rora's.

Rora "sees emotions displayed in colors and Rydan feels emotions through what he calls "the beast". Rora literally sees Rydan suffering and stands up for him against the others. She protects him and enjoys being the one protecting and helping instead of being the one needing protection.
Rydan tries to push Rora away, knowing she could be his downfall if she is his Prophesied Bride, but he can't resist her for long.

I loved the roles the secondary characters had in this book. Serina and Dominor were prominently present which was logical considering the Fountain storyline. But Morganen also provided some intriguing contributions to both current and future storylines. I enjoyed the interactions between the brothers, their wives and how they are all making an effort to fulfill their destinies and help those who aren't paired up yet. There is teasing and bantering but you can feel the harmony between all the people on Nightfall.

Rydan and Rora's story takes place in roughly the same time as Trevan and Amara's and that's the only similarity both stories have. As different as both twins are physically and emotionally, so were their stories.
With THE STORM I found the romance and sensuality I missed in THE CAT. And next to the romance there was still this fantastic magical world building Jean Johnson has displayed in the other books. I got to know more about the Fountains/Fonts, their origin and how they work.

Rydan's character turned out very different from the image I had of him reading the previous books. And this was in a very positive way. Normally reality doesn't meet the expectations but with Rydan reality rose high above my expectations. Yes he was dark and brooding and isolated himself, but he had good reason to and he had some really endearing moments that melted my heart.

If you like emotional stories, as I do, THE STORM meets your needs. It's an emotional read in many ways, from beginning to end. It has a main couple that approaches emotions in their own way and only when they combine their efforts, will they find solutions for their problems, relief for their suffering and love.
Next to this fabulous love story Jean Johnson still takes everyday things, like stone carving and house building, and wraps them in a magical veil using her phenomenal writing talent.

In the fantasy genre she has become one of my favourites. With THE STORM she has truly consolidated that position, giving me a well-balanced combination of plot and romance and a nice mix of emotion and action. I enjoyed this book immensely and am waiting with eager anticipation for the last set of twins in this series.
Quotes:
Rora and Dominor about Rydan:
"I know what I See...and I will do something about it. In my own time, and in my own way. You're not the one Prophesied to court him."
"And for it, I thank the Gods every single day," Dominor retorted.

One of Rydan's thoughts:
Just because Fate weaves the overall tapestry doesn't mean we cannot embroider our own Destinies over whatever was originally designed for us.

Nice to meet you!
Pearl

Netherlands
39, married to my real life romance hero, addicted to TV shows, reading romance novels and Twitter. I'm a chronic (e)book hoarder and my absolute favorite genres within romance fiction are contemporary romance and romantic suspense, but I don't shy away from historical, paranormal or erotic romance either. Even the occasional (urban) fantasy romance, futuristic and sci fi romance may make it to my Mount TBR. This is my corner of the world wide web where I let you know what books I'm hoarding, reading and reviewing.
View my complete profile

My Book-Providers
Reviews by Rating

Reviews by Genre
Reviews by Type

Reviews by Publisher

Fellow Bloggers


GR Reading Challenge
Pearl
has read 10 books toward her goal of 50 books.

On My TBR Shelf
Unforgivable - Laura Griffin
Snapped - Laura Griffin
Darkness at Dawn - Elizabeth Jennings
Sizzle and Burn - Alexis Grant
No Mercy - Lori Armstrong
Animal Magnetism - Jill Shalvis
Crazy for Love - Victoria Dahl
Kink - Saskia Walker/Sasha White
So Sensitive - Anne Rainey
Dark Taste of Rapture - Gena Showalter
The Darkest Secret - Gena Showalter
Vampire in Atlantis - Alyssa Day
Vampire Dragon - Annette Blair
Captive Spirit - Anna Windsor
Chosen by Blood - Virna DePaul
Rebel - Zoe Archer
Stranger - Zoe Archer
A Taste of Desire - Beverley Kendall
Mistress by Midnight - Maggie Robinson
To Desire a Devil - Elizabeth Hoyt
To Tame a Dangerous Lord - Nicole Jordan

Digital TBR Next
Driven - Jayne Rylon (reread)
Shifting Gears - Jayne Rylon
Beg Me - Shiloh Walker
Tempt Me - Shiloh Walker
Jazz Baby - Lorelie Brown
Playboy Prankster - Pamela Britton
Just Like That - Erin Nicholas
Sweet Inspiration - Penny Watson
Breathe - Donna Alward
My Gigolo - Molly Burkhart
Scent of Persuason - Nikki Duncan

Blog Archive